A Wet, Wild Wednesday Leaves McMahon and Heimburg In Charge
A Wet, Wild Wednesday Leaves McMahon and Heimburg In Charge
Dynamic Discs Open Day 1 MPO Recap
Thursday, April 29, 2021 - 10:40
The late Dr. Stancil Johnson, PDGA#009, was fond of quoting Michael Murphy's 1972 classic, Golf in the Kingdom, which casts the sport as a contest between the golfer and the golf course; an effort to master one's surroundings.
"Where other sports are combative in nature, force against force," Johnson wrote in the Winter 1991 edition of Disc Golf World News. "Golf is an effort to harmonize with the 'forces of the field', as Murphy calls it. I would describe it as becoming one with nature. As such, a game of golf is a symbolic journey through life."
On Wednesday in Emporia, Kansas, through downpours, lightning strikes and the death of a beloved family member, mother nature proved to be a formidable foe.
The day began with tragic news of the sudden passing of Ricky Wysocki's sister, Lauren Mayse, from complications caused by brain cancer.
Wysocki, a strong favorite to win his third-consecutive PDGA Elite Series event this week at the DDO, departed from Emporia on Tuesday after learning of Lauren's condition and was questionable for his start until just before his 1:20 p.m. tee time.
When he did return in time to take his place alongside Paul McBeth, Nikko Locastro and Chris Clemons on the DGN live broadcast feature card, the usually-raucous atmosphere surrounding the first tee was replaced with an air of somber respect for the two-time PDGA World Champion.
The weight of life and death have a way of putting even the most illustrious sporting events in perspective.
It took the better part of an hour for Wysocki and McBeth to find their rhythm, and it wasn't until hole 6 that both players found their way below par for good. Once they got rolling, however, it was a vintage battle as both players scorched the back nine to finish at 10-under par.
The hot scores of the day, however, came from Eagle McMahon and Calvin Heimburg, who were battling it out on 1:00 p.m. feature card.
McMahon got off to a tough start after throwing his second shot out of bounds on hole 1, only to hear the weather delay horn blow a few seconds after the red OB flag was waived.
"It was a weird start because I threw two shots and then they blew the horn," McMahon said following his round. "On the second shot—as soon it left my hand the disc was going straight to OB. I had to sort myself out during the rain delay, and I just came back and told myself to play one hole at a time."
The strategy appears to have worked, as McMahon rallied off a string of birdies that culminated with a 50-foot putt on hole 18 that just caught the bottom of the band and dropped in. It was a dramatic finish that left the 2018 Glass Blown Open champion with a smile on his face.
Following his bogie on hole 1, McMahon went 15-under through the remaining 17 holes to finish at 14-under par.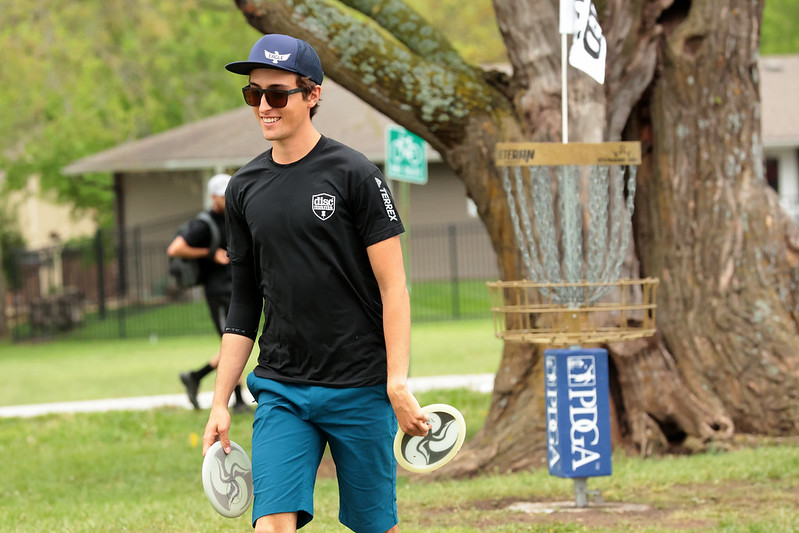 Heimburg completed his own 14-under demolition of the Jones Gold track in less dramatic fashion, dropping-in a 'routine' 27-footer for his birdie on hole 18. He matched McMahon by limiting himself to a single bogie on the day (hole 7) and bested him with 15 birdies on the day.
"I definitely didn't expect to shoot a 14 when I saw the forecast with rain in play," Heimburg, a two-time National Tour champion, said. "But luckily even though it rained on us it wasn't pouring and the wind kept down for most of it. When the wind is down here, you have to shoot really hot to be competitive."
Sitting just behind McMahon and Heimburg on the leaderboard at 13-under par are Ben Callaway and Andrew Presnell, who benefited from earlier tee times that were largely unaffected by the inclement weather, as well as 2020 USDGC Champion Chris Dickerson, who battled alongside the tournament leaders on the 1:00 p.m. feature card.
They'll be joined by a tight grouping atop the MPO field which includes 17 players within four shots of the lead.
Players will return to Jones Gold for round 2, with the lead card teeing off at 1:20 p.m. CT live on the Disc Golf Network.