Weese Beats The Clock To Grab GLO Lead
Weese Beats The Clock To Grab GLO Lead
Hokom in second after even-par showing
Saturday, July 7, 2018 - 09:30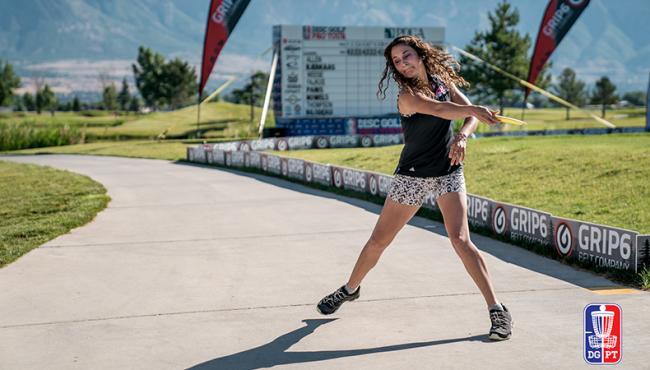 Jessica Weese was all avian during the first round of the Great Lakes Open, but it turns out she was lucky to even make it to the course on time.
The Northern California pro carded an early eagle, then closed her round with three birdies in the last five holes to finish with a 2-under par 59 Friday morning at Kensington Metropark's Toboggan course. That performance has Weese with the early lead in Michigan, while Sarah Hokom's even-par 61 put her into second place and three players – Rebecca Cox, Holly Finley, and Ellen Widboom – are tied for third after their 1-over par 62s.
Weese nearly slept through her 8:20 a.m. tee time, she said, and only woke up when a housemate's alarm went off. She sprinted to the shower, and by the time she was done there were only 25 minutes standing between her and a possible par-plus-4 start.
"I was like, 'Crap I have to book it,'" Weese said. "'I have a 20-minute drive to get to the course.'"
She showed up with five minutes to spare, got a quick refresher on the course rules, and went to work. The rushed approach may not have been ideal for her stress level, but she was determined to make the most of it.
"Honestly, I thought it was gonna be a lot worse, but I just told myself, 'You made it on time, you are good,'" Weese said. "I was honestly playing the front 10 holes blind."
That was the other hiccup to her week: Weese just acquired a new camper, and she has been spending all of her free time setting it up. The situation was like "moving while on tour," she said, and it left her little time to practice.
It made her opening round performance that much more impressive, but the collection of shots under par is nothing new. She led the field in birdie percentage at the Utah Open, but offset many of those scoring opportunities with a missed putts and out-of-bounds strokes. Though the Toboggan features nearly none of the copious OB that made Utah so daunting, its thick rough requires accuracy, and Weese was tops in the 28-player field in most of UDisc Live's measures of precision.
More importantly, Weese was dialed in on the green. Her 94 percent circle 1 conversion rate was her best since round two of the Memorial Championship, far above her season-long rate of 81 percent.
"I said something to somebody on my card today, actually," Weese said. "I don't know what it was, but my putting was feeling good today. I made almost every putt inside the circle today. I don't know – I was just feeling good today."
Hokom entered play with three straight wins in her back pocket, the most recent a one-shot triumph at The Majestic last week. Her scoring wasn't as torrid as Weese's, and her fairway hits rate (37 percent) was uncharacteristically low. She made up for it, though, with the field's best scrambling (92 percent) and a single bogey to her name after two-putting on the par 3 9th.
Cox and Finley, meanwhile, made their way to the top card via their proficiency on the green: Both were perfect form inside circle 1, and Finley added a 40-foot par save on the 318-foot 11th for good measure. Widboom, who will head up the chase card, is second in the field in circle 2 putting (44 percent) after canning three from beyond the arc.
Elsewhere on the leaderboard, Michigan's Sarah DeMar headlines a three-way tie for sixth place after a 3-over par 64, with 2017 PDGA Rookie of the Year Sandi Hendel finishing the round in ninth at 4-over. Alisha Shafer, Courtney Cannon, and Tiger Borth all carded 5-over par 66s to end up tied for 10th.
The Open Women's lead card tees off for round two at the Toboggan at 8:30 am EST Saturday, with edited shot-by-shot coverage streaming at 2:00 p.m. on the Disc Golf Pro Tour's YouTube channel. Real-time statistics and scoring can be accessed via UDisc Live.
No matter how well it worked Friday, Weese wasn't adopting the last-minute strategy going forward: "Definitely not gonna plan to do that."