Allen Stems Bad Thoughts, Takes Las Vegas Challenge Lead
Allen Stems Bad Thoughts, Takes Las Vegas Challenge Lead
Weese's throw-in eagle boosts matching hot round
Saturday, February 23, 2019 - 10:57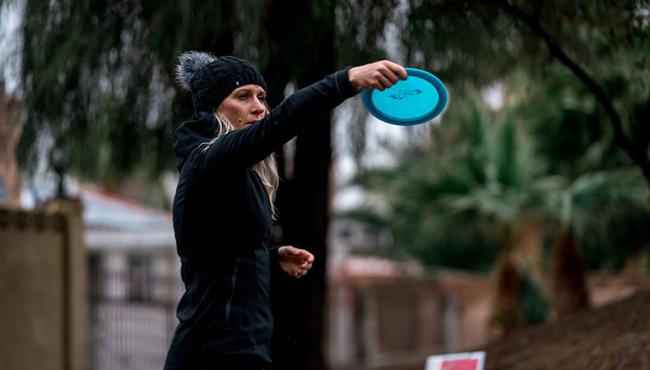 HENDERSON, Nev. – Frigid conditions here this week have found Catrina Allen sporting a Queen of the North-style look, a red down vest with a fur-lined hood that has combined fashion and function. It's so fashionable, in fact, that as she stood on hole 13's tee yesterday at Wildhorse Golf Club's Innova Course, she started to reminisce – and quiz her cardmates – about watching America's Next Top Model.
"I'm smiling with my eyes," she joked. "Isn't that what Tyra Banks used to say?"
It was a moment of levity that was emblematic of Allen's performance during round two of the Las Vegas Challenge: Her expression remained focused on what was ahead, but her mind let her relax and stay in the moment.
That balanced mentality lifted Allen to a 994-rated 1-over par 62 that took her to the top of the leaderboard with a 2-under par 118 at the Las Vegas Challenge's midway point. The Minnesota native holds a one shot lead over Jessica Weese, who matched Allen's round pace, and Paige Bjerkaas, whose 4-over par performance Friday put her at a 1-under par 119 through 36 holes. Eveliina Salonen's 5-over par 66 brought her total to a 3-over par 123 and moved her to fourth place, while Vanessa Van Dyken and Jennifer Allen round out the top five at 5-over.
Allen's front nine was marked by recovery. She started with a missed putt on hole 1, then quickly rebounded with two connections from circle's edge to take her score back under par by hole 5. She hit a rough patch that culminated in dual headaches on hole 9 when her bid from 15 feet rolled out of bounds, then she missed a birdie putt on hole 10. Still, that was where the roller coaster ended, as Allen finished the back half with a clean sheet.
"I just had that day where the bad thoughts stayed away, I guess. You know what I mean?" Allen said. "I didn't think, 'Oh, gosh, I lost two, three strokes. I didn't think any of those thoughts, just thought, 'Next hole.'"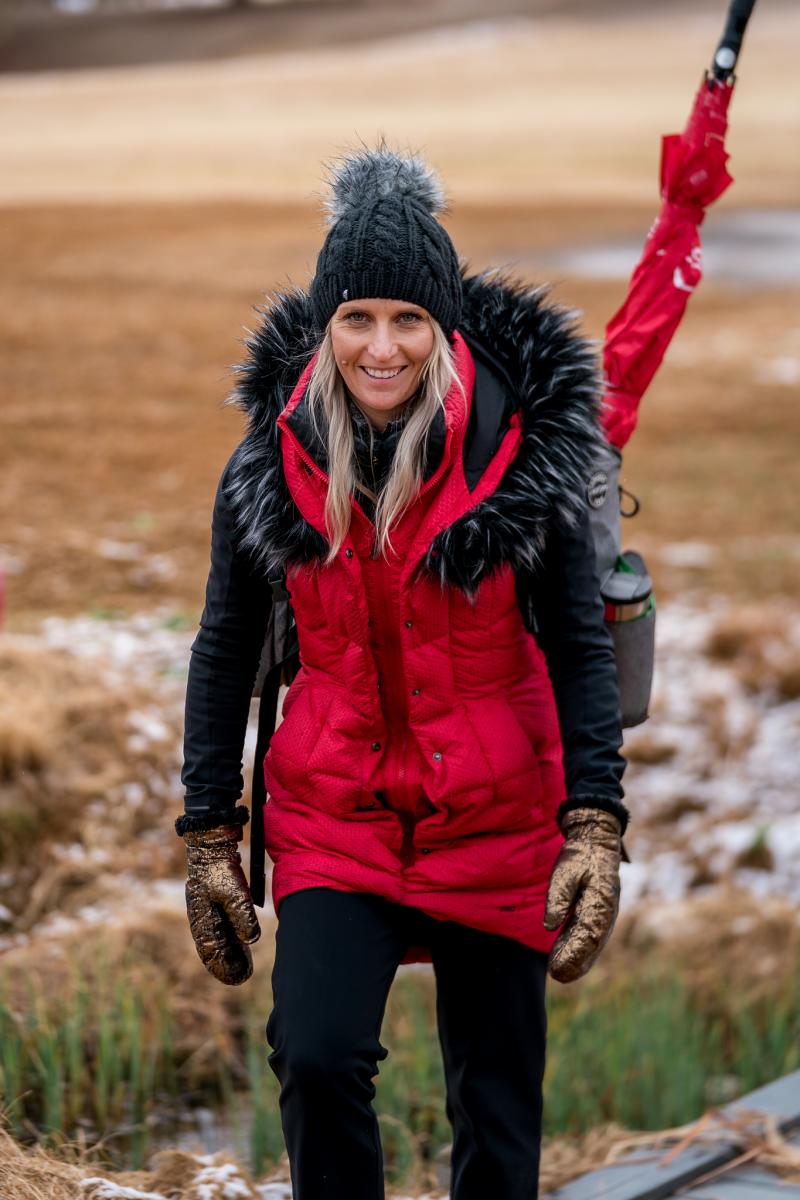 Weese, playing on the chase card, did just that, taking advantage of one of the more gettable par 4s by parking her approach for a 3 on the 432-foot 7th. From there, it was time for the fireworks: Playing into a ripping wind from the middle of hole 9's unprotected fairway, Weese fired an aggressive forehand toward the basket, even though the pin sits precariously close to a sand trap. Her shot crashed hard into the chains, a 250-foot throw-in for eagle that ranks as one of the top moments of the tournament so far.
"I was just trying to get my 3," Weese said. "…I ended up throwing it way too hard and directly at the basket. Luckily the basket was there to stop me and it had a lot of chains, because I probabaly grabbed every one of those chains."
Weese, who played the Innova course blind this year, relied heavily on her proficiency with both forehand and backhand shots to play the wind correctly.
"I always say it's like flying a kite without a string," Weese said. "I'm sure if you could imagine that, it's very fun. It's interesting – you never really know what to expect."
A Crisis of Confidence
It's easy to forget that, despite her world title last year, Bjerkaas is still a relatively inexperienced touring player. She's still figuring out how to weather the ups and downs of a long tournament, and with a day that had more downs she was, well, down for a bit during the round. She missed two putts and carded four shots over par on the back nine as she let a lack of confidence get the best of her.
"Back nine was a lot of scared," Bjerkaas admitted. "Half the holes worked out. Half the holes easily could have gone more bogeys…It was a very shaky back nine. I didn't leave it up to me.
Still, she didn't let the mood last long.
"A new goal I learned today that I want to set for myself is to be steady, I guess, in my mental game and my thoughts," Bjerkaas said. "I always want to show people everything is fine. I don't wanna be that bad attitude person, but it's hard sometimes. It's been a roller coaster today."
She'll have a chance to test that new resiliency in the spotlight, as she remained on the lead card for a second straight day.
Who's Up, Who's Down
Despite some struggles on the putting green – her circle 1x percentage Friday was only 50 percent --  Van Dyken was able to minimize the large numbers and climbed four spots on the leaderboard. Callie McMorran, a 21-year-old from Tennessee hitting the road full-time for the first time, jumped up nine slots and into the top 10.
Sarah Hokom, meanwhile, had difficulty with the wind and carded an uncharacteristic nine out-of-bounds strokes as she fell to eighth place with a 14-over par round. Paige Pierce was one behind Hokom's OB pace, logging eight throws outside the lines to fall to an 11-over par total. She currently sits two spots below the cut line heading into round three.
You Should Have Been Here For…
…Weese's eagle. Luckily, The Disc Golf Guy has you covered:
Quote of the Day
Catrina Allen, regarding the positive feedback on her sartorial choices this weekend: "I'm going to ask North Face for royalties on this jacket."
What's Next
The Open Women's field takes on the 8,836-foot Innova Factory Store course, the longest track at Wildhorse. Notable names besides Pierce who need to make a push above the cut line include Lisa Fajkus, Zoe Andyke, and Kona Panis.