USJDGC Wrap Up
USJDGC Wrap Up
Inaugural Junior National Championship boasts spirited competition and fantastic player experience at Smugglers' Notch Resort.
Thursday, August 9, 2018 - 11:05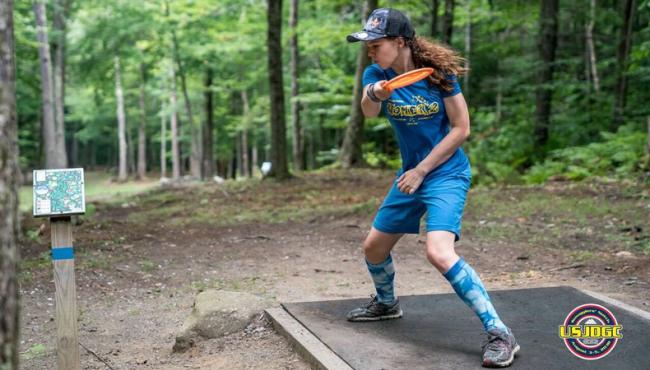 The inaugural United States Junior Disc Golf Championship has come to end, and in turn, it has crowned nine new junior national champions. It was a week full of action on and off the course, as Kids Disc Golf and Smugglers' Notch Resort rolled out the red carpet for competitors from more 30 states and two Canadian provinces.
The youngest champion was five-year-old Caleb Cilley, who persevered through three rounds over two long championship courses to claim the U.S. title for the MJ6 division. The youngest female champ was Addison Lowery, who traveled to Vermont all the way from Georgia to win FJ8.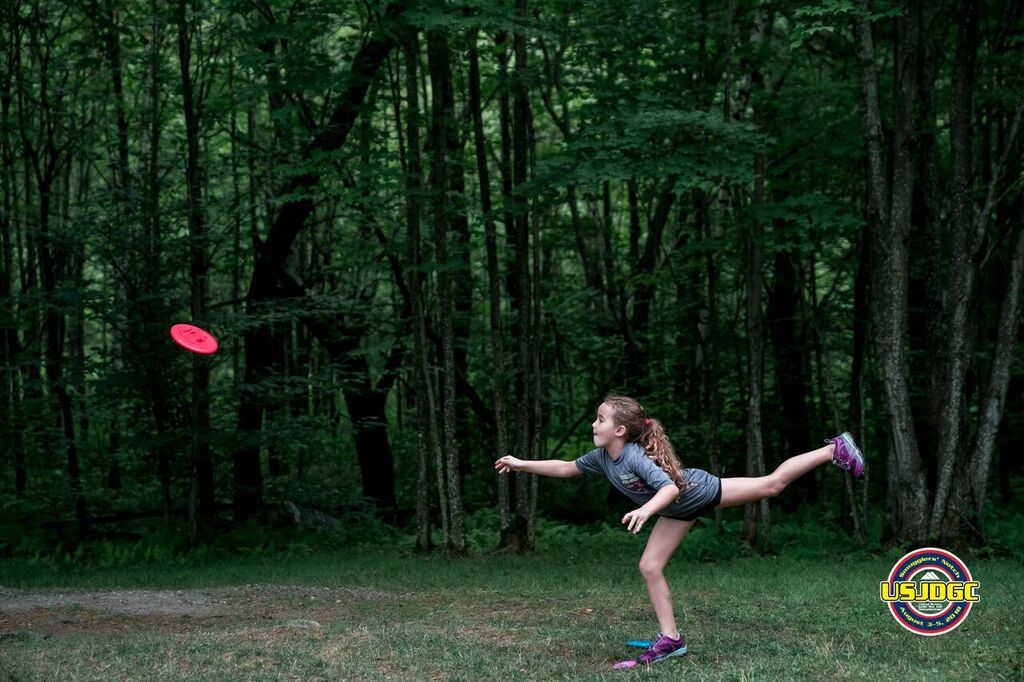 The MJ8 division saw some great competition through all three rounds, but in the end, it was Vermonter Finn Etter who pulled away from the field in the final round with an incredible 59 on Fox Run Meadows' junior layout, turning a five-stroke lead into a 16-stroke win. Etter beat out the likes of Junior World Champion Landon Brooks and Hunter Grayum. Etter certainly had home course advantage, as he has been competing on the Smugglers' courses since he was four years old. With a fresh U.S. title under his belt, he said he will look to continue competing and is excited to continue to elevate his game. On The girls' side of the 8-and-under division, Ava Meyer, who boasts three PDGA wins and a third-place finish at Junior Worlds, dominated the field to cruise to the win.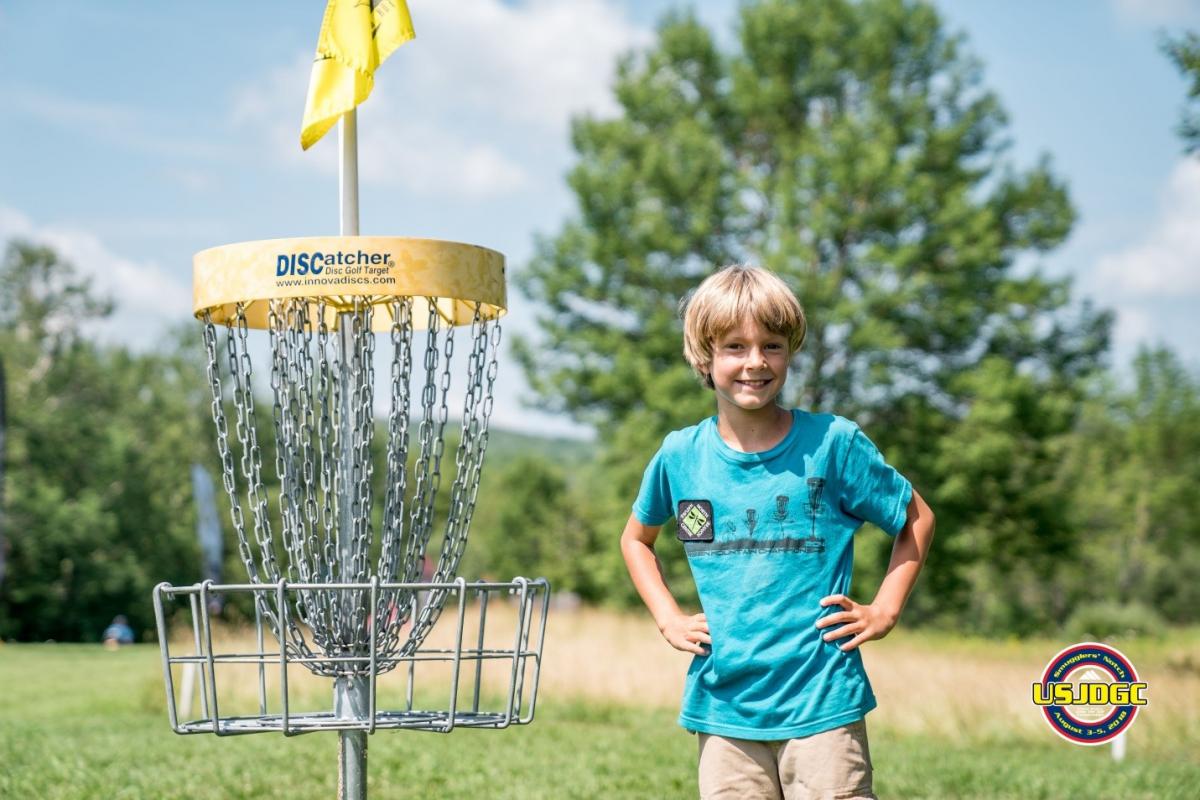 One of the closest division battles of the event had to be MJ10. With 18 competitors, the field had a lot of talent. But as the event shifted out of the woods and into the meadows of Fox Run two competitors rose to the top: Wyatt Mahoney and Jai Badajos. After round 1, Mahoney cut his initial deficit to two strokes heading into the deciding round. After both players saw extended stretches of both good and bad play, it all came down to the final hole. With two strokes to play with, Badajos threw his tee shot out of bounds on the par-4 18th, while Mahoney creased the middle of the fairway. After putting his upshot tight, Mahoney put the pressure squarely on Badajos' shoulders, and he responded with a great approach that led to a 15-foot look. The tension was palpable as Badajos lined up his signature forehand putt. He didn't flinch and put it in the heart of the basket to claim his title. Mahoney, though, still has plenty to be proud of, as he has already won six PDGA events this year, including Junior Worlds in Emporia.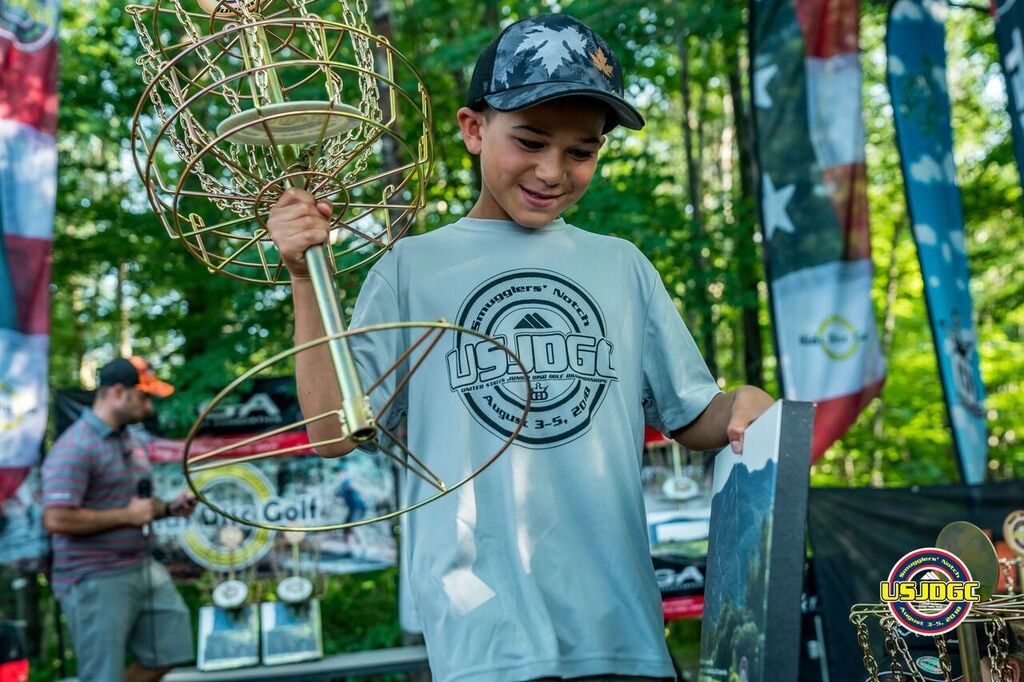 Despite some tight races, there were also champions who breezed to victory with room to spare. FJ12 saw two-time Junior World Champ Lilly Ruthen win comfortably. Luke Taylor took down the MJ12 division without much consternation, and Lily Marr had her way in FJ15. All three won by more than 20 strokes!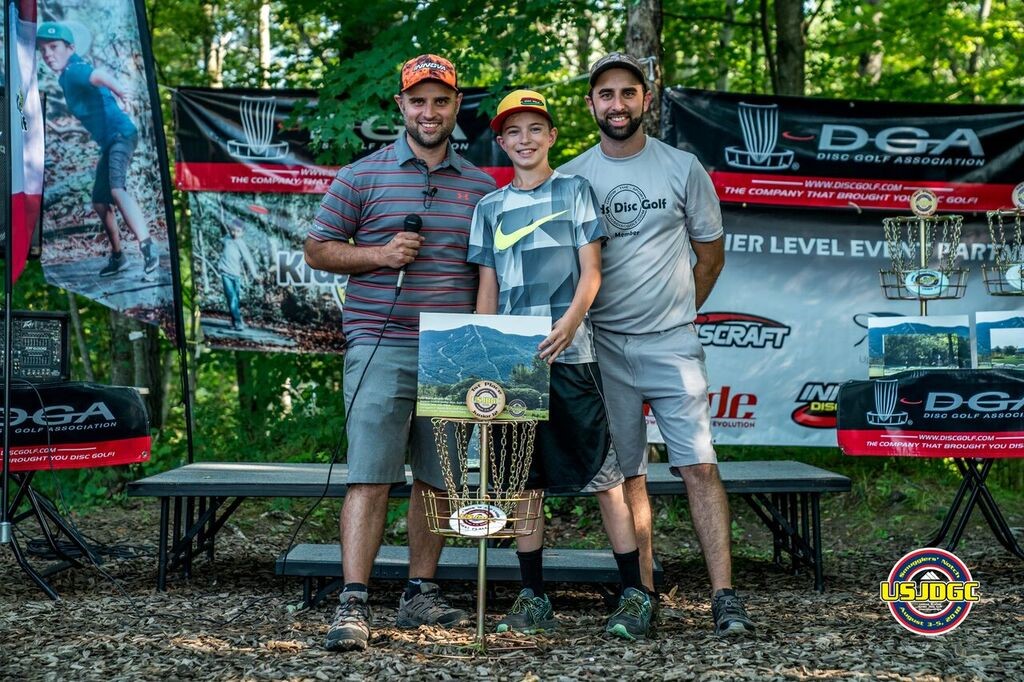 The oldest two boys' divisions, however, saw battles that came down to the final hole.
Evan Scott jumped out to a four stroke lead after round one in MJ15 and pushed that lead to five going into the final day. If Scott thought round three was going to be a walk in the park, though, Zach Arlinghaus had other ideas. Arlinghaus went on a run and shaved off six strokes from holes 14 through 16 to pull within two with two to play. After trading pars on 17, Scott put himself in position for a par on 18, leaving Arlinghaus with one final chance to tie it up. A big drive left him about 125 feet away, and he buzzed the basket at high speed before watching his bid at eagle 2 sail out of bounds behind the green. It was a valiant effort by Arlinghaus, who recently finished just outside of the MPO cash at Idlewild, but Scott claimed a wire-to-wire win in the end.
The MJ18 division was no less exciting. In fact, it provided the most drama of the day, as spectators witnessed a three-way battle coming down the stretch. Justin Gilbert entered the day with a four-stroke lead over Alden Harris and a five-stroke gap on Jarrett Johnston.
Fox Run changed that.
Headed into hole 14 Gilbert had played more than solid, hanging on to a lead that had only been trimmed to three and four strokes, respectively. But that is when trouble showed up. Gilbert carded a 6 on the long, uphill, par-3 14th, while Harris and Johnston both took pars. Suddenly, Gilbert was tied with Harris while Johnston lurked only one back. After a tidy birdie on 15, Johnston then made it a three-way tie headed to the final three holes of the championship. The new layout of the par-4 16th on Fox Run did its job as a separator, as the competitors carded a 4 (Harris), 5 (Gilbert), and 6 (Johnston), giving Harris a one-stroke lead heading into hole 17. That proved to be all the breathing room he needed, as Harris finished birdie-birdie to claim the victory and the inaugural USJDGC title for MJ18.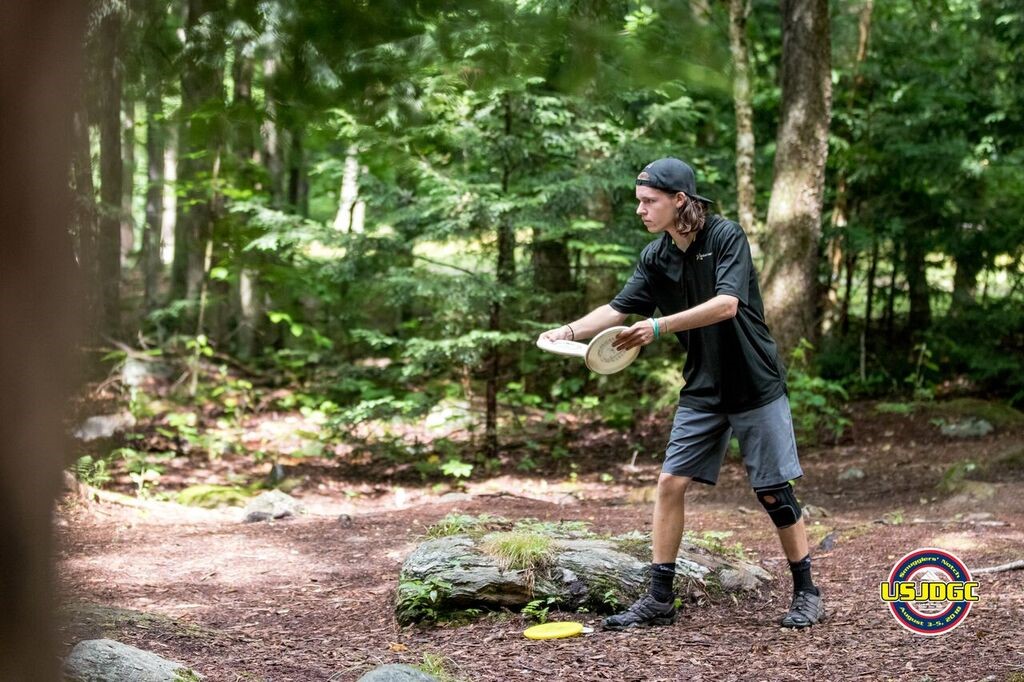 Harris' final round was played on the Gold layout of Fox Run, the same layout awaiting the MPO division in next month's PDGA Professional World Championship. His 3-under par 60 was rated 1006 and is currently the Fox Run course record, as two new holes were added earlier this season. The 2018 PDGA Profesionall Disc Golf World Championships will also be dialing up a fantastic batch of festivities for both players and spectators alike. Smugglers' is a one-stop shop for guests staying on site, and there is still lodging available for the event.
There are also tickets on sale for FallFest, a two-night celebration with live music, craft beer, and local food during the last two nights of Pro Worlds, giving fans a great reason to visit Vermont and spectate the World Championship.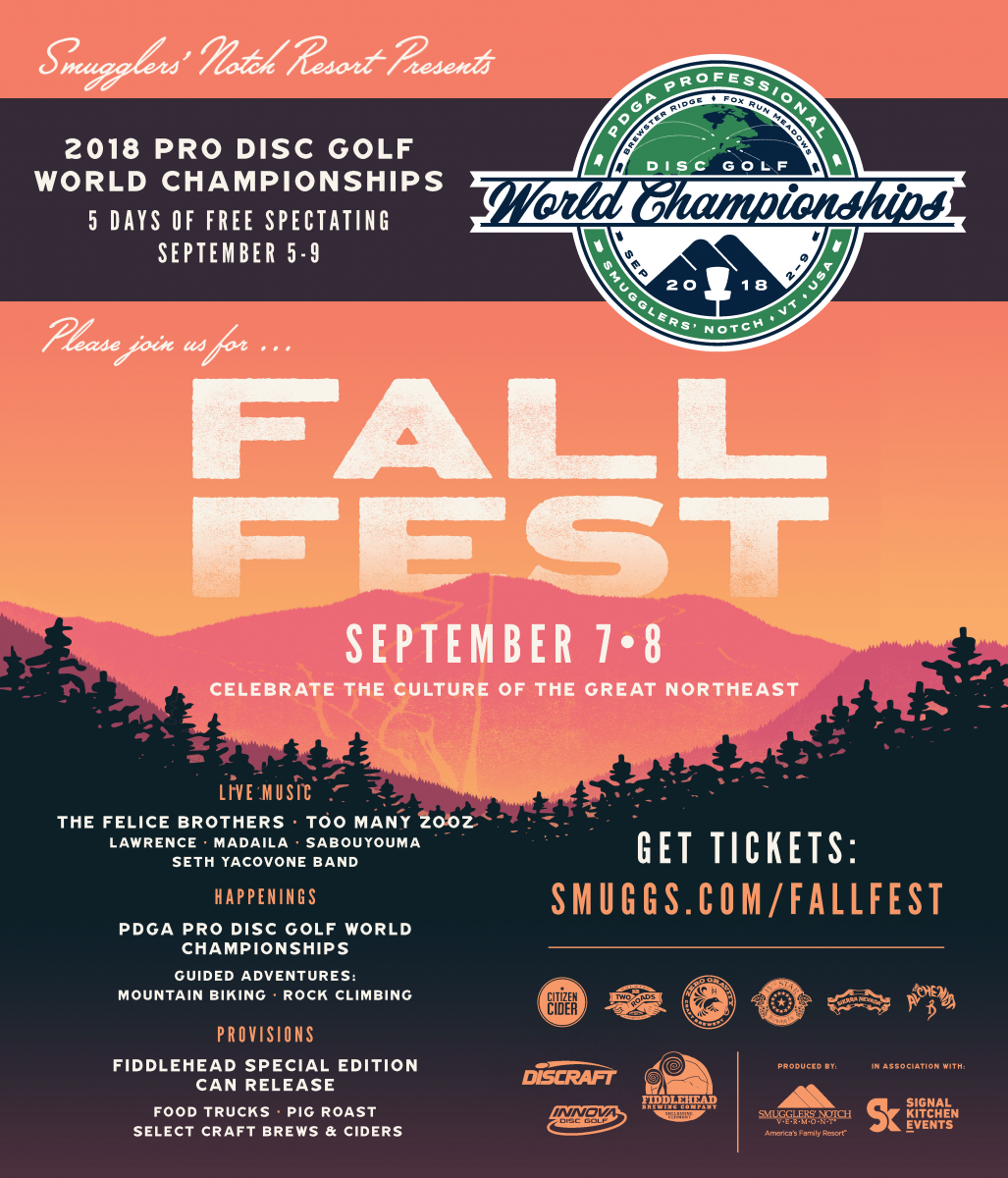 The juniors got a similar taste of the amenities during their stay. While the competition was truly excellent, the fun didn't stop on the course. After kicking things off with fireworks after Thursday's opening ceremonies, Kids Disc Golf executed a fun and engaging putting championship finals in the FunZone 2.0 at Smugglers' Notch Resort, awarding putting titles to kids in each division.
Kids Disc Golf put together a truly special event at Smugglers' and a big part of it was a team of four organizations.  Chris Young (Green Mountain Disc Golf Club President) and Eagle Wings Disc Golf both were part of the planning and execution of the event from the first meeting to the last part of the DGA awards presentation. The event also was supported by the excellent group of sponsors that helped to create an amazing player's pack for the kids to enjoy. The premier sponsors were Innova, Discraft, Dynamic Discs and Upper Park Designs! Josh (tournament director) and Matt Grayum from Kids Disc Golf, the GMDGC, Eagles Wings, and Jeff Spring from Smugglers' Notch Resort thank all the families who attended the event and all the partners that made it possible! We can't wait for the second edition!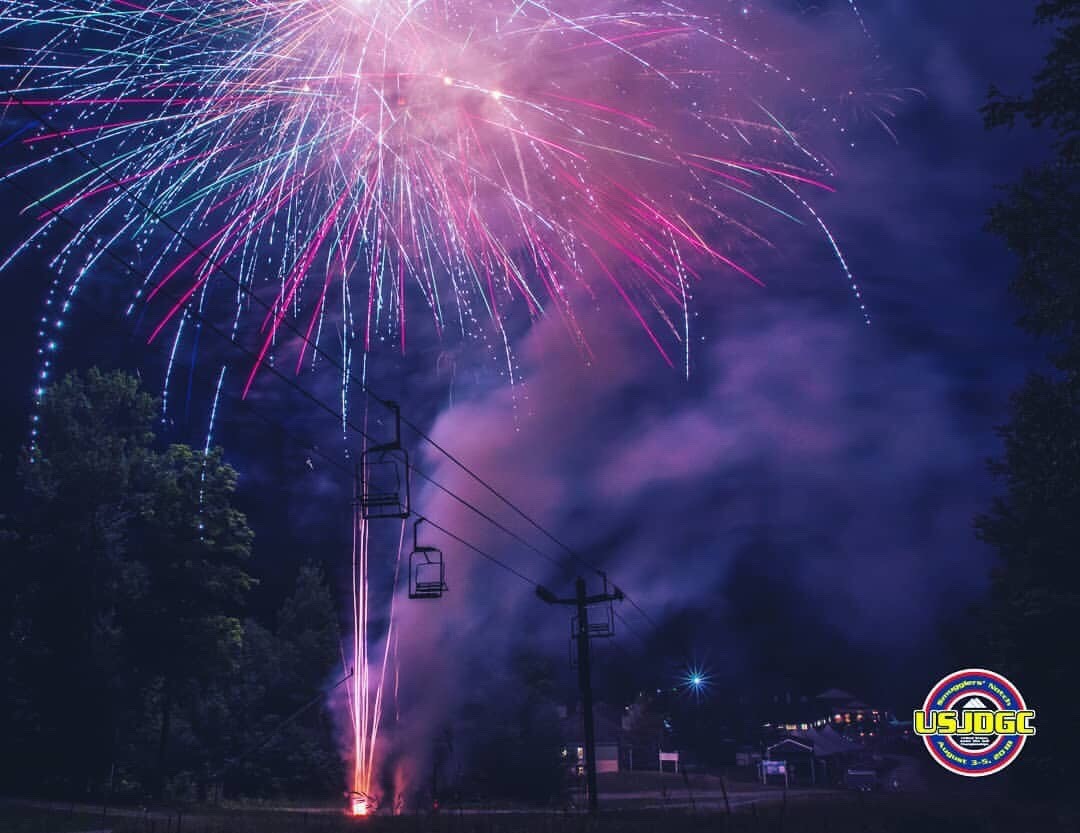 Comments
What a great event - thanks to everyone who helped put it on!