Scores To Settle
Scores To Settle
This weekend's Ed Headrick Disc Golf Hall of Fame Classic puts a bow on the 2018 PDGA National Tour – and the money bonuses that come along with it
Thursday, October 11, 2018 - 21:43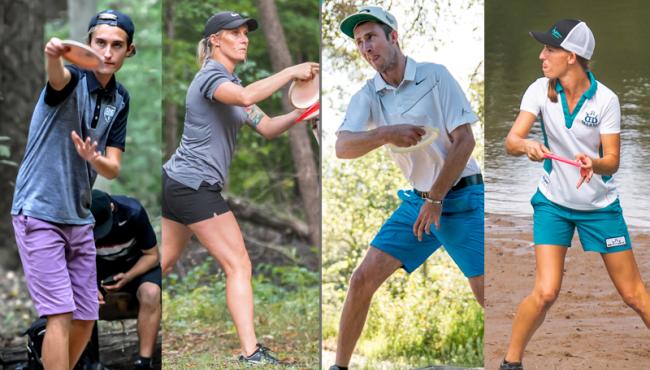 APPLING, Ga. – There is more than just an Elite Series victory and $25,300 in prize money on the line at the Ed Headrick Disc Golf Hall of Fame Classic this weekend at the International Disc Golf Center.
After almost eight months, five tournaments, and 318 holes, the PDGA National Tour reaches its zenith at the home of the sport's global governing body, with three more rounds at the newly refreshed W.R. Jackson Memorial Course from Friday through Sunday putting a bow on disc golf's longest-running professional circuit. When the final putts rest safely in the bottom of the cage Sunday evening, they will also decide a season-long points series that awards an extra $35,000 to 25 players.
It's a celebration of the rare breed of competitor who is able to make a comfortable home on the road, performing with consistency over a variety of courses and conditions. And the competitor best able to do that in 2018 has been 20-year-old Eagle McMahon.
The Colorado native has taken the National Tour by storm, winning the Las Vegas Challenge, the Dynamic Discs Glass Blown Open, and the Beaver State Fling. His fifth-place showing at the Santa Cruz Masters Cup and a late-round surge to finish in third place at the Delaware Disc Golf Challenge have helped him take the pole position in the circuit's points series, and heading into the Hall of Fame Classic he's hungry to add the year-long title – and its accompanying extra cash – to his list of accomplishments.
"It is the number one motivator, I think," McMahon said. "Of course it is a tournament and I'd like to play well, but I think [winning the series] is the underlying thing that makes the most sense. At the end of the day, I think it's a $6,000 payday, and that's probably the most important thing to come out of this weekend."
McMahon, though, is being pushed by more than just his bank account: 2017 Hall of Fame Classic Champion and two-time PDGA World Champion Ricky Wysocki trails by only 12 points.
"What I do know is I just have to play good and I have to beat Ricky this weekend," McMahon said. "Or just finish within a number of him that doesn't let him pass me in points."
| NT Series Rank | Name | PDGA # | Points |
| --- | --- | --- | --- |
| 1 | Eagle Wynne McMahon | 37817 | 389.5 |
| 2 | Richard Wysocki | 38008 | 377.5 |
| 3 | Paul McBeth | 27523 | 342 |
| 4 | Drew Gibson | 48346 | 318.7 |
| 5 | Kevin Jones | 41760 | 315.5 |
| 6 | Paul Ulibarri | 27171 | 306.5 |
| 7 | Philo Brathwaite | 26416 | 301 |
| 8 | Simon Lizotte | 8332 | 286.95 |
| 9 | Nathan Sexton | 18824 | 282.25 |
| 10 | Seppo Paju | 36744 | 265 |
| 11 | Grady Shue | 68285 | 258 |
| 12 | Austin Hannum | 68835 | 233.75 |
| 13 | James Conrad | 17295 | 210.2 |
| 14 | A.J. Risley | 25890 | 210 |
| 15 | Joshua Anthon | 17946 | 202 |
Wysocki hasn't cobbled together the amount of wins on the National Tour that McMahon has – Santa Cruz was the only place he stood atop the podium – but his consistency has yielded results. Scrapping his fifth-place finish at the Beaver State Fling (if players take part in all five NTs prior to the Hall of Fame Classic, their lowest finish is omitted from their point total), Wysocki's average finish over the four tournaments that contribute to his point total is second place. He was the runner-up on the circuit in 2017.
"I think that it's a double whammy this weekend because you've got the tournament and the NT points," Wysocki said. "…It's definitely in the back of my mind. It's definitely a little bit more added pressure."
Wysocki has feasted on Jackson in the past. The course was part of his 2017 Pro Worlds victory, as well as the 2013 Hall of Fame Classic, which he also won, and the 2011 PDGA Championship, where he took his first Major title at the age of 18.
"The holes, the way they shape and lay out, they amount to my game plan," Wysocki said. "Each hole has a lot of landing zones you've gotta hit, technical sidearms and technical backhands. I feel really confident because I've played well over the years and I'm confident with the shots it requires."
Standings are also close among the Open Women's field, where a $2,500 bonus is waiting for the top performer. Like McMahon, Paige Pierce has won three events on the circuit – Vegas, GBO, and Masters Cup – but fell to Catrina Allen in a one-hole playoff at the Beaver State Fling (which technically brings the number of holes played in that division up to 319) and opted to skip the Delaware Disc Golf Challenge in favor of the Canadian National Disc Golf Championships. That left the door open for Allen, whose 376 points come from an average finish of 2.25 on the tour (her 15th-place finish at the GBO notwithstanding) and Sarah Hokom, who sits 5.5 behind Allen.
Pierce, then, is looking to end 2018 on the same high note with which she started.
"I think that all the end of the year things, or the cumulative-over-the-year awards, are my main goal every year," Pierce said. "I had a great three-quarters of the season and a slight bit of a struggle section, but if I can pull together the last event on each of the tours I think I can achieve two big goals of mine throughout the year."
In another parallel with McMahon, though, she is chased by a player who has also proven successful at Jackson: Allen took down the HOFC last season.
| NT Series Rank | Name | PDGA # | Points |
| --- | --- | --- | --- |
| 1 | Paige Pierce | 29190 | 395 |
| 2 | Catrina Allen | 44184 | 376 |
| 3 | Sarah Hokom | 34563 | 370.5 |
| 4 | Lisa Fajkus | 32654 | 351 |
| 5 | Paige Bjerkaas | 33833 | 311 |
| 6 | Jessica Weese | 50656 | 306.5 |
| 7 | Kona Star Panis | 27832 | 303 |
| 8 | Madison Walker | 59431 | 302 |
| 9 | Ellen Widboom | 58276 | 266 |
| 10 | Melody Waibel | 29858 | 248 |
The close races aren't just at the top of the leaderboard, though, meaning there will multiple finishes to keep an eye on throughout the weekend. Though Paul McBeth is fairly secure in third place with 342 season-long points, a mere 12.2 points separate Drew Gibson (318.7), Kevin Jones (315.5), and Paul Ulibarri (306.5) in fourth through sixth, with a $700 difference on the line. A.J. Risley can potentially leapfrog James Conrad and earn an extra $100 with a stronger showing, as the pair are separated by less than one point in 14th and 13th places, respectively, while Garrett Gurthie should be able to crack 15th place due to Josh Anthon and Nate Doss' absences this weekend. Nine points are all that keep Paige Bjerkaas (311), Jessica Weese (306.5), Kona Panis (303), and Madison Walker (302) apart in fifth through eighth, and both Vanessa Van Dyken (241.5) and Elaine King (211) have an opportunity to sneak into the cash.
But before anyone can get too far ahead of themselves and start heading to the bank, they have to survive three days on one of the tour's most demanding tracks. It'll be a welcome respite, though, after Hurricane Michael swept through the region. Many traveling pros who were camping onsite instead fled for hotels, Walmart parking lots, and nearby friends' houses, and Pierce only got a single practice round in to absorb the modifications to the Jackson course.
"I think they're really good changes," Pierce said. "I think one them is a little raw, I would say, but the other ones are super nice and beautiful, as well as challenging….It's one of my top 5 favorite courses that we play throughout the tour, so I'm excited."
Ed Headrick Disc Golf Hall of Fame Classic presented by REC TEC Grills | PDGA National Tour
Dates
Friday, October 12 - Sunday, October 14
One round per day, tee times
Location
Tee times and scoring
Media coverage
Course