Wysocki Makes Himself At Home During HOFC Opener
Wysocki Makes Himself At Home During HOFC Opener
Defending champion takes early lead, while McCray lurks one shot back
Friday, October 12, 2018 - 23:27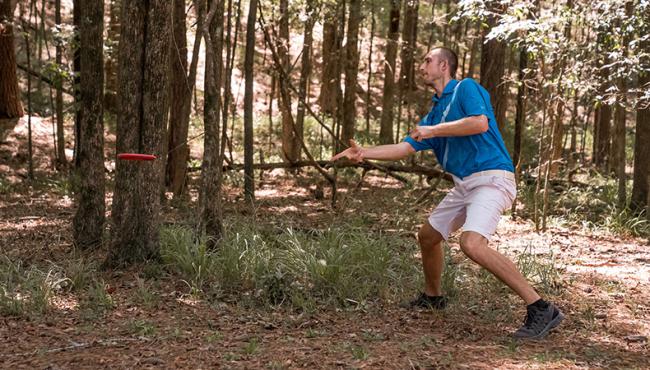 APPLING, Ga. – Ricky Wysocki grew up in Ohio, and he splits his offseason time between South Carolina and Arizona. But he's truly at home here on the International Disc Golf Center's W.R. Jackson Memorial Course.
The two-time PDGA World Champion proved that yet again on Friday, as he kicked off a run toward his second consecutive Ed Headrick Disc Golf Hall of Fame Classic title with a 1055-rated 9-under par 59 during the first round of the 2018 PDGA National Tour finale. JohnE McCray fired off an 8-under par 60 to land in second place, while Paul McBeth, Eagle McMahon, Zach Melton, and Kevin Jones make up a fourth-place stalemate after their 7-under par 61s.
Wysocki, who won on this track at the 2011 PDGA Championship, the 2013 Hall of Fame Classic, and in 2017 at both Pro Worlds and the HOFC, again treated himself to some of Jackson's Southern hospitality. After an uneven front nine found him scrapping for pars with connections from 40 and 30 feet on holes 5 and 7, he continued to ride the scoring rollercoaster and alternated birdies with pars on holes 8 through 12.
He misfired off the tee on the 399-foot 13th, leading to his lone bogey as the course looped back toward tournament central. Unfazed by the error, he then rattled off five consecutive birdies to close his round and leapfrog McCray, who had finished as the clubhouse leader just five minutes earlier.
"Bogeys are gonna happen out here, but I got past it and, like I said, I feel really comfortable playing out here," Wysocki said. "No matter what the situations are – whether it's the final day, the first day – I feel comfortable out here. I've played out here, I've won out here a lot, so I know what you have to do and when you have to be aggressive."
The same goes for McCray, the 46-year-old wonder who jumped out to an early lead at 2017 Pro Worlds after scorching Jackson's prior layout. Though he wasn't pumping his fists while walking to the parking lot like he did last summer, he was plenty pleased with a performance in which he was perfect from inside the circle and at scrambling for par. His eagle on the 990-foot, par-5 12th was a highlight, as he threw a Westside Giant to the left side gap in the split fairway before putting the same disc next to the basket for an easy clean-up.
"I've never 3'd it before – I've never even smelled 3 on it," McCray said with a sly grin. "I was pretty happy about it. It was like 10, 12 feet."
McCray has battled Lyme disease in recent memory, which has seen his consistency ebb and flow over the past two seasons. He said he's feeling healthier than he has in a long time, and even joked with Jeremy Koling that he's getting stronger with age.
"Getting old sucks," McCray later admitted. "That's just for those guys. That's to keep them on their toes."
Playing on the same 9 a.m. feature card, McBeth and Melton fought off slow middle stretches before finishing hot. The newly minted United States Champion, McBeth missed multiple circle 2 bids – as well as two from within 10 meters – but eventually hit from 40 feet on his way to four straight birdies to close the round. He attributed the sluggish start to a lack of motivation after his PDGA Major victory last weekend.
"It's pretty hard," McBeth said. "This is the second time they've done this this year – I mean, this was scheduled before this came around – but Worlds, having an NT after that was a little different because I took second and I felt like I had to work on so much more after Worlds than U.S.…This one, it's kinda boring, honestly. It's boring to be here, but trying to find a little spark to get going."
Melton powered through the round with a breezy attitude, and the positive vibes helped him to one of the two bogey-free performances in the top 5 (McCray shot the other). The Tennessee lefty parked three straight for birdie on holes 12 through 14, leading to a field-best 22 percent mark in that statistic. It was how he reacted to the times he wasn't scoring, though, that put him on the chase card.
"Instead of getting frustrated that I wasn't getting birdies – I think I had two holes in a row I had the best tee shot out of the group, I was in prime time position, didn't pull off the upshot, take a par," Melton said. "Instead of getting mad, I kinda kept rolling with it and told myself, 'This course is hard, so pars are good and stay with it.'"
McMahon has a dozen-point cushion over Wysocki in the PDGA National Tour standings, which the 20-year-old said gave their pairing on one of the day's two feature cards a "match play" feel. The Colorado pro struggled to a 48 percent fairway hit rate, but his 86 percent success rate in scrambling kept him just two shy of the leader's pace.
"Honestly, it was really weird playing with Ricky the first round because I feel like it's me versus Ricky, so all I'm really trying to do is stay within two or three strokes of him," McMahon said. "So the entire round I was letting that get in my head a little bit. Luckily Ricky kinda took off on hole 13. He got the last five to finish and I was able to finish with a turkey…I'm still on lead card, so it's gonna be a little bit of the same thing tomorrow."
McMahon's lower PDGA number gave him dibs for making the top group, while Melton and Jones head up the chase. They'll be joined there by 2018 PDGA World Champion Gregg Barsby, who was one of only two competitors to eagle the par-5 18th, and 2015 HOFC Champion Michael Johansen, who likely would have made the lead card without an uncharacteristic two-putt to go from birdie to bogey on the 618-foot 9th.
Wysocki went into last week's USDGC with championship aspirations and came out with a fifth-place showing. Though it wasn't the elusive title he's been seeking, he was using his final round at Winthrop Gold as a jumping-off point for this weekend's tournament. So far, it seems to be working.
"Last week it wasn't like I was playing that bad, so it's not really something I look at negatively," he said. "I came out with a decent finish – top 5 at a Major – and of course I'm always trying to win. But I was just happy to finish the last round at USDGC 9-under, and here I shot another 9-under this week, so the last two rounds I've been real happy with my play. So there's no negative thoughts in my head right now. It's all positive, and I'm looking forward to how these last two rounds turn out."
The Open lead card tees off for another round at Jackson at 12:10 p.m. EST, with instant scoring and statistics available via UDisc Live.