Pierce, McBeth Snag Player of the Year Crowns
Pierce, McBeth Snag Player of the Year Crowns
Fourth and fifth titles, respectively, for the world champs
Wednesday, January 15, 2020 - 12:21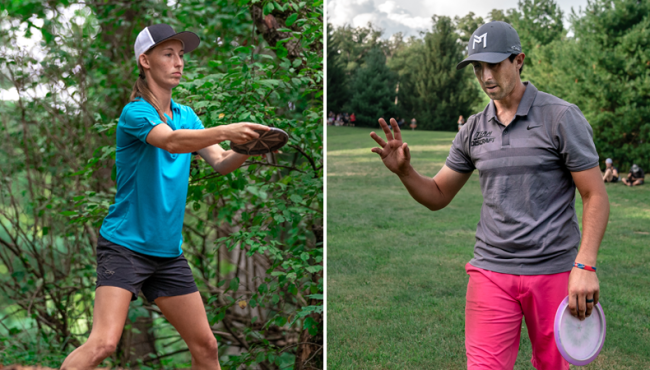 The reigning PDGA World Champions can add another notch to those championship belts.
Paul McBeth and Paige Pierce earned the PDGA Player of the Year Award for 2019 in their respective divisions after final point totals were posted early Wednesday. It's the fifth Headrick Cup of McBeth's career (2013-2015, 2018-2019) and the fourth J&P Cup for Pierce (2015, 2017-2019), cementing each competitor's status as two of the most dominant disc golfers of this era.
'Under a Magnifying Glass,' McBeth Proves a Point
The second of back-to-back Player of the Year honors came during a year of transition for McBeth. The 29-year-old California native switched to throwing Discraft after nearly a decade with Innova Discs, but he barely skipped a beat: It only took him four tournaments to snag his first victory of the season, a three-shot win at the Waco Annual Charity Open in which he threw his second 18-under par round in less than a year. 
New plastic? No problem.
"This season was under a magnifying glass," McBeth said. "People were doubting – I think there was a lot more doubt than there was positivity at the beginning. It was awesome not only to click with Discraft as a company, but also with their discs and performing so well throughout the year. It was a mission we both set out to do, and I think this Player of the Year [award] capped that off as one incredible season."
McBeth parlayed that early-year momentum into a total of 14 victories for a .609 winning percentage that earned him bonus points in the Headrick Cup tally. He also added his 14th and 15th career PDGA Major wins with triumphs at the European Open in Nokia, Finland, and PDGA Professional Disc Golf World Championships in Peoria, Illinois.
Player of the Year, then, truly demonstrates the consistency for which he strives.
"I think this proves that it was a great year rather than just one week," McBeth said. "This is a big deal, and I don't think it was really too close. If it was a vote, it probably would've been unanimous...There was no doubt in this one."
Explainer: How PDGA Player of the Year points are calculated
Where there is some uncertainty, though, is in McBeth's status heading into 2020. He suffered an ankle injury back at that same Waco tournament in March, but played on it all year and ended up with a strained peroneal tendon in his right ankle that he re-aggravated in October at the United States Disc Golf Championship. He's now in a walking boot for at least four weeks, but he said he still plans to start the season like he always does: at the Wintertime Open in Pasadena, California, in February.
"I'm not too worried," McBeth said. "It'll be good to rest before. I was still training and whatnot the previous month or so because we didn't really know [what the diagnosis was], so there was no reason to stop there. If everything goes well, I'll be good to go when the season starts."
Pierce Widens the Gap in FPO Field
Pierce's season was nearly as gaudy as her world champion counterpart's. The 28-year-old Texan compiled a .577 winning percentage across 26 Open Women's competitions, including a nine-start winning streak from late May to early September. That included a rousing win of her own at the European Open and a fifth world championship victory in which she trailed by seven shots after two rounds.
That title not only brought her Major count to 13, but also put her in rarefied air. She joined Elaine King and Juliana Korver as the only women to win five PDGA Professional Disc Golf World Championship titles.
"It was really exciting for me to prove to myself that it's never too late [to come back], for one, and for two you can overcome any of these thoughts and any score deficit," Pierce said in a December interview [she is currently traveling overseas and was unavailable for comment]. "It was really cool to add my name right there beside Elaine and Juliana."
The fifth world championship also helped her to a new contract, as she will join McBeth as a teammate throwing Discraft in 2020.
Pierce said the separation she was able to put in between herself and her FPO competitors in the title department – Catrina Allen and Sarah Hokom both won a single championship in the 2010s – will play a factor in her legacy.
"It's not as dominating [to have four world championships] between five-time and one-time," Pierce said. "So it kind of makes the gap a little bit bigger and it puts a staple on my career quite a bit more so."
Another Player of the Year crown does, too.