In Pictures: National Disc Golf Day 2022
In Pictures: National Disc Golf Day 2022
Tuesday, August 9, 2022 - 12:37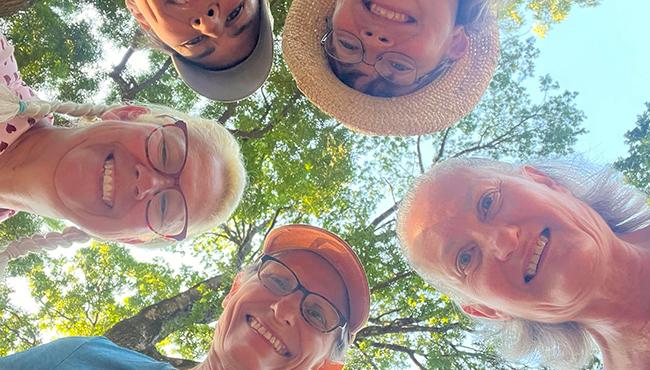 On Saturday, August 6, thousands celebrated National Disc Golf Day. For some, it was a double-celebration, thanks to the Women's Global Event. All in all, hopefully you got out to play the game you love with friends you love.
On social media, many posted their disc golf adventures using #NationalDiscGolfDay2022. The PDGA promised a prize pack to a lucky photographer, and you responded. First, here are a few favorites…
#NationalDiscGolfDay2022 #DiscgolfDog @DiscraftDG @handeyesupplyco #BakerPark #Calgary

Celebrating with my best buddy on his first ever disc golf round. 🥏🥏🥏 We are both winners today made friends enjoyed the wonderful weather. pic.twitter.com/Dtl6iMCC1r

— robert haskett (@Haskett_R) August 6, 2022
Robert is the early leader for Best Playing Partner.
Hey hey it's #NationalDiscGolfDay2022! 🥏 New to playing and having lots of fun! #NationalDiscGolfDay #discgolf pic.twitter.com/eJRUeua0hY

— Zena Ramsey (@Mrs_ZJRamsey) August 6, 2022
Zena is actually seven feet tall. That's just a REALLY big tree.
The Women's Global Event coincided with National Disc Golf Day in the U.S. As you can see, it's a multi-generational affair. Costumes and props add to the fun!
School begins soon, and some may say that's a marching band that just happens to be getting in a little pre-semester practice in the park. But we all know better.
At first glance, is that snow? Even if not, this pic cooled us down. Then we saw the holding-hands and that warmed us right back up.
I'm on a boat… with discs! (And yes, he knows those won't float.)
A disc golf family outing… at DeLaveaga. *Chef's kiss*

And finally, the winning image…
Becky posted lots of photos using #NationalDiscGolfDay2022, showcasing the entire community celebrating together. Thanks Becky, and everyone else, for documenting an awesome National Disc Golf Day 2022!
Jennie Weigand #158303 contributed to this article.