Meintsma and Weese Triumph in 33rd Majestic
Meintsma and Weese Triumph in 33rd Majestic
Monday, July 5, 2021 - 13:21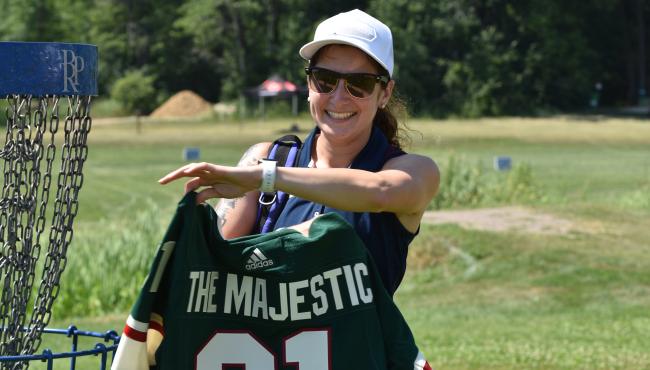 Noah Meintsma and Jessica Weese rallied for victories on a hot and windy Independence Day at the 33rd year of the Majestic. Both players came from behind, with Noah's charge from the chase card bagging him his first A-Tier win. Meintsma, from nearby Minneapolis, Minnesota, enthused, "It's a dream come true for me to win the Majestic, It's the only tournament I make sure I play every year. I first played this event as an Intermediate." When told he tied for the hot round of the day at 11-under, he said with a laugh, "It sounds good when you put it like that, but it was an up and down round."
A key for Meintsma was his play on the three island greens on the Majestic's 27-hole layout at the highly-rated Blue Ribbon Pines Disc Golf Course. For the tourney he landed safely five of six times, including for a final hole birdie which proved to be the difference. Cale Leiviska's drive on the 325-foot final hole landed on the green near the chains but found the woodchip moat that surrounds the green. Cale said, "I loved my shot into that thick sod but it carried off the green. I've known Noah since he was a kid and his uncle brought him into my Airborne disc golf shop in St. Paul." Leiviska was going for his fourth Majestic win, which would have tied him with Barry Schultz.
Although on different cards, it became a two-person race down the stretch, with Meintsma cashing birdies on the last five holes and Leiviska getting four of the last six. "After two bogeys in a row on 21 and 22, I pretty much knew I needed to birdie out to have a good chance" said an ebullient Meintsma.
Many of the 181 players and over one hundred spectators lined the fairways for Meintsma's and Leiviska's epic battle. With live scoring available on phones, most fans knew the pair were matching birdies down the stretch. Round 1 leader Kevin Jones was vying to win his third Majestic in a row; after a rough start he rebounded to finish tied for 3rd. Fresh off his iconic PDGA World Championship victory, James Conrad drew a large gallery of family, friends and excited disc golf fans. Perhaps a bit on cruise control, he finished tied for 12th.
Weese Wins Womens
Jessica Weese actually shot better in Sunday's gusty wind than she had in Saturday's ideal conditions allowing her to pull away from second place finisher Ellen Widboom who had led by 2 after round 1. Although Weese gained the lead early in round 2, by the halfway point it was down to 1 throw. "She had some misfortune and my circle 1 putting felt good all day," said Weese. "Due to the wind, I did change my bag out some and changed my game plan on some of the holes. I really feel comfortable on wooded courses like this one."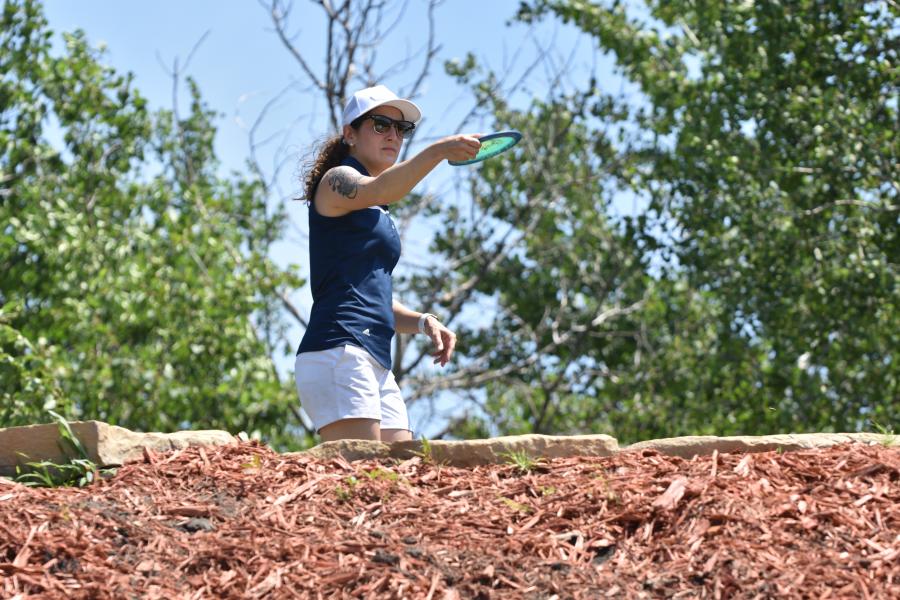 In a stroke of good timing, Jessica's biggest supporter, Garrett Gurthie, was on the chase card waiting to tee off on hole 1 just 100 feet away when Jessica putted out for her win. Garrett was able to join her on the 27th green for a brief celebration before he teed off. Garrett also put on a late rally of his own and finished tied for third place. Lindsay Fish shot the second-best round of day 2 and finished third.
Patrick Brown Holds on to Claim M40
The M40 division was taken by first-round leader Patrick Brown who followed his 6 under in round 1 with a -5 in the wind. His comfortable victory was threatened by a late charging Danny Polk, whose 9-under 1031- rated round came up just 2 throws short.
Scott Stokely and Jonathan Baldwin started round 2 tied, 4 throws behind round 1 leader Mike Misakian in M50. With 6 holes to play Stokely was 2 back and Baldwin 1 back when hole 22 scrambled the leaderboard. After the dust settled, Stokely had a lead he would not relinquish. Baldwin was able to finish just 1 throw back. First round leader Misakian finished tied with Gene Laforge for 3rd.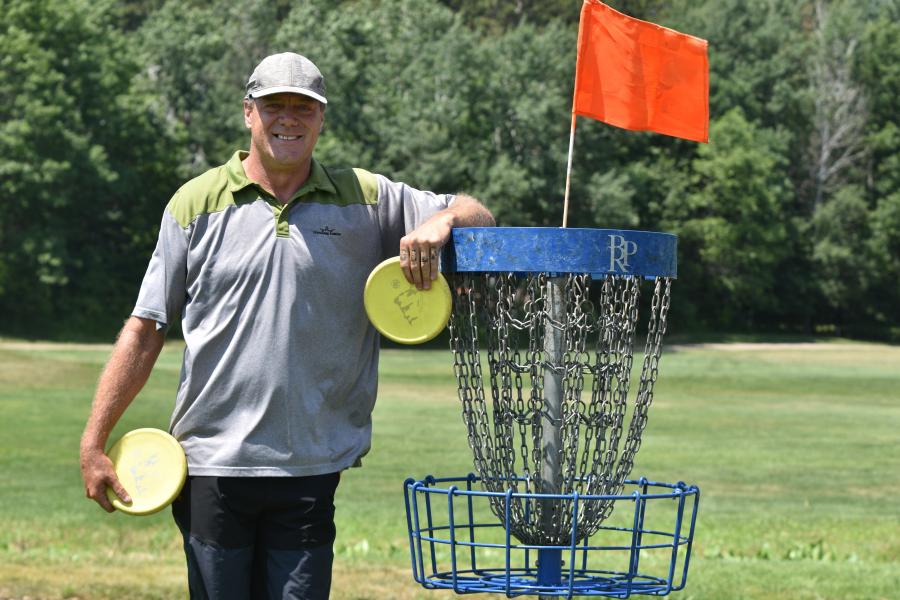 Majestic veteran Bruce Novak won the M60 title to go along with his M50 victory in 2017 and M40 win in 2005. Bruce held off Mike Anderson and round 1 leader Robert Rothman who finished 2nd and 3rd respectively.
The Minnesota Majestic was founded in 1987 and has been held every year since except 2001 when the Minnesota Frisbee Association hosted the PDGA Pro Worlds. The founders hoped to attract many of the best players in the world, and this year — as in years past — their hopes were realized on a hot, gusty Independence Day weekend in East Bethel, Minnesota.