McMahon Keeps Foot On Gas, Adds To Konopiště Lead
McMahon Keeps Foot On Gas, Adds To Konopiště Lead
Lizotte, battling wrist injury, moves back into second place
Saturday, July 14, 2018 - 18:09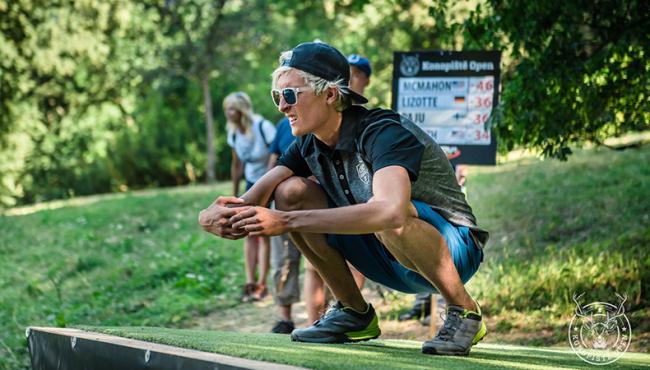 Stop the presses! Alert the authorities! Put up the Bat Signal!
Eagle McMahon finally carded a bogey at the Konopiště Open.
Even with that single blemish on his scorecard, McMahon still separated himself from the field during day three in the Czech Republic. The 20-year-old's 14-under par 53 qualified as an off day by his early tournament standards, two shots behind the course record pace he set during the first two rounds at the Franz Ferdinand course in the Czech Republic.
Still, McMahon is sitting pretty: His 46-under par 155 total gives him a nine-shot lead and a clear path to his first career PDGA Major victory.
Simon Lizotte moved back into second place with a 12-under par 55 that brought his three-day total to a 37-under par 164. The German superstar and 2016 Konopiště Open Champion revealed after the round that he has been battling a wrist injury throughout the tournament, but he was still able to move ahead of Seppo Paju, who carded a 10-under par 57 Saturday, and Will Schusterick, whose 13-under par 54 put him into a tie for third place with the Finnish powerhouse at 36-under. Paul McBeth dropped to fifth place after his own 10-under par effort and sits at a 35-under par 166 heading into Sunday's final.
McMahon is now averaging 1073.67-rated golf during the European Major. The bogey on hole 4 – which came after he kicked off the round with a turkey – was his first of the tournament.
Indeed, the 20-year-old said the error came when "things were going a little too fast." He thought his drive on the 109-meter par 3 was clean, but it ended up leaving him with an uphill look for birdie from outside the circle. A low-hanging branch obstructed his line to the basket, so he took to a knee and launched a putt off the top band. It hit and rolled back down the hill, and he missed the comeback attempt.
"It was a little bit of a wake-up call," McMahon said. "It was me telling myself, 'There's a lot of golf left, you need to focus in. Don't take your foot off the gas.'"
Instead, he put the pedal to the metal. McMahon fired off seven consecutive birdies, parking the 219-meter 5th and the 93-meter 7th before connecting from outside the circle on hole 8. He hit the green in regulation on 72 percent of his chances and continued his perfection from inside the 10-meter putting circle, only carding pars on holes 12 and 18.
"That's really – it feels really good," McMahon said. "I'm just playing how I feel like I should."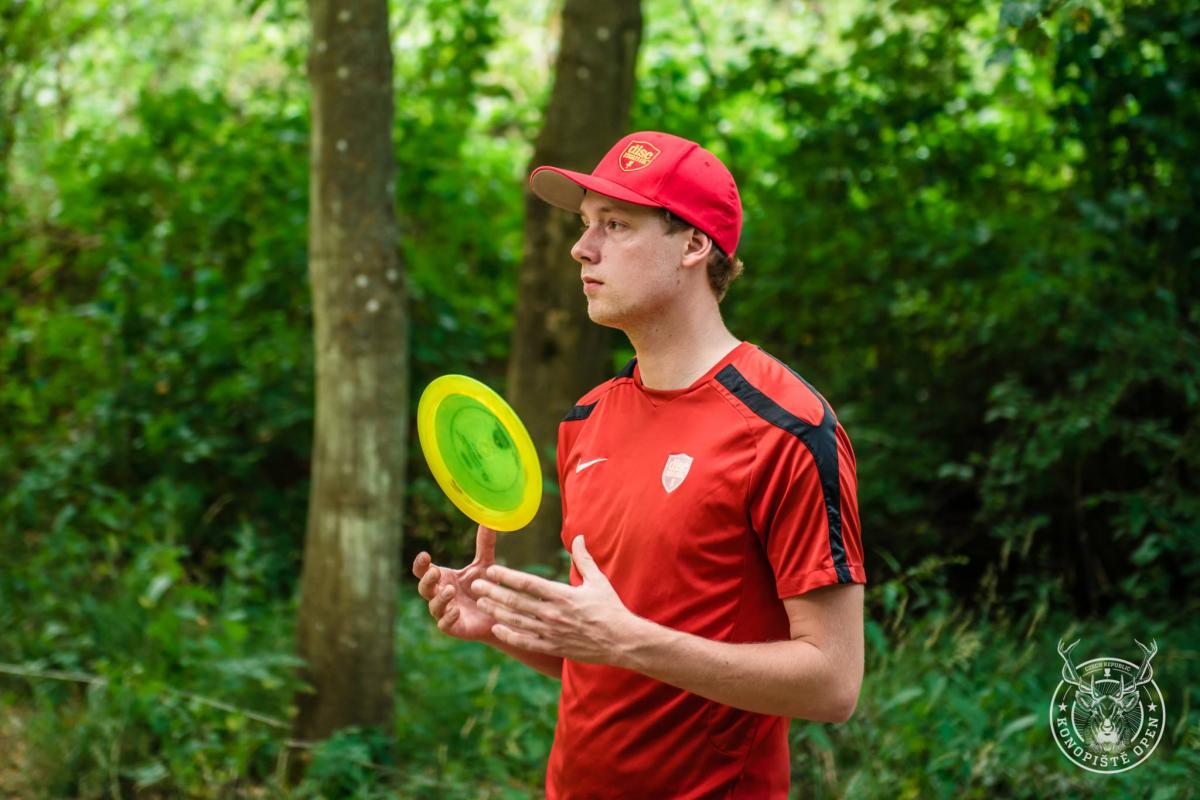 Lizotte, meanwhile, was feeling pain. He was sporting a medical wrap on his right wrist after his 1046-rated showing as he worked to stabilize an injury, one he chalked up to inflammation from overuse. He said he went too hard during practice on the 11,000-foot track after taking nearly a week off while at home in Germany, and it has actually bothered him throughout the tournament. While he claimed it was not affecting his score, it was holding him back from other pursuits.
"Throwing actually doesn't hurt really much, but everything else really hurts," Lizotte said. "I can't clap and I can't lift my beer properly."
While there was plenty of green on his scorecard to support that notion – he eagled the par-5 11th for the second time this tournament – he also admitted to some fatigue. He sprayed his tee shot out of bounds on the 175-meter 17th as he got a little greedy down the stretch.
"I think it was just being tired and wanting too much," Lizotte said. "That's the first time ever in three years I've gone OB on that hole, because it doesn't really matter where you land…I just wanted to outdrive my drive from yesterday, I guess, and didn't turn it enough because I was feeling a bit tired."
Schusterick climbed into third place with a hot back stretch that saw him hitting the green on eight of the last nine holes. He closed out with six straight birdies and carries a 92 percent success rate inside the circle into Sunday.
It's that last statistic that bears weight: Schusterick's putting has been impacted the most as he's fought a shoulder impingement for more than a year, but he is working to turn the page from the injury.
"I think it's a piece of confidence, a piece of faith, and just kinda going into the whole week I just had a mentality of, 'I'm done.'" Schusterick said. "'I'm done playing the way that I have in the past, and this is the time to move forward and do better.'"
The three-time United States Champion came into the tournament after a victory at the Pärnu Open in Estonia, and he's parlayed a strong European trip into his first appearance on the final round lead card at a Major since 2015. Still, he wasn't ready to declare himself "back" – "I'll be able to know I'm back whenever I'm winning," he said – but he was taking comfort in his veteran standing as he returned to the spotlight.
"I probably have more experience than all of the other people combined on lead cards going into the previous years," Schusterick said. "…It's nothing new to me. Definitely excited to be on the lead card, but it doesn't mean anything to me in terms of recognition. It just feels good to play well."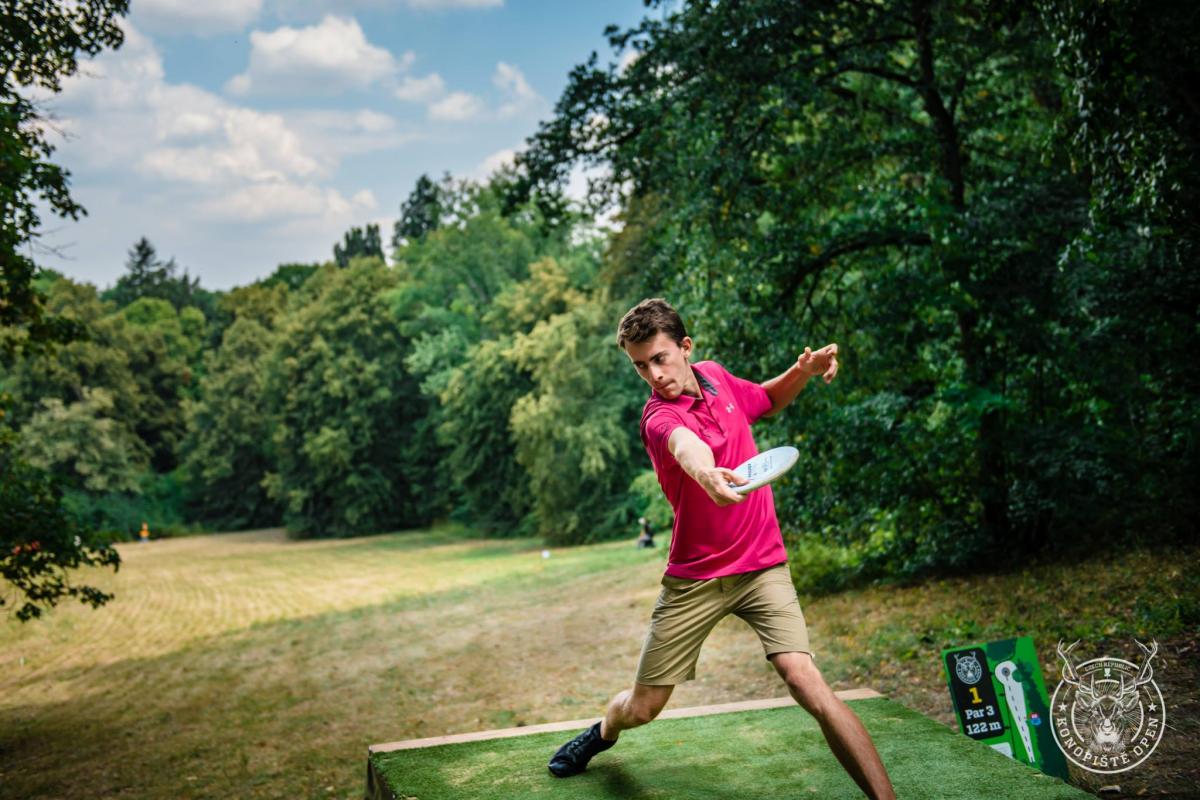 Elsewhere on the leaderboard, defending Konopiště Open Champ Ricky Wysocki dropped to sixth place after his second 8-under par showing of the tournament and is now 14 shots behind McMahon. Wysocki's touring partner in Europe, Devan Owens, continued his steady climb up the standings and is tied for seventh place with Jeremy Koling at 31-under.
Part of Owens' ascent, he said, was due to a bit of theft from his travel buddy. The Oklahoma pro has started mimicking Wysocki's putting style while overseas, and he's found great comfort and success. He banged five putts from beyond the arc during round three and was confident a top 5 finish was in sight.
"I've always been a good putter, but it's usually streaky," Owens said. "Now, I literally have zero nerves at all when I'm putting…My misses are barely missing, and it brings on confidence."
One round away from his first Major victory, McMahon was experiencing a similar sensation. Though he took a three-shot gap into Sunday at the 2017 Aussie Open before succumbing to Wysocki, his success this year – and a much larger margin for error this weekend – had him finally abandoning the "there's a lot of golf to play" refrain. Instead, he was almost allowing himself to feel comfortable.
Almost .
"I'd be lying if I said I didn't, but I still am trying to keep that mindset because this is the kind of course – the aggressive shot is the shot you're supposed to throw," McMahon said "…It's me against the course again, and I've got to go out there and play like I've been playing. I think it'd be cool to go out there and shoot the best round of the tournament to really make a statement."
He also wasn't planning on losing any sleep over the weight of the tournament's status.
"I've been in this position a lot this year, and I don't know," McMahon said. "Honestly, I know that there's more hype built around a Major, more prestige, but I kinda think all the sanctioning is meaningless. A tournament is a tournament. You've gotta play good wherever you're at. There's gonna be a little bit of pressure going into to tomorrow, and I'm excited to see what it feels like and I'm really excited to get back out on the course."
That doesn't mean he'll just be able to walk it in, though. Lizotte wasn't quite ready to concede that he was playing for second: "That will probably start after half of the round."
Then, he reconsidered.
"I don't know. If Eagle keeps playing like that, it's gonna be basically impossible," Lizotte said.
"Actually, literally impossible."