McBeth Shoots 18-Under Par At Great Lakes Open
McBeth Shoots 18-Under Par At Great Lakes Open
Four-time PDGA World Champion now leads by eight
Saturday, July 7, 2018 - 18:03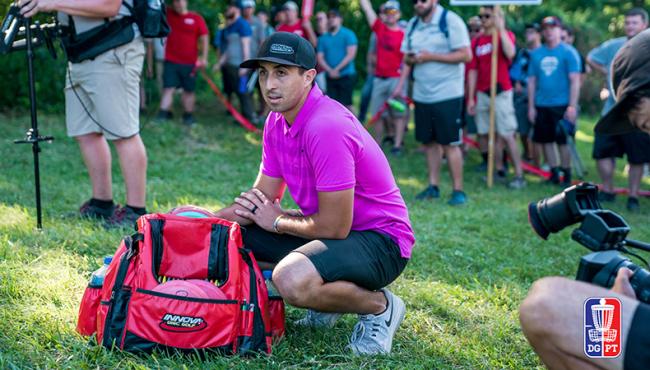 It's the seventh of July, but don't tell that to Paul McBeth.
The four-time PDGA World Champion brought some leftover fireworks to the Great Lakes Open Saturday, as he hit a 50-foot putt on the 18th green to go 18-under par and move to a comfortable lead at the sixth Disc Golf Pro Tour event of the season.
McBeth was nearly perfect on the scoresheet, offsetting his lone par with an early eagle on the Toboggan's par 5 2nd, and that extra shot under par helped him to an 1108-rated effort that shattered the Kensington Metropark track record and found him taking an eight-throw lead with one round left to play in Michigan. McBeth's two-round total now sits at a 29-under par 97, while Nikko Locastro, who tossed his own 11-under par 52 Saturday, is in second place with a 21-under par 105. Dave Feldberg's 7-under par 56 puts him in third place at 20-under, while James Conrad, Willie Prince, and Cale Leiviska are tied for fourth place at 17-down.
The performance signified a seven-shot correction over McBeth's course record-setting opener on Friday, one he knew he could clean up.
"I think the key word to this week – and really the rest of my year and hopefully career – is just being more disciplined leading up to events, whether it's the way I eat, the way I practice, the way I train," McBeth said. "So from yesterday to today, I knew I could improve on yesterday's round. Even though was 11-under – it was still good – I knew there was lot of improvement I could do and made the few adjustments I had to where I made mistakes and basically had a perfect round."
McBeth started the scoring with a 35-foot putt for deuce on the 477-foot 1st, which played as the Toboggan's fifth most difficult Saturday. He then followed with a turnover smash up the hill on 2 before putting his second shot deep of the elevated pin, and he converted the comebacker to go 3-under in just a pair of holes.
From there, McBeth put on a clinic. He was rarely off the fairway, but even when he was he managed both precision and touch: His second drive on hole 3 bounced and hit the cage, just inches from an improbable second consecutive eagle, while his forehand approach with a Teebird3 from the left-side schule on hole 6 drew a perfect closed parentheses and nestled to 20 feet.
"It's a shot that I've had but never trusted all year, for quite some time, just never really felt like I had control or was able to trust that shot," he said. "I just feel like everything's working."
And the putter was locked in. It looked like the under-par run might come to an early end after McBeth's high drive over the trees on 5 fell 60 feet short of the pin, but he converted with authority for the birdie. He ended up perfect from both circle 1 and circle 2 during the round.
"When I got that birdie after knowing I already had birdied them all and got an eagle – at that point that was a big one, where I knew that's not an easy one to get," McBeth said.
He chalked up his lone blemish – if a par can even be called a blemish, that is – to losing his footing on hole 10's tee pad. The big turnover required for the shot requires a full power release, and without precise footing he landed short. Still, he didn't let the mishap take the wind out of his sails.
"They're not good pads at all – we had to pull out the broom a few times," McBeth said. "…I knew there was still a lot of work out there, but I knew shooting extremely well was still possible."
And it was all in order when he came to the tee of hole 18, a 315-footer that features a 52-foot elevation gain from pad to pin. Only nine shots have landed in circle 1 in regulation so far this weekend, and McBeth played a forehand Destroyer shot safe, but about 50 feet short.
That 50 feet wasn't going to get in the way of his bid at history.
"I knew it was for 18-under – everyone knew it was for 18-under," McBeth said. "I knew I had a wide open putt, and I made my three other outside-the-circle putts before that, so I knew there was a really good chance that this was going in.
"But I really just focused on – this is a putt you have to make for the world championship," he continued. "The World Championships are right around the corner – put yourself in that mindset. That's kind of where I was and I was focused: that 3-2 count, bottom-of-the-ninth moment that I've been working for for years."
The memorable showing put McBeth tentatively at number three on the all-time ratings list for courses with an SSA in the 54-59.99 range, behind cardmates Feldberg and Locastro. Indeed, the round McBeth used to join them in the record books overshadowed their own strong performances: Locastro's 11-under par was the course record the day before and a one-shot improvement over his Friday showing, while Feldberg continued to hit long putts and push his circle 2 conversion rate for the tournament to 50 percent. Both veteran professionals have yet to card a bogey through 36 holes.
A.J. Risley made a nine-spot jump in the standings with his 10-under par 53 to move into a tie for seventh place with Tim Barham and Grady Shue, while Paul Ulibarri made the biggest climb of the day with an 11-under par showing that rocketed him 33 places on the leaderboard and into a tie for 14th.
Ulibarri took to social media Saturday night to praise McBeth's performance as "the best round of all time," but the man behind the feat wouldn't let himself bask in the afterglow for too long just yet.
"I don't know," McBeth said. "I guess I'm just in the moment right now and not even worried about it, because I still have another good round in me tomorrow."
No, he's not planning a repeat performance; he's simply looking to avoid a letdown and aiming for his fifth victory of 2018. And he cautioned anyone coming out for the final round not to get their hopes up too high.
"If you were here yesterday, be thankful you were there yesterday and just enjoy today," he said with a laugh. "Because it's not gonna be the same."
Hokom Takes The Lead, And Then Some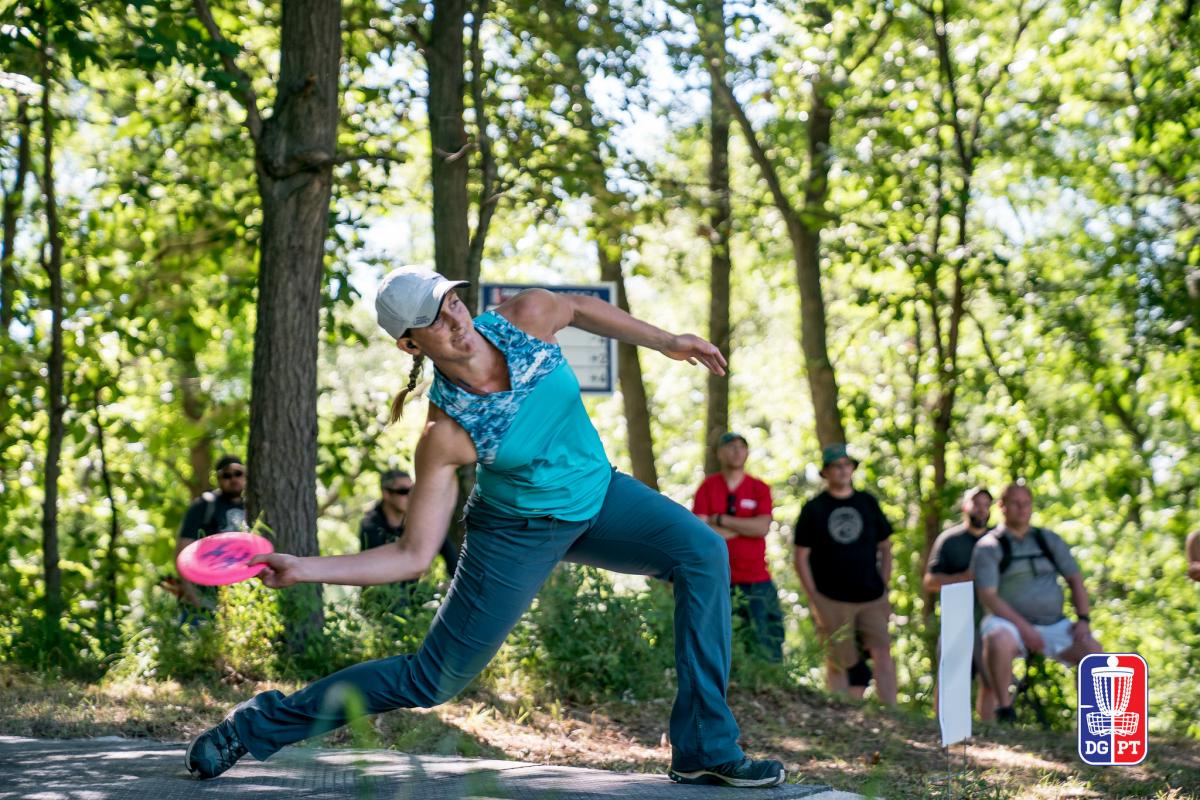 Sarah Hokom trailed Jessica Weese by two strokes heading into moving day at the Great Lakes Open. After one hole, that margin was cut in half. By hole 2, Hokom had an eagle, and with it the lead.
The quick scoring swing paved the way for Hokom's ascent to the top of the leaderboard, as the submarine sidearmer dove down for a 6-under par 55 Saturday morning at the Toboggan. The 993-rated showing has her six shots ahead of Paige Bjerkaas and Ellen Widboom, who share second place at even-par after their respective 3-under par and 1-under par performances.
Weese slumped to fourth place with a 1-over par total, as her triple-bogey 7 on the 590-foot 4th weighed down her scorecard.
Hokom managed a rare feat in the women's field: a bogey-free finish. It was her second such showing of 2018, with the first coming in round two of the San Francisco Open. She emerged victorious there, and another one in Michigan would give her the opportunity to make a significant jump up from her current fifth-place standing on the DGPT circuit.
Hokom was the only player in the top 5 to land 100 percent of her putts from inside circle 1, and she connected on a pair of 40-footers to keep her clean sheet. She also notched a perfect scramble rate, while Bjerkaas (91 percent) and Widboom (93 percent) also recovered well from miscues as they made their moves.
The Open Women tee off for their final round at 8:30 a.m. EST Sunday, with shot-by-shot coverage airing at 2:00 p.m. on the Disc Golf Pro Tour's YouTube channel. The Open lead card finale follows at 3:15 p.m.