McBeth Endures Wind, Rivals For Third Glass Blown Open Title
McBeth Endures Wind, Rivals For Third Glass Blown Open Title
McMahon, Wysocki tie for runner-up spot
Sunday, April 28, 2019 - 16:13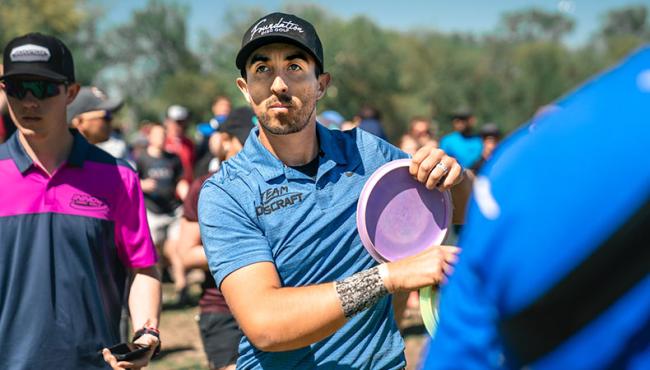 EMPORIA, Kansas -- Paul McBeth has been arguably the hottest player in disc golf since mid-March, racking up four victories and a single runner-up showing in the last six weeks. But on Saturday at the Emporia Country Club, the Midwest wind did its best to knock him off course during the final round of the Dynamic Discs Glass Blown Open.
McBeth 1, weather 0.
The four-time PDGA World Champion is now a three-time GBO Champion after enduring not only 40 mph gusts, but also his two closest contemporaries. McBeth's final round 2-over par 67 took his four-day total at this PDGA National Tour event to a 16-under par 244, netting him a $5,000 payday and another glass blown orb for his trophy case. Eagle McMahon and Ricky Wysocki pushed to a 15-under par total to tie for second place, and Anthony Barela jumped up to fourth place at 13-down for the week. Veteran pros Cale Leiviska and Nate Sexton rounded out the top five with their 9-under par 251s.
"Feeling good," McBeth said. "I mean, I walked away with the win. I have no clue what scores were. It was almost pointless to care what scores were with all that wind and everything that was going on."
Indeed, it was difficult to keep track of all the scoring highs and lows as disc golf's top three players jockeyed for position. McBeth lost two shots off the lead on his first hole when his third shot flared OB and his par save slid through the left side of the chains. Wysocki and McMahon both birdied, and the chase was on.
The trio lobbed shots back and forth at each other all round, with Wysocki connecting from circle's edge with a fist pump on hole 3 to ignite the energy. He and McMahon both snagged two strokes again on hole 6, when McBeth overpowered his tee shot and went into the OB deep of the uphill 343-footer. Wysocki then closed the gap to one with a solo birdie on 7 before a disastrous sequence on hole 8, where he built a snowman: He went out of bounds off the tee -- then again on his approach -- before slippery chains struck him. McBeth was smooth all the way to a birdie on the 990-foot par 5, and it put his lead over Wysocki back to the five that he brought into the round.
Wysocki battled back with some hot putting, while McBeth hit a difficult stretch as he battled the wind on holes 10 and 11, first turning a Predator over and into the ground and then missing a putt that squirted outside the lines. By the time Wysocki connected from 25 feet on hole 12, he had clawed back to tie it up.
"The wind definitely played a factor into those shots and the shot selection there," McBeth said of the mid-round struggles. "...It was so hard to keep up with what the score was moreso than I'm up two or I'm up one, but I know it was tied, or really close, down the stretch."
McMahon did his best to keep pace, even as the conditions made it increasingly difficult to putt. He hung in with a string of five straight pars before finally breaking through with back-to-back birdies on 13 and 14 -- he was particularly surgical on the 751-foot par 4 -- to put him up one on Wysocki and tied with McBeth.
But his nemesis hole lurked.
Hole 15 isn't the island the GBO is known for, but it's still plenty daunting, and McMahon couldn't crack it on Friday and Saturday, both times striking a guardian tree and ending up having to head to the drop zone.
"Two rounds in a row I went out of bounds on that hole, and going into next year I'm definitely gonna be playing that hole a little bit safer," McMahon said. Because, in retrospect, that's the one that's really sticking out in my brain."
McMahon took a double-bogey 5, while McBeth and Wysocki both played for easy 3s. That put McBeth up one on Wysocki and two on McMahon heading into the proper island hole.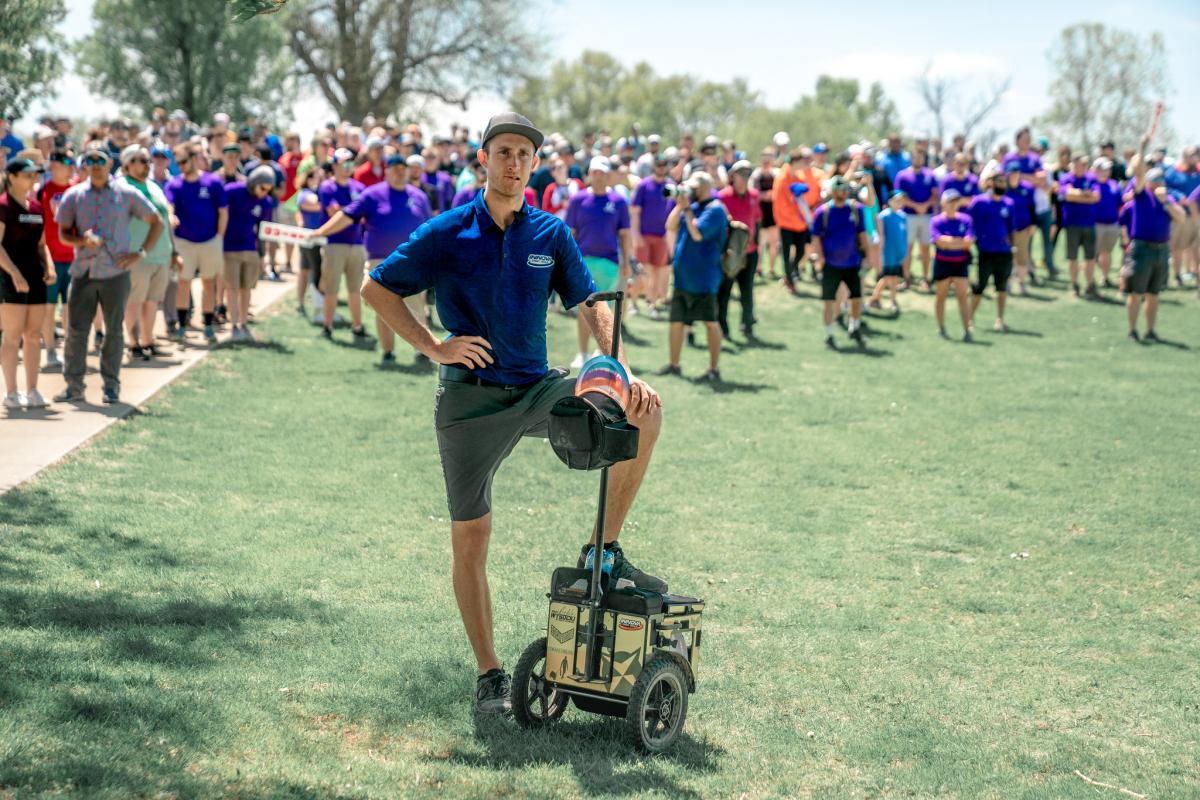 McBeth and Wysocki both played lay-up shots off the tee -- as they had all week -- while McMahon finally stuck the island with a flat hyzer. He wasn't able to connect for the deuce, though, and settled for par. McBeth, meanwhile, missed a 15-footer and bogeyed, and Wysocki cleaned up another par. That left the world champs tied and the young gun one behind heading to hole 17.
Those marks held as the trio worked to a par frame, and Wysocki was first on the box on 18. Attempting the conservative play, Wysocki's tee shot caught an edge and rolled into the pond.
"Unfortunately Ricky's drive went OB, and that kinda made it a little easier on me," McBeth said.
McMahon was about to make it even easier. Sensing an opportunity to leverage his power, McMahon attempted to make the green on the 673-footer, but his Cloud Breaker came down with a splash mere feet short of safety. He threw down his hat in disgust, knowing his bid at the title was likely gone. But after the round he didn't regret his choice.
"There was not really a decision," McMahon said. I felt a tailwind, and I knew if I threw the right shot I could get on the green and two the hole and potentially win the tournament."
McBeth, though, did second guess the shot.
"I knew Eagle was gonna go for it, and then I looked at the scores and realized he was only one back, so I felt like that was a little too much for that situation," McBeth said. "A 3 is not easy on this hole, especially in the wind."
McBeth didn't need a 3, though. Instead, he was able to throw a clean second shot that put him inside the circle. Neither Wysocki nor McMahon could recover from their miscues, and McBeth laid up for the victory.
McBeth pocketed $5,000 for the win, the largest payout so far in this young season. It's a testament to a tournament that has become one of the biggest in the sport.
"This event, it is special," McBeth said. "Every year they're trying to make this course harder and harder, and they're doing that. And when you come to GBO, not only do you know the wind is gonna be there -- it's gonna show up at least one round -- but then the atmosphere around the whole tournament itself is incredible. It's almost like being a celebrity, you know?"
Quote of the Day
McMahon, on his ascension to the upper echelon of the sport and playing alongside McBeth and Wysocki:
"I definitely feel honored to be playing with probably two of the best competitors the sport'ss ever seen. To be right with them -- and to beat them on some weekends -- definitely feels good."
News and Notes
Barela's finish marked his second career top-five finish on the PDGA National Tour.
Brian Earhart aced for the second day in a row, this time on the 314-foot 12th.
Simon Lizotte withdrew from the tournament prior to Saturday's final. He had been battling an illness throughout the week.
What's Next
The PDGA National Tour resumes May 17-19 at the Santa Cruz Masters Cup.
Chain Reaction