McBeth Channels Tiger In Idlewild Chase Card Comeback
McBeth Channels Tiger In Idlewild Chase Card Comeback
Melton, Conrad play to second-place draw, while Jones drops to fifth
Monday, July 23, 2018 - 13:10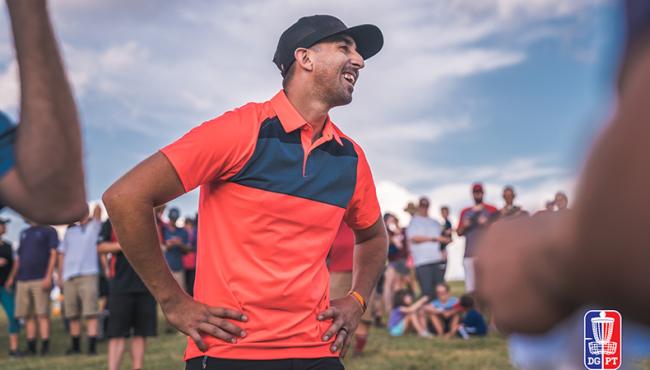 On the same day Tiger Woods made a late charge at the British Open before ultimately falling short, the disc golfer most often compared to the stick-and-ball stalwart was able to finish his own triumphant comeback.
Paul McBeth entered the final round of the Idlewild Open on the chase card, six shots behind Kevin Jones' lead, then leapfrogged the upstart Arkansan by hole 13. After hole 18 McBeth stood atop the podium to collect his sixth win of the season, while Jones was left wondering "what if."
McBeth's 10-under par 57 Sunday afternoon in Burlington, Kentucky, featured an early scoring frenzy and a clean finish, ultimately leaving him 12 shots clear of Jones, whose wheels came off late as he dropped to a 2-over par final. McBeth's 20-under par 181 netted him $3,050 and his third win on the 2018 Disc Golf Pro Tour circuit, while James Conrad's 6-under par and Zach Melton's 4-under put the hirsute duo in a tie for second place with a 16-under par 185 total. Nate Perkins rocketed into fourth place with an 8-under par final round that took his three-day tally to a 15-under par 186, while Jones dropped to a fifth-place tie with Michael Johansen at a 14-under par 187 overall.
Indeed, McBeth spent his morning glued to the PGA Tour major in Scotland, where Woods fired off a vintage front nine to take a fleeting lead. That same spark for Sunday dramatics has always run through McBeth, and seeing Woods light it up without being in the lead group gave the four-time PDGA World Champion the inspiration he needed before his 3:00 p.m. tee time.
"Watching Tiger play earlier in the day, it was like – it doesn't matter what card you're on. The people are gonna come watch who they want to watch, and I've gotta put on a show either way," McBeth said. "I kinda took that from watching The Open this morning. It was really good motivation to see him playing well, and then the guy on his card [Francesco Molinari] won…so I wasn't worried about what card I was on. You can win it from any card."
McBeth quickly got to work proving his point. Donning a bright salmon polo with a stripe of blue – McBeth's personal spin on Woods' signature Sunday red, with the cool hue representing the need for ice to run through his veins – he canned a 40-footer for birdie on the 638-foot 1st, one of Idlewild's more open holes that belies its teeth within. McBeth then parked his approach on the par-4 2nd for a tap-in 3 before stringing together a turkey on holes 4 through 6 to catch fire.
McBeth eagled the par-5 8th with a putt from just inside the circle to gain an extra stroke on all but three others in the field, then hit another 30-footer on hole 9 to go 8-down on the front. He wasn't looking at scores to see how much ground he had made up, because he didn't need to.
"After hole 9, I knew," McBeth said. "I was like, 'There's no way that anyone else is doing that.'"
McBeth was right, as Jones scuffled his way to a sluggish front half. The former college football player put a relatively simple approach too long on hole 1 – final round lead card adrenaline, perhaps – and opened with a par, but was able to check in with a birdie on hole 2. Still, the 22-year-old never quite seemed to get into a rhythm, missing a 20-footer for deuce on hole 3 and more often than not landing with obstructed looks to the pin. He displayed a deft mix of backhand and forehand shots to handle Idlewild's daunting lines, but had to scramble to save par on holes 6 through 8 – on the last of those, he suffered a nasty spit out on his birdie bid from 20 feet – as the woods grew increasingly unkind.
Jones admitted that some nerves affected him in the early going. "I'd be lying if I said there wasn't," he said. "It was definitely a scenario I didn't expect myself to be in, but it was a scenario I did expect myself to finish…I hung in there pretty well, not great."
His lead card compatriots, meanwhile, found success. Melton was three-for-three in hitting circle 1 in regulation from the jump, while Conrad jammed a 50-foot putt on hole 3 to start off a run of three straight birdies. Though Melton's scoring cooled and Conrad mixed in a bogey on 6, the two gained ground on Jones.
No one could do that at the same pace as McBeth, though, and Idlewild's crushing back nine was waiting to take a bite out of the scoreboard. After everyone in contention birdied the 192-foot 11th with easy uphill putter shots, the 644-foot, par-4 12th started the gauntlet. McBeth missed his 35-footer for 3 off the top band – "I just juiced it a little too much," he said – and settled for par, his first of four in a row. While on paper that may have looked like it was leaving a crack in the door for Jones, Melton, and Conrad, it really signified the best-case scenario: Each of those holes were playing more difficult than par on average – the 472-foot 13th, with its y-shaped tree in the middle of the fairway, came in a full 1.04 shots over the mark – so McBeth's ability to stop the bleeding was crucial. Melton played the stretch the cleanest of the rest, saving bogey with a 60-foot putt after an unlucky skip out of bounds on 13 before hitting from circle's edge for birdie on 14.
"Even though it was a bogey it was definitely a boost," Melton said. "It felt like a [par] save. It may have said one-up on the score, but it felt like I was saving it."
The wooded section, though, was more significant for ending Jones' heroic attempt at the win.
Still just two back of McBeth, Jones took to the tee on the 487-foot 15th and launched a backhand screamer into an early tree. His drive caromed into the left-side schule, where he found nothing but jail. It took him two shots to get back to the fairway – his first escape attempt squared a tree and rolled back through his legs, which he called "pretty comical" – and he two-putted en route to a triple-bogey 7 that put him out of contention.
"I have a play for that hole, and I think I got a little aggressive on it," Jones said. "I tightened the line down a little bit more than what I should have and I brought a tree into pay that shouldn't have ever been in play."
McBeth birdied 16, but he still knew he had work to do to stave off the rest of the lead card, which had now become the chase.
"I saw that [Jones] 7'd it and I was just like, 'Oh no,'" McBeth said. "I went from thinking I was gonna be tied to up three. When I bogeyed [17] I knew, 'OK, it's not over, but if you birdie 18 you can lock it up.'"
That's what he did, putting his approach shot to tap-in range for an easy 3. Melton and Conrad played for second, with Conrad gaining three strokes in the last three holes to notch the tie. Melton, though, still landed his career-best finish at an Elite Series event.
"It feels good. It feels really good," Melton said. "It's pretty rewarding to see my name up there toward the top. I don't feel like I did anything special or crazy, I just played clean and executed my game plan."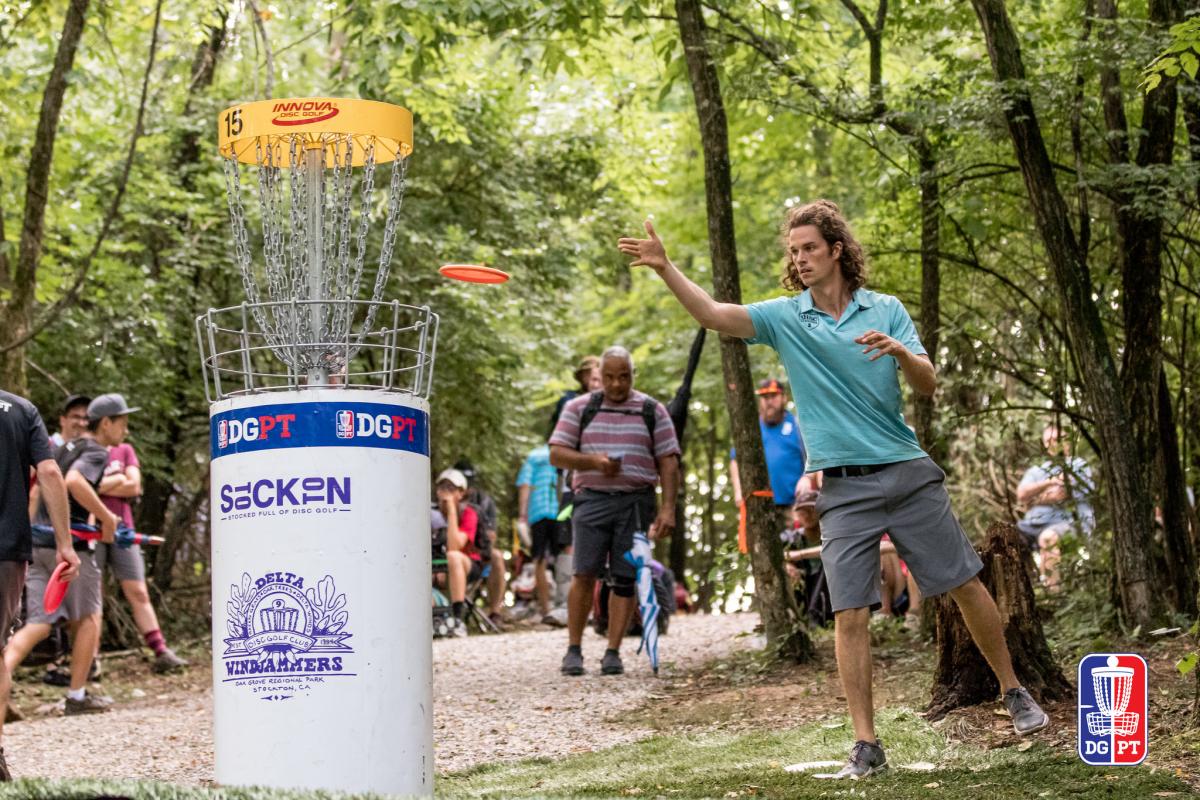 Not all of the scoring was saved for the top two cards, though. Perkins, playing in the third group, mixed in a 40-foot putt for birdie on hole 7 and a circle's edge connection for eagle on hole 8 to go 5-down on the front nine. He added another 40-footer for deuce on 10 and was clean all the way until hole 18, when he got off the fairway and finished with a bogey 5.
Perkins' eight-place climb up the leaderboard gave him his best finish since his runner-up showing at the Waco Annual Charity Open, but the Texas native admitted that he wanted more. He made the lead card during the final round of last year's Idlewild Open, and his recent play had him overflowing with good vibes coming into the weekend.
"I really have never felt this confident going into an event before," Perkins said. "I really felt like this one was mine to win, so it's a little sour to come up that short. But I'm definitely proud to come in fourth place at a Pro Tour, for sure."
Perkins said Idlewild lined up well for his sidearm game off the tee, but it was his scrambling that kept him in contention: He paced the field by saving par or better with an 83 percent success rate, and he hoped the performance was a harbinger of more strong showings.
"This is the time of the year that you have to be playing your best golf," Perkins said. "So I'm just excited for the next event and excited to play Worlds and play US[DGC], and I just hope I can say that I've brought my best golf for the end of the year."
Though Jones knew he let an opportunity slip away, he wasn't set to dwell in disappointment. He had already forgotten some of the details of his missed putts, and after a long morning at Waffle House he was able to find plenty of positives from the tournament.
"I did a lot of really good things this weekend," Jones said. "I shot 10-under the first round, which is pretty good, and I still left some strokes out there…I can take a lot of good from it, man. That's the second Pro Tour event that I've been on the lead card. Any publicity is good publicity, is the way I see it."
McBeth – who at 28 qualifies as an elder statesman on tour not so much due to his age, but because of his experience – said there are some parallels between Jones' early career trajectory and those of Eagle McMahon and Ricky Wysocki. The latter duo famously struggled through some heartbreaking losses before finally securing signature wins, and McBeth was impressed with Jones' attitude after spending time with him off the course this weekend and seeing the mindset needed to continue his ascent.
"No matter how he played during the day, it didn't affect him after," McBeth said. "Even after [Sunday] he was still Kevin…He's taking his lumps, he's learning from them, and he's not pouting about it. He's not letting it negatively affect him. It's a good sign."
Jones said McBeth's praise meant a lot to him, and he planned on having a heart-to-heart with Wysocki, a frequent travel partner. To round it all out, he recalled McMahon's recent success as proof his own could be on the way.
"It can't happen forever, you know?" Jones said. "Eagle broke through this year. It could be the next tournament for me, so I'm gonna keep trucking, keep having fun."