McBeth Breaks Course Record, Outguns Wysocki In Delaware Classic
McBeth Breaks Course Record, Outguns Wysocki In Delaware Classic
McMahon matches previous Iron Hill mark to move up to third-place tie
Monday, September 17, 2018 - 00:22
In the pantheon of battles between Paul McBeth and Ricky Wysocki, the number of epics seems more apt for a Hollywood film franchise or an avant-garde 1970s rock band.
2015 European Open. 2016 Masters Cup. 2014 Pro Worlds. All with their own flavor, but each providing another chapter in the career-long rivalry between this era's most consistent victors.
After Sunday, it's time to add the 2018 Delaware Disc Golf Challenge to the list.
A course record, broken. One half of the top two only hours removed from a late-night visit to the emergency room.
All. The. Putts.
In the end, it was McBeth adding another tally to the win column, as the four-time PDGA World Champion ousted the two-time PDGA World Champion with a sterling 14-under par 58 to establish a new mark at Iron Hill Disc Golf Course and take down the Challenge by four strokes with a 36-under par 180. Wysocki's 13-under par 59 tied the previous course record, but his three-day total came up shy at 32-under and he took home the runner-up slot, while Eagle McMahon matched that 13-under par pace to tie for third place with Paul Ulibarri at a 27-under par 189 for the weekend. Seppo Paju finished with a flourish, but his early-round struggles saw him slip to fifth place at 26-under par overall.
The victory was McBeth's first on the PDGA National Tour circuit in 2018 and found him taking home $3,000 in prize money. Wysocki pocketed $2,200, while McMahon and Ulibarri each left the First State $1,525 richer.
Aside from being another feather in his proverbial cap, McBeth was happy that the triumph came as part of a weekend that mixed his favorite athletic pursuits and his family's heritage.
"I watched the fight last night, watched Canelo [Alvarez] win," McBeth said. "I won. It's Mexican Independence Day. The [Denver] Broncos won. It's been a good two days."
Wysocki, on the other hand, couldn't say the same. Though he clawed his way back into contention with a hot round on Saturday afternoon, Saturday night found him doubled over with a stomach virus. The illness caused him to lose consciousness, he said, and when he later lost sensation in his fingers he made a trip to a nearby hospital. He was there until 3:30 a.m. and, at one point, had given up hope he would finish the tournament.
"I was like, in the back of my head, 'I wanna go out there and give it a shot,'" Wysocki said. "I was so weak I could barely stand up."
Some intravenous fluids and nausea medication – plus the benefit of a 2 p.m. tee time – got him back to the course, and he started his round with a birdie to take one off McBeth's three-shot lead from the jump.
"I didn't even know he was sick," McBeth said. "There was nothing that looked off with him."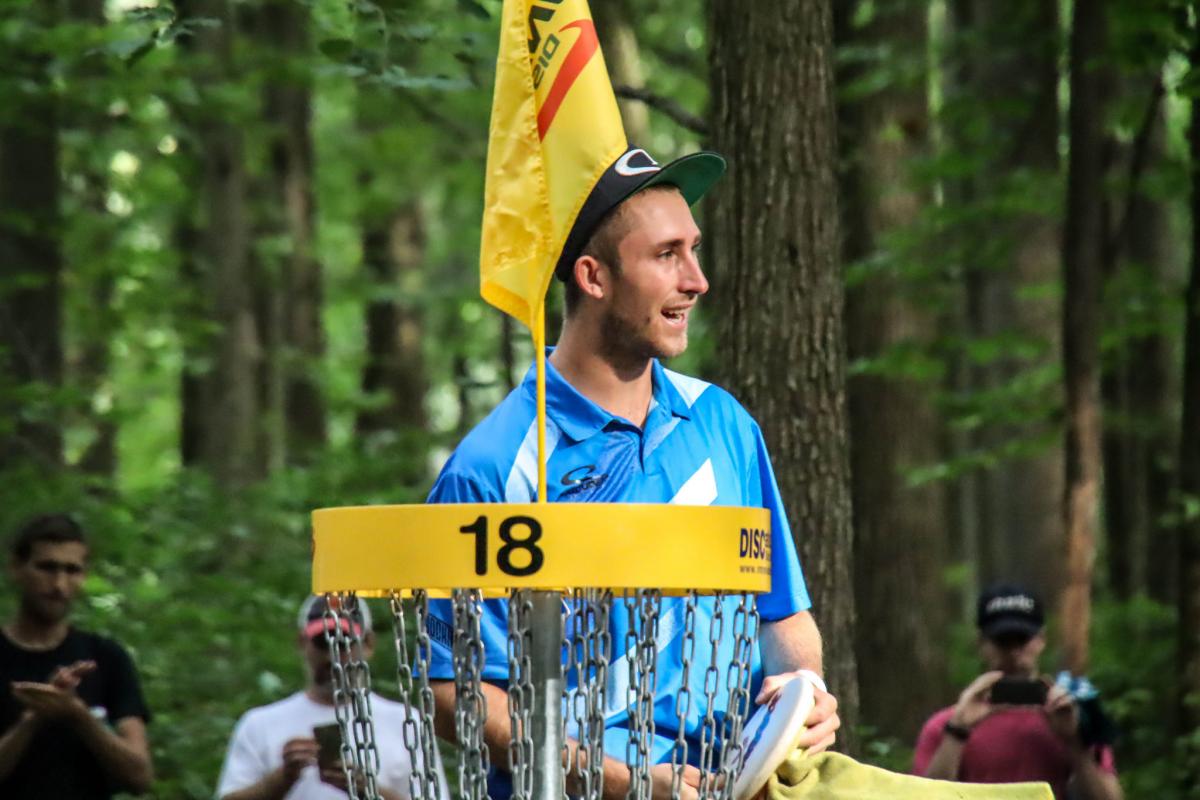 McBeth, though, saved his strongest showing at Iron Hill for when he needed it most. He came out of the gates with a par on the 605-foot opening hole, but parked his drive on the 380-foot 2nd for an easy deuce, while Wysocki was forced to hit from outside the circle just to save 3. Paju, who trailed McBeth by only a pair of strokes before the round, started bogey-par, and the lead card quickly evolved into a two-man affair.
"It definitely was back and forth the whole time, from the beginning," McBeth said.
Wysocki tried to chase down the lead in earnest. For the second day in a row, he eagled the par-5 5th, this time with a 50-footer instead of the routine clean-up job from Saturday. That put him at 5-under par through five holes, but McBeth simply kept answering: When Wysocki would have a 15-footer for birdie, McBeth was sitting with a tap-in. If Wysocki made a 30-footer, like on hole 9, it came after McBeth had canned one from 50.
The duo lobbed huge putts at each other all afternoon. McBeth hit six from beyond the arc, including a streak of five in a row from holes 9 through 13, to bring his tournament-leading circle 2 putting success rate up to a whopping 59 – his best of the year, by far. Wysocki hit four from beyond 10 meters, including a 60-footer on the 440-foot 15th, but they simply weren't enough to cool down McBeth's 1062-rated heater.
By hole 15, Wysocki had tied Ulibarri and Bradley Williams' prior course record. Wysocki then broke it with a park job on 16, but McBeth was right there to join him with a 40-footer to go 13-down before another tap-in on 17 to go to 14. Wysocki then hit an early tree off the left side of the tee on 18 that led to his lone bogey, and as McBeth cleaned up an easy 20-footer to go perfect from inside the circle for the weekend he etched his name in the Iron Hill history books by himself.
"He never got within one [stroke], so I never felt like, 'Oh, my lead's gonna go away,'" McBeth said. "I didn't play bad on any hole at all through the tournament…I think people say this is the hardest course in the world, but I didn't feel like it was at all."
Considering how his day started, Wysocki was pleased with a performance that kept him perfect in top 5 showings on this year's National Tour.
"I didn't have too many expectations," he said. "I didn't know if the medicine was gonna wear off halfway through the round or something. Obviously, I didn't really know. If it was anything like it was at nighttime there was no way I could have finished. I think not having any expectations and not knowing what to expect, I liked it."
McMahon's final round effort was fueled by similarly strong putting and a surprise ending that yielded an eagle on the 670-foot 8th. After his forehand tee shot left him pinched off to the left side of the fairway, he took a patent-pending stance and threw a roller with a D-Line FD that put him to 15 feet.
"Out of my hand it felt perfect, and I'm like, 'OK, it looks like it got around the corner,'" McMahon said. "…Then I see that it's inside the circle, and I'm like, 'Oh damn, dude! That's sweet.'"
The 20-year-old said on Saturday that he needed to challenge the course record to move into the top 5 and maintain his hold on the National Tour points lead, so it was mission accomplished. Still, Wysocki chipped away six and a half points with his second-place finish, which gives McMahon a 12-point cushion before next month's NT finale at the Ed Headrick Disc Golf Hall of Fame Classic.
More than that, he takes added confidence into the season's homestretch after recovering from a 39th-place finish at Worlds that was his worst of 2018. "Of course I still know I'm a really good disc golfer," McMahon said. "Even though I did what I did at Worlds, this is really reassuring and I don't have to have that baggage, let's say, of Worlds weighing on me."
Though Paju was disappointed to slip in the standings, he took plenty of positives from the event. He said his last 15 rounds have averaged in the 1040s, so he wasn't worried about the 1015 he put up Sunday. He was also taking invaluable experience with him.
"That was the whole plan coming to the States to play – so I would get used to playing with the Americans, the top players," Paju said. "Finally I feel like I am able to be more comfortable with McBeth, with Ricky, and all these guys."
Elsewhere at Iron Hill, Matt Bell rebounded from a rough Saturday on the lead card with a 12-under par finish to move up into a tie for seventh place with Michael Johansen at 22-under; Bell went eight-for-eight to open his round. Grady Shue jumped up seven places to land in a ninth-place tie with Jeremy Koling, and newly-crowned PDGA World Champion Gregg Barsby took home a share of 19th place, as he tied with Austin Hannum at 16-under.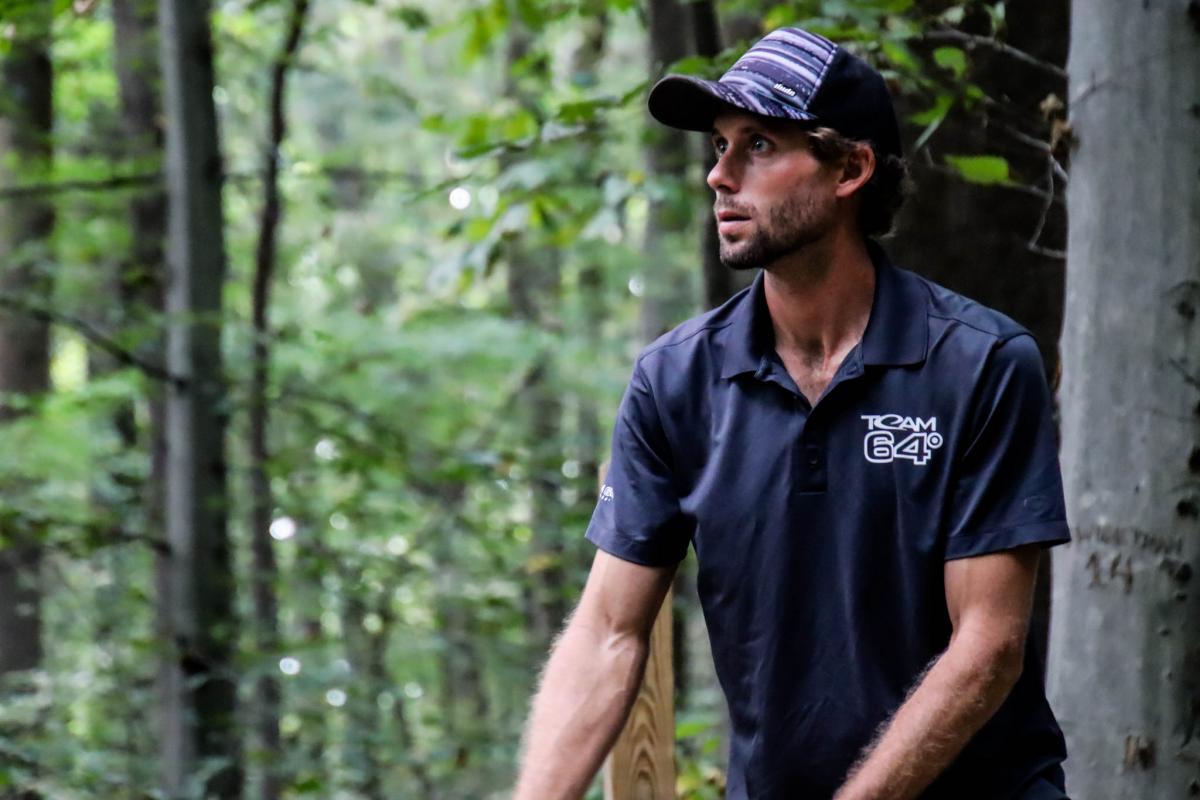 The focus now shifts – for most Open division players, that is – to the United States Disc Golf Championship, which begins in 17 days in Rock Hill, South Carolina. Wysocki planned to spend time with family in nearby Fort Mill, but anticipated flooding from Hurricane Florence might delay his travels. McMahon, meanwhile, was peeling off to New Jersey to meet some cousins for the first time.
McBeth, however, was heading in the opposite direction for Michigan, where he will caddy for his wife, Hannah, at this weekend's United States Women's Disc Golf Championship. When he's done with that, he'll work on keeping the putter hot and transitioning from the wooded confines of Iron Hill to the roped fairways of Winthrop University.
"Just keep practicing," McBeth said. "Now, it's gonna be so much different going back from here to USDGC."