Masters Cup Notebook: Kid In A Candy Store
Masters Cup Notebook: Kid In A Candy Store
Leftover tales on a World Champion media intern and players who returned to form in Santa Cruz
Thursday, May 24, 2018 - 14:42
Among the salt air, fierce competition, and community spirit that overflowed from last weekend's Santa Cruz Masters Cup, there were also more storylines than an episode of Westworld. While there weren't any robots on site (although that could be left to debate, depending on how you feel about the continued dominance of the tournament's champions), there were plenty of tidbits we couldn't fit into our day-by-day recaps. With that in mind, let's take one last spin through Santa Cruz.
Paige Pierce: media intern extraordinaire
Paige Pierce can't stop.
She can't stop making big putts. She can't stop winning. And even when her round is over, she can't stop and relax. So we put her to work.
Pierce was a de facto member of the PDGA Media – at her request, don't worry – in varying capacities in Santa Cruz. On Friday, she took one of our new camcorders for a test drive and caught footage of Philo Brathwaite as he slayed DeLa on the way to the lead card. Saturday found her getting in front of the camera and doing her best Pam Oliver impression, interviewing Valarie Jenkins before the duo took off for round two. After she ran away with the win at the golf course on Sunday, she was given the keys not to a new car (sorry, Paige), but to the PDGA Instagram account, where she took over our stories and added a fresh perspective to the event.
She's got this disc golf thing locked down, but if she ever needs a break she's got a home on our crew.
◊◊◊
Wysocki takes foot faults in stride
It's no secret that Ricky Wysocki had some trouble with his footing during the final round at the DeLaveaga Golf Course. Not only was he called for a foot fault on hole 15 – and then incorrectly given a double penalty when the same shot landed in a hazard – but the disc golf internet has been rife with GIFs and memes pointing out various other times through the round when he literally crossed the line.
But, consummate champion that he is, Wysocki has taken on the subject with a sense of humor. Check out this video he did with Dixon Jowers during a practice round ahead of the San Francisco Open:
Well played, Rick. Well played.
◊◊◊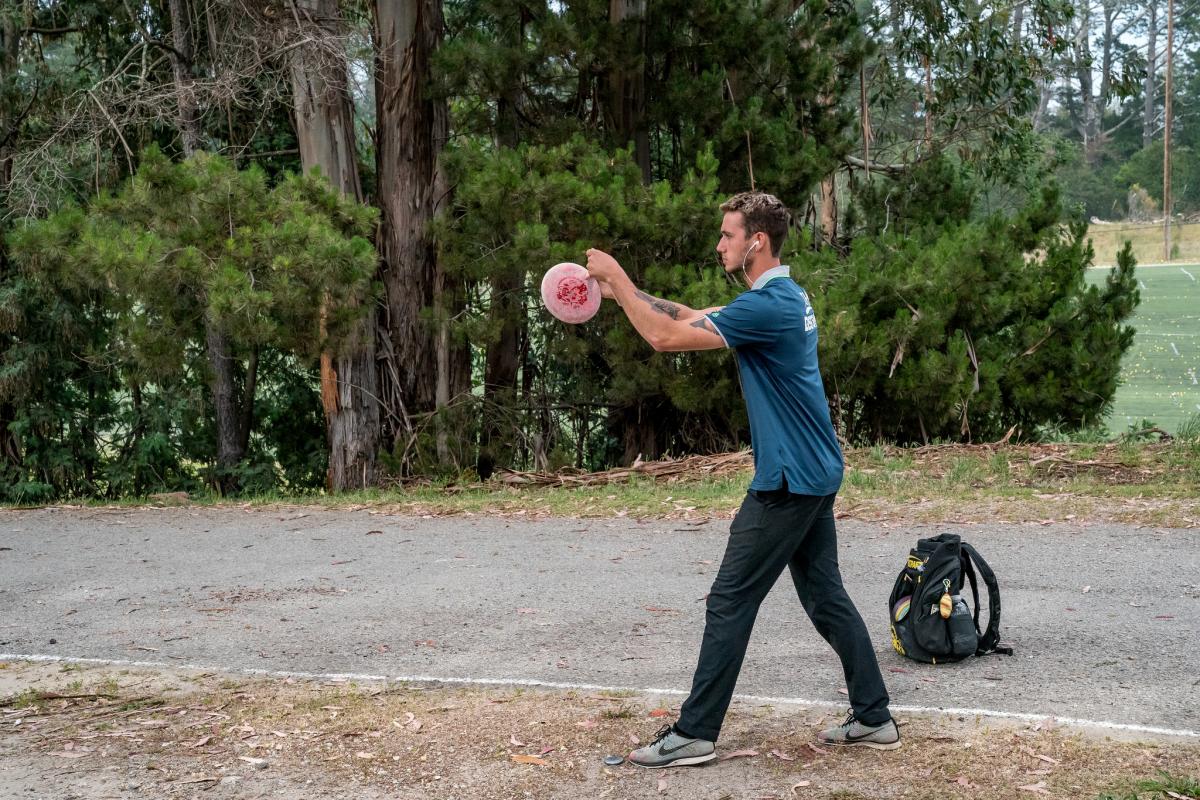 Is Austin Turner back?
After a breakout 2017 season that saw him finish in fourth place in the PDGA National Tour points standings, Austin Turner has had a quiet start to 2018. The 19-year-old lefty (yes, he's still only 19, folks) has struggled with inconsistency as he battled an injury to his throwing hand and came into Santa Cruz on the heels of a 52nd place showing at the Nick Hyde Memorial in which he finished over par. It was the first time he failed to cash since last July, when he played through a concussion at the European Open after taking a disc to the head during practice.
Count his final round at the Masters Cup – a 1070-rated 10-under par 50 that matched Paul McBeth's hot round – as a major confidence boost, then, and a signal that he may be on the road to recovery. After landing a 45-footer for birdie to start the show, he landed three more from circle's edge and another from outside to jump 21 places on the leaderboard and finish in a tie for ninth place.
"This is definitely my best round of the year. By far," Turner said. "I finally put everything together. I haven't had a round like this in a couple months, so it's good to be able to know I can still shoot these rounds and try to compete. I just gotta clean up some stuff, or else I'm right up at the top battling with all those guys again."
As with any round, there was a secret to Turner's success: He was jamming Future to keep loose, and it resulted in tying his career high rating for a single round.
◊◊◊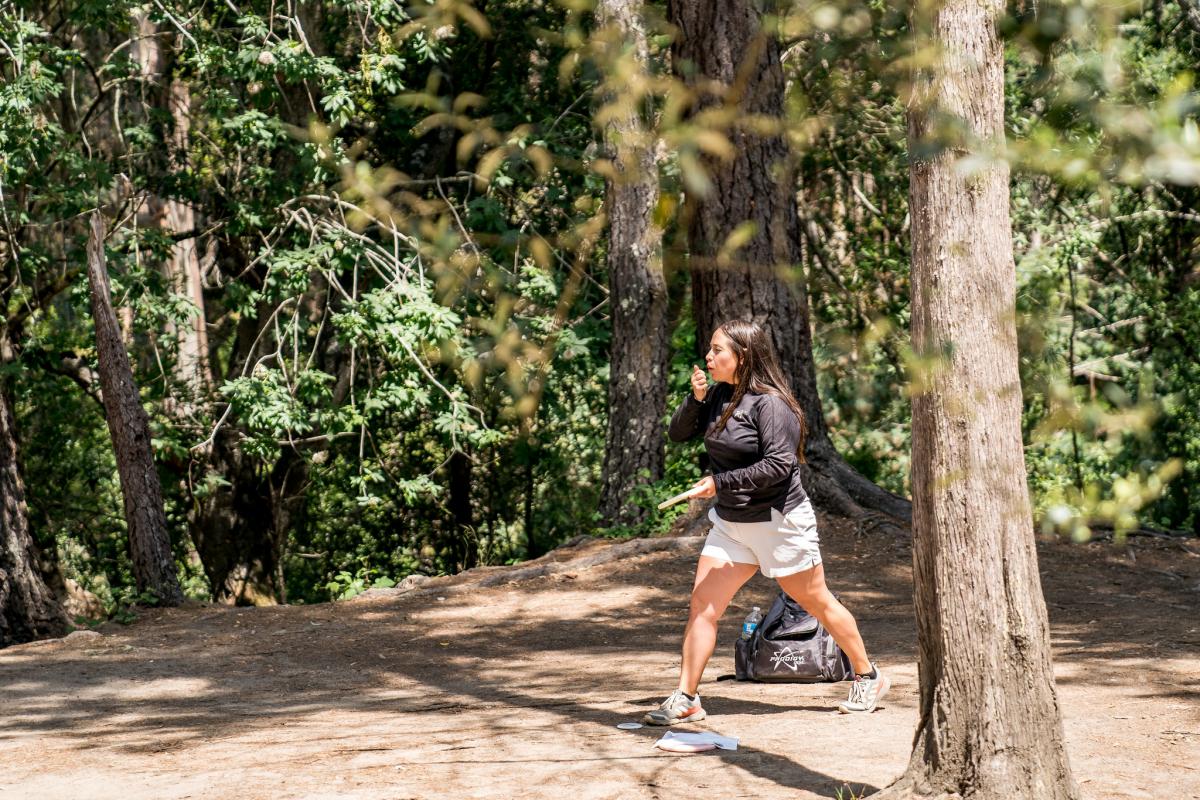 Van Dyken, finally healthy, ready to hit the road
The Open Women's division has continued to grow in recent memory, with young players like Kona Panis and Rebecca Cox hitting the road and adding to the field's depth. Absent for the beginning of the season, though, was a player who racked up five victories in 2017 and often vied for lead card placement.
Welcome back, Vanessa Van Dyken.
The 28-year old pro, who bounces back and forth between San Diego and Finland at various points in the year, spent the last three months rehabbing a shoulder injury and finally made her 2018 debut in Santa Cruz. She was originally slated to make the trip to the Midwest for the Jonesboro Open and the Glass Blown Open, but staying at home seems to have paid off. She finished in seventh place and, most importantly, was still feeling good after tackling the DeLaveaga Golf Course on Sunday.
"That's what I'm most happy about," Van Dyken said. "I feel a little rusty with my short game, actually, but I'm just really happy that my shoulder feels healthy and I'm really glad I took the three months off to let it heal. It was hard, but I'm really happy in the end."
And if that wasn't enough to prove she's on the mend, try this: Van Dyken is signed up for this weekend's San Francisco Open, then she'll head to the Beaver State Fling before jetting across the pond for the Latitude 64 Tynni and the European Disc Golf Championships.
◊◊◊
Brathwaite's a kid in a candy store
As the professional touring scene has become more, well, professional, it's brought with it players with enhanced workout routines, recovery methods, and diets. Among the latter, it's not uncommon to see competitors snacking on dried fruit and nuts while on the course, or eschewing Gatorade for more specialized beverages.
Philo Brathwaite, though, sees your healthy snacks and raises them with candy. And it works for him.
"A lot of guys are into the almonds and trail mix and stuff, but I don't know," Brathwaite said with a laugh. "For some reason a Coke and a smile works for me."
Who are we to judge how to get the extra boost needed to make it up the mountain at DeLa? Honestly, it's refreshing to see a player who is comfortable with his routine and makes it pay off. To that, and his fourth-place Masters Cup finish, we raise a fresh can of soda in Brathwaite's honor. Cheers.