Disc Golf in Norway: Lille Leland
Disc Golf in Norway: Lille Leland
Where disc golf dreams come true!
Wednesday, September 14, 2022 - 15:38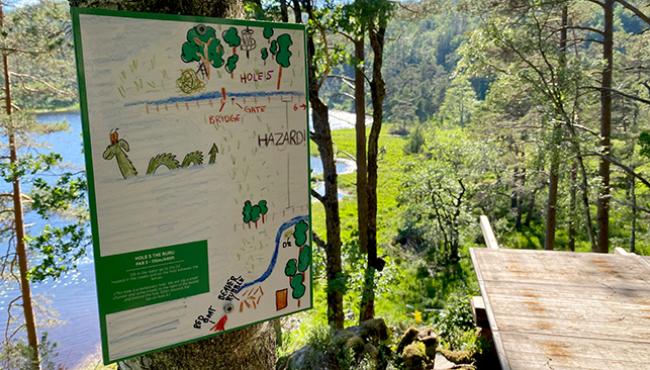 Why would we set goals for ourselves and our farm that we can accomplish while we sleep?
Felix, Kasper, Lene and Stian Johnsen have undertaken quite an endeavor on their farm Lille Leland in the south in Norway. The family found disc golf in June 2020 and in February 2021 they bought 18 baskets and started designing and building a truly remarkable and one of a kind disc golf course.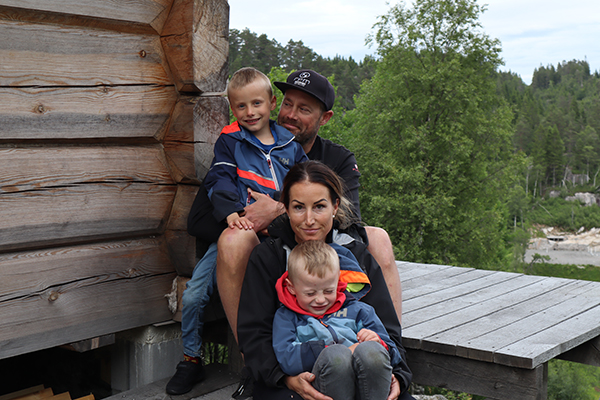 When I was placing the first basket on the course, on hole 1 (750ft par 3), I had a GoPro camera in my pocket and decided there and then that I probably should film and document this. I started speaking Norwegian but after 2 sentences I realized I should switch to English. There was no plan then, I just figured documenting the process would be fun and maybe I could use it some day. After a few weeks I started editing some of the material and created a YouTube channel. It got some attention and there were a few really nice and inspiring comments so I just continued filming and also created an Instagram account. (Stian)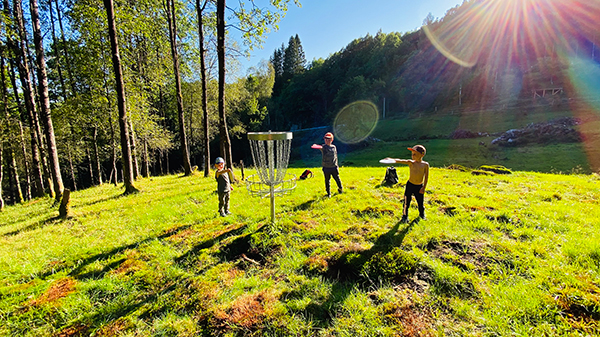 Lille Leland disc golf course is located south in Norway. 1 hour and 20 minutes from the nearest airport (Kristiansand) and 20 minutes from the nearest train station (Audnedal). The family built a log cabin and a club house with kitchen, bathroom and living room to accommodate disc golf travelers.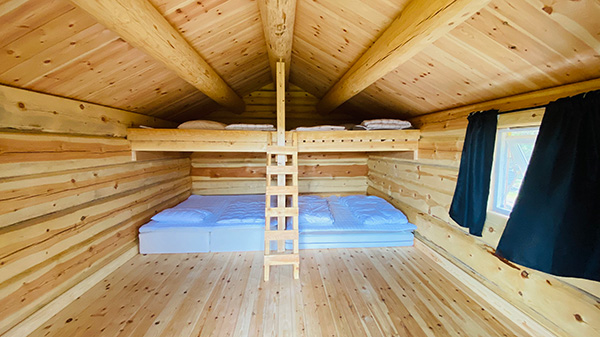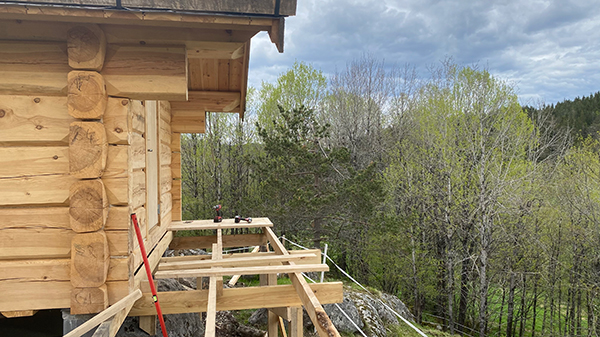 The current layout is really spectacular and demanding, where par would be somewhere around 1015 rated. There is a lot of elevation change and holes going both up and down. There is mostly natural OB, water and creeks, wildlife and nature. To give you some idea, Hole 1 is a 243m par 3 and hole 2 is a 409m par 5.
The property is huge and there is really no limitations when designing holes, and in the future more courses.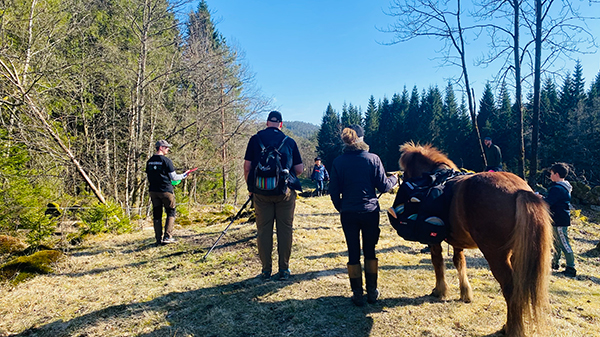 We constantly improve and tweak the course to make it better. We watch coverage and take care to listen for any feedback commentators and players are giving to the courses. We listen to players and we seek to have a course which will challenge the best players in the world. Within 5 years our goal is that if you take the best 40-50 players in the world and ask them to name their top 5 courses, Lille Leland disc golf course will be on that top 5 list of all of those players.

The farm also keep horses, goats, chickens and a few rabbits and cats. My main focus is the horses and Stians is disc golf. We try and bring the two together and now we also offer horses as caddies. One horse will carry 4 bags and make your round a little lighter and also a little nicer. (Lene)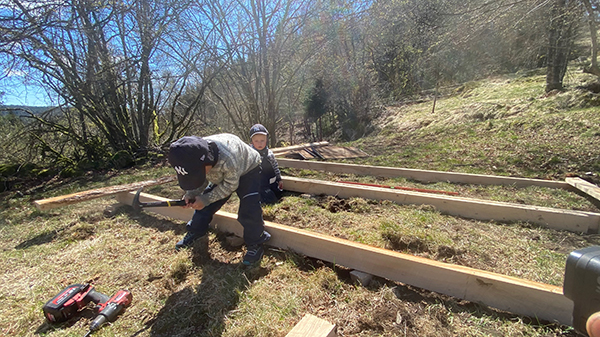 Their two sons Kasper (7) and Felix (5) have been a huge help in the process and they do everything from cutting down trees, clearing fairways, to putting up signs, making greens nicer and drawing tee signs. The nephews Mathias and Jesper also helps from time to time.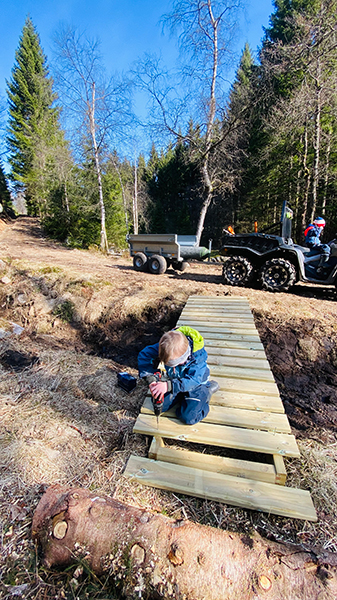 Right now the family's focus is their first international tournament, the RPM Open. This will take place the 19th of august going for three days ending the 21st of august.
Since day one the family has worked together with RPM Discs from New Zealand. They have designed the logo for the course, they provide new baskets that will arrive some time during the winter, they also do custom fundraiser discs for the course.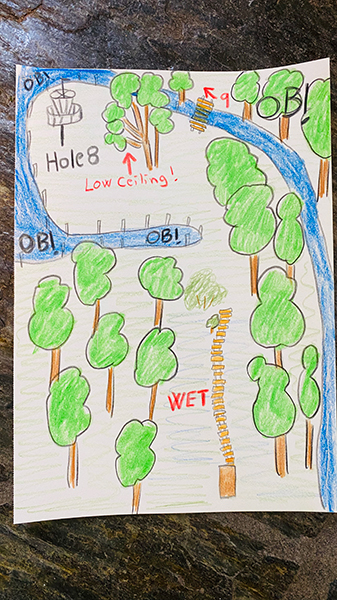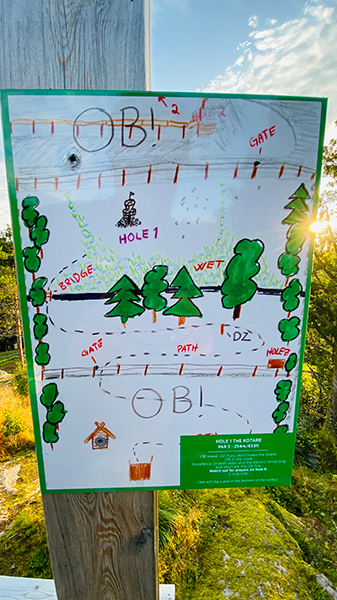 RPM Discs and Keith have been so supportive since day 1, really believing in the project and wanting to help in any way they can. We feel so grateful for their support and look forward to grow the course and the RPM Open together. (Stian)
We will do our very best to host the best possible event we can. Next year we would like to be on the Euro Tour. This year we will try and fulfill the standards of a Euro tour event, even though it is a B-tier this year, and hopefully have players talking about it all over Europe. From day one we have designed holes to challenge the best, we built large sturdy teepads with mostly oak from our own forest, we make sure we follow and live up to standards and requirements for pro level courses and events.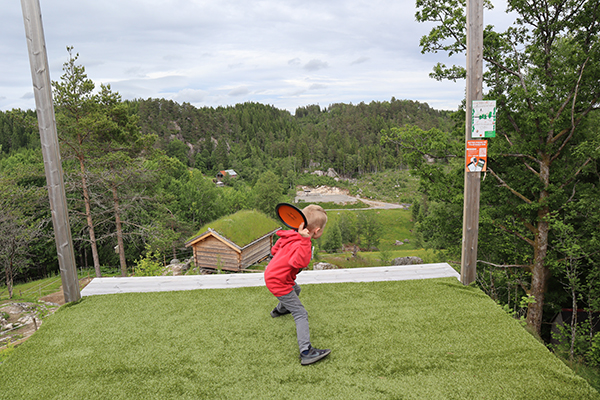 Norway is a beautiful country full of variations. Forests, hills, mountains, waters, lakes, sealine, great salmon rivers, lots of fish in the lakes, wildlife and really nice friendly people. Disc golf is growing very fast in Norway, like the rest of the world, and new courses are being built every week.
28km from Lille Leland is Mandal, the Southern most town in Norway. It is a quiet and friendly town with some of the nicest beaches in Norway.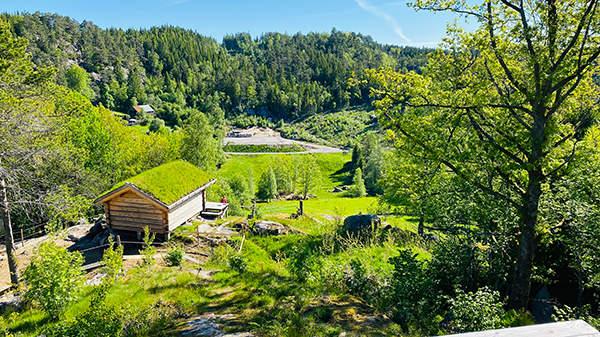 I would like to offer international players who come early to RPM Open, or stay a few days longer, a day out on the ocean. Fishing, doing water sports, swimming and so forth. Our region has so many great things to offer and it would be nice to show this to the players.
Trying to build one of the best courses in the world has also lead to Stian working together with the PDGA to bring disc golf to mainstream media. The project is called The Magic of Disc Golf and follows 10-15 players on the Euro tour and a few other events in 2022. The documentary focuses on the players outside the events, the preparations, the mental game during rounds, visiting them in their homes, home courses and so forth.
We hope this will raise the level on the events in Europe, give players better sponsorship deals and grow the sport even more.