Humphries, Jennings Awarded 2019 PDGA Rookie Of The Year Honors
Humphries, Jennings Awarded 2019 PDGA Rookie Of The Year Honors
McBeth, Pierce Take Player Of The Year Titles
Wednesday, August 19, 2020 - 23:27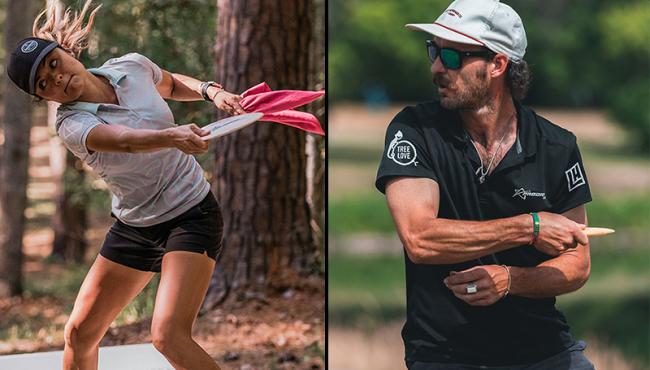 Grind is a major word used these days in professional disc golf.
It means that players, in a stacked and growing talent pool of competitors, must put in the work, hit the road and excel.
The word exemplifies this past season for Luke Humphries and Christine Jennings, who were recently named the 2019 PDGA Rookies of the Year. Both topped a competitive field of players that promise to be household names soon, if they're not already.
Their names join alongside a huge, star-studded list of previous winners, names like Steve Rico, Paul McBeth, Des Reading and Valerie Jenkins.
Break Out Year
Humphries broke out in the Texas scene in 2018 and hit the road in 2019 for the first time, traveling coast-to-coast and cashing in 27 of 34 events. He finished the season strong, notching a 21st finish at his first United States Disc Golf Championship, a ninth-place finish at the Ed Headrick Disc Golf Hall of Fame Classic, the National Tour finale, and capped the year with an A-Tier win close to his Grand Prairie, Texas home at the 29th Veterans Park Open.
Humphries, who is often seen on the road with his famous disc golf dog, Hogan, is the second-straight Texan to win the award, following 2018 winner Mason Ford.
He finished with 32 points in the standings, 12 ahead of South Dakota's Ezra Aderhold.
Juggling Act
Jennings, a Dayton, Ohio native, balanced a full-time job while also managing – and excelling – on the course. She finished the 2019 season with 14 wins out of 29 events, including a third-place finish at The Rumble, wins at the Flip City Open and Seviren Lang Memorial and a ninth-place finish at the Ledgestone Insurance Open.
In 13 A-Tier events, Jennings had two wins and eight top-five finishes.
She finished with 101 points in the standings which was a sizeable lead over second-place finisher Valerie Mandujano and third-place finisher Heather Young, who recorded 65 and 35 points, respectively.
Points System
Players earn points for both the Rookie of the Year and Player of the Year in a few ways: Win a B-Tier, finish in the top five at an A-Tier and finish in the top 10 at either a National Tour event or a PDGA Major event.
Bonus points are earned by top 10 finishes in categories such as annual rating, total earnings, total wins, earnings average and winning percentage.
2019 Players of the Year
McBeth and Pierce … Sound Familiar?
Since 2012, four names have been the story for the Player of the Year awards, Ricky Wysocki, Paul McBeth, Catrina Allen and Paige Pierce.
That trend continued in 2019.
After grabbing his fifth World Championship, McBeth was named the 2019 Player of the Year for, fittingly, the fifth time in his career and the fifth since 2013. The latest accolade ties him with Barry Schultz as five-time recipients of the award, which began in 1984. Ken Climo has 10 POY honors.
McBeth triumphed in 13 of his 23 events in 2019, earning 336 POY points. It included a dominant stretch of nine wins in 13 events from late May through the Green Mountain Championships, including his fifth world title in Peoria, Illinois and a European Open crown.
Chris Dickerson, who had 25 wins in 44 events, finished second with 278 points and Eagle McMahon was third with 254 points.
The summer of 2019 was the summer of Pierce, who rattled off nine-straight wins at A-Tiers or above, including her fifth world title and the European Open crown. In total, Peirce finished with 14 wins in 26 events.
Allen was second with eight wins in 27 events with 363 points, 29 behind Pierce. Sarah Hokom was third with eight wins in 27 tournaments as well.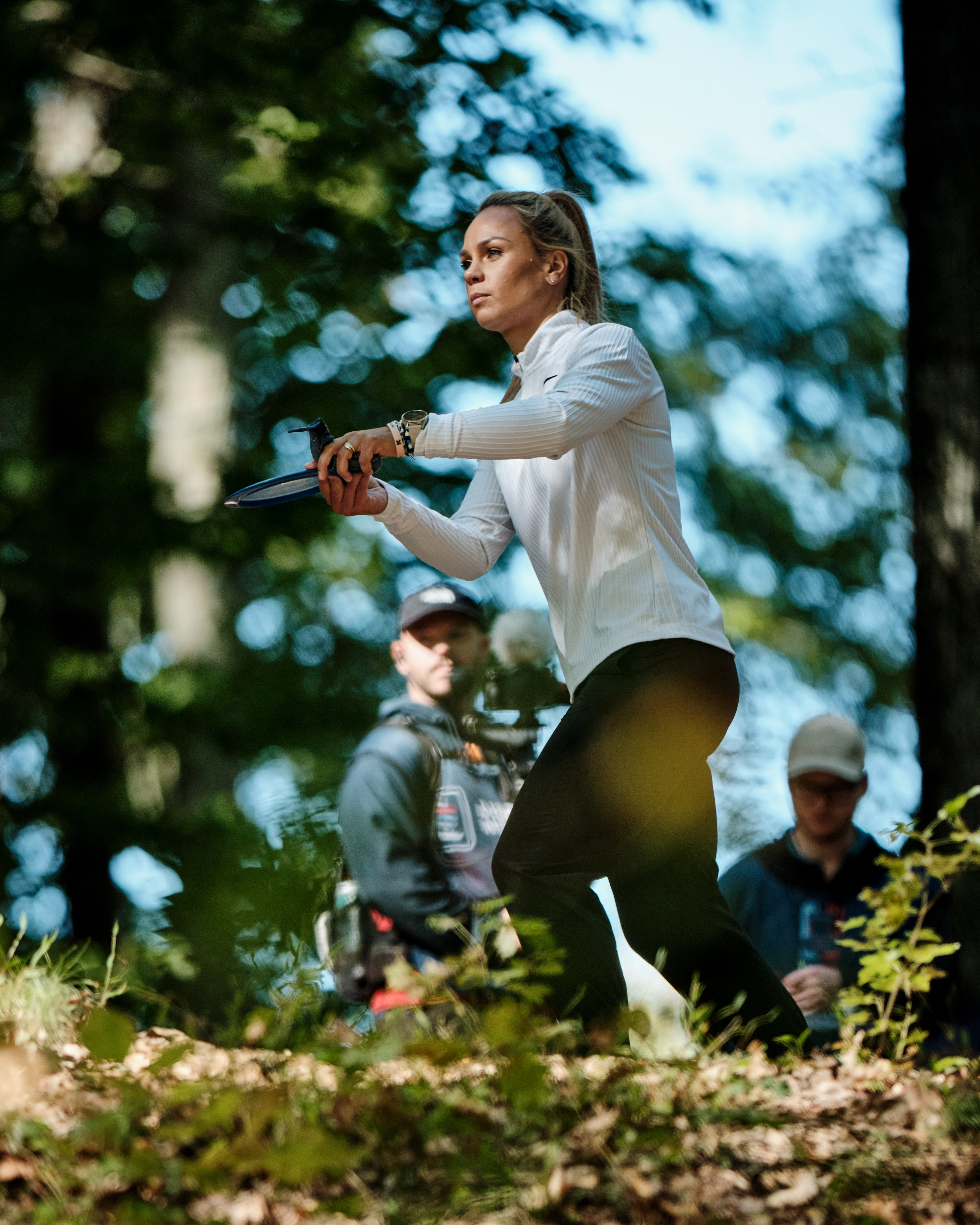 2019 European Players of the Year
Domination Away From Home For Tattar, Lizotte
Kristin Tattar started her 2019 season on an absolute tear back home in Europe.
Then she brought that dominance stateside.
The Estonian native grabbed seven wins in her first eight tournaments in Europe and then in a two-month run in the United States, Tattar showed that she is a global force to be reckoned with. Tattar finished sixth at 2019 Worlds and followed that up with back-to-back second-place finishes at the Delaware Disc Golf Challenge and the MVP Open. She grabbed a win at the Canadian National Disc Golf Championship by seven strokes over Pierce and followed that two weeks later with a win at the United States Women's Disc Golf Championship with a 984-rated finishing round to best Pierce by four shots after the pair entered the finale tied atop the leaderboard.
Tattar led the European standings with 400 points. Henna Blomroos and Eveliina Salonen followed.
Simon Lizotte, meanwhile, stayed in the mix at all of the big tournaments in 2019 with podium finishes at the Memorial, Santa Cruz Masters Cup, Portland Open and the MVP Open to go with a handful of top-10 finishes at the rest, including eighth at Worlds.
Albert Tamm, Jesse Nieminen and Väinö Mäkelä rounded out the top four in the European standings.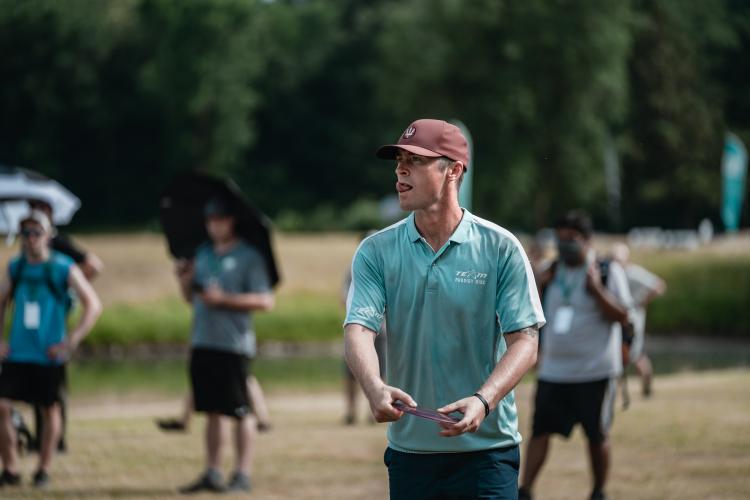 Bob West Memorial Sportsmanship Award
Leiviska Has Impact On, Off Course
Cale Leiviska is a veteran of the sport and a longtime staple on the tour, often seen with a big smile and upbeat disposition.
Leiviska's focus has shifted to the course design aspect of the sport of late but was on the road early in 2020 before the coronavirus shutdown impacted the sport. That, in turn, allowed Leiviska to prepare, hone and debut his latest course design project, the Airborn Disc Golf Preserve. The two 18-hole tracks on the Mississippi River in Clearwater, Minnesota debuted on the pro circuit in early July, the second Disc Golf Pro Tour stop after action resumed this season.
Through it all, Leiviska has been a sportsman and was honored as the 2019 Bob West Memorial Award for Sportsmanship.
Sportsmanship is defined as fair and generous behavior or treatment of others, especially in a sports contest. The Bob West Memorial Award is awarded annually to a PDGA member who exemplifies sportsmanship on the disc golf course and during competition, observes the rules of plays and wins or loses with grace. Candidates for the award are nominated by PDGA members.
"I've known Cale for many years. He is always a good sport, always upbeat and positive, regardless of how he's playing. I have never seen him lose his temper on the course (or elsewhere). He is very popular here in his home state. He is always smiling; always happy it seems. He recently installed two new courses here and they are already getting rave reviews," said Hall of Famer Joe Feidt, who nominated Leiviska for the honor.
Other 2019 PDGA Award Winners Include:
Brent Hambrick Award for Tournament Director of the Year
Heinold hosted 11 events in 2019, including the 2019 PDGA Professional Disc Golf World Championships, the DGPT - Discraft Ledgestone Insurance Open, one B-Tier and seven C-Tier events. Heinold helped raise $36,000 for St. Jude Children's Research Hospital in 2019.
Tournament directors are the lifeblood of the association and competitive disc golf. They donate hundreds of hours of their time each year to organize and host sanctioned competitions for all of us to compete in. The Brent Hambrick Award for Tournament Director of the Year recognizes a TD who went above and beyond in fulfilling their responsibilities and in hosting successful event(s). Candidates for the award are nominated by PDGA Staff, based on the quality of the event(s) run, the number of events run, the number of players served, and the overall event(s) experience. Voters are the Elite Pros, the State/Province and Country Coordinators, the PDGA Major and National Tour event tournament directors, and the PDGA Board of Directors and staff.
Volunteer of the Year
Newman has been involved in a number of areas in the sport in New York, where he serves as the PDGA State Coordinator as well as designing and assisting with local courses. He is an inductee in the New York State Disc Golf Hall of Fame. Newman serves on the PDGA discipline and environmental committees, where he is leading the Throw Green initiative. Newman also works with Throw Pink and is an ambassador for running disc golf events for women.
The Volunteer of the Year is determined by the vote of the PDGA Board of Directors. The recipient is an active PDGA member who has proven him or herself worthy of special recognition based upon volunteer work performed for the betterment of the association and the sport of disc golf.
Senior Player of the Year
Stanley competed in 19 tournaments in 2019 with a number of wins, none bigger than an Amateur World Championship in Masters 60-plus. She averaged well about her rating in all five rounds in York, Pennsylvania. She also recorded a second podium finish in a Major in 2019, finishing second in the Masters 40-plus at the 2019 United State's Women's Disc Golf Championship in Spotsylvania, Virginia.
The Senior Player of the Year is determined by vote of the PDGA Board of Directors. The recipient is an active PDGA member who is 50 years or older and has proven him or herself worthy of recognition based upon stellar play and/or long-term contributions to the sport of disc golf.
EDGE/PDGA Educational Award
Lyksett is a co-founder of the Educational Disc Golf Experience (EDGE), who retired in recent years as an Educational Specialist to focus on time with family after being diagnosed with a progressive, incurable neuromuscular disease called Myasthenia Gravis.
Lyksett has had a Frisbee intertwine his entire life only finding the game of disc golf later after time as an extreme rock climber, touring percussionist and leading expert on adaptive technology in adaptive education.
Jon and his wife, Marlene, designed and installed a disc golf course in their hometown within their first year of discovering the game. Lyksett was the educational driver for organizing the EDGE program and aligning the components that would create the National Physical Education standards-based curriculum and getting the EDGE teaching curriculum and instructional DVD.
With the Educational Disc Golf Experience having now exposed disc golf to millions of our youth, Jon Lyksett's impact upon the growth of educational disc golf is legacy. Lyksett has also designed 21 courses in five states that when combined with his contributions to the PDGA as a former board member and his work within the Educational Disc Golf Experience will continue to impact the new players he helped create for years to come.
This annual award recognizes outstanding contributions in the field of disc golf education. The Educational Disc Golf Experience (EDGE) determines candidates and awardees in partnership with the PDGA. The Educational Disc Golf Experience (EDGE) is a nationally recognized 501c3 nonprofit organization dedicated to reaching and teaching youth the great lifetime activity of disc golf, utilizing age appropriate equipment and a standards-based curriculum.  For more information on EDGE, check out www.edgediscgolf.org.
PDGA Special Awards
Special awards, as bestowed by the PDGA Board of Directors, recognize contributions to the sports and the PDGA.
Conrad Damon - Rules Committee Chair 2009-2019
The PDGA Staff and Board of Directors thank Conrad for his invaluable contributions to the sport of disc golf and the PDGA organization.