Hokom Streaks To Great Lakes Open Title
Hokom Streaks To Great Lakes Open Title
Bjerkaas takes second place battle
Monday, July 9, 2018 - 11:01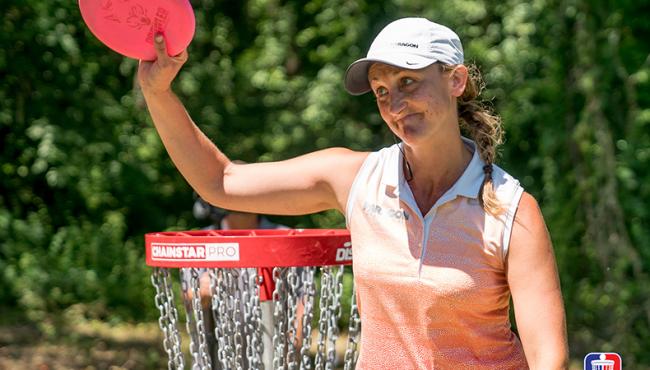 Sarah Hokom carded an eagle-birdie-birdie streak for the second straight day at Kensington Metropark's Toboggan course, and that flurry of scoring was all she needed to pull away for a resounding win at the Great Lakes Open.
Hokom's 2-under par 59 Sunday in Michigan took her three-day total to an 8-under par 175 and netted her $1,460 in prize money, with the victory counting as her seventh of the 2018 season. Paige Bjerkaas held onto second place with a 2-under par finish to keep the same overall total with a 181, while Jessica Weese used a 1-under par final to climb to third place at an even-par 183. Ellen Widboom (+3) and Madison Walker (+5) rounded out the top 5.
Hokom got the scoring started early on the 435-foot, par-5 2nd, putting a forehand turnover to the middle of the fairway. Her second shot sailed left but ended up pin high, and she canned a 40-foot jump putt for her second eagle of the event. The big bird pushed her six-shot lead over Bjerkaas and Widboom entering the round to the eight-shot margin it ultimately ended in.
With Hokom out to an early, comfortable lead, the focus shifted to the race for second place, and Bjerkaas was off and running early. After spaying her drive on 2 she recovered with a park job for birdie, then added another on the par-4 3rd. Bjerkaas said that, despite the distance on the course, she actually used a putter off the tee "on half the holes" as she focused on placement over power.
When she needed it, though, the power was there. Her uphill smash on the 318-foot 11th put her into circle 1, and she connected for a birdie that put her up three shots on Weese, who had leapfrogged Widboom to move into third.
Weese narrowed that gap significantly on hole 14: Her 60-footer for deuce marked a two-shot swing on Bjerkaas' bogey, and the tension built with four to play.
But Bjerkaas, who was on the last tournament of her summer mini-tour, went out with a bang. She followed up a clutch 40-footer on 16 with another birdie on 17 to pull away from Weese and take home the $980 second-place purse.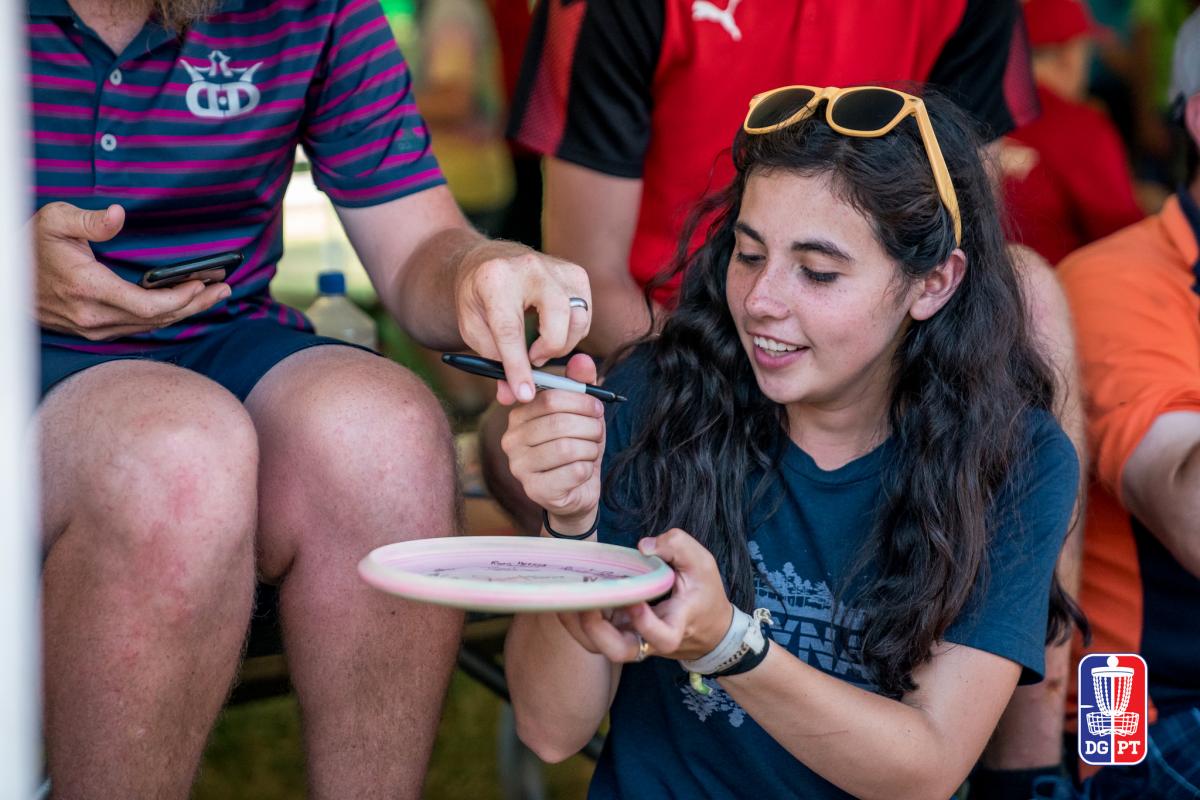 "I was super nervous," Bjerkaas said. "…I knew the payout was gonna be over 900 bucks and every putt was gonna cost me 100 bucks. I know money isn't the main motivator, but it helps."
The performance also helped in the decision department: Bjerkaas was on the fence about returning to tour for another month this summer, but consecutive second-place showings on the Disc Golf Pro Tour gave her the boost she needed. She'll start up another round on the road with the Idlewild Open in two weeks.
"I definitely don't want to go back to school, [but] I know it's the right thing to do," Bjerkaas said. "I love touring and I love doing it. Especially today – to play under that kind of pressure and be successful – it was super eye-opening…I would love to tour full-time."
Hokom's performance moved her up to third place in the DGPT's season-long standings, as the win helped to scrap her sixth-place finish at the Memorial Championship from her record. Weese is now in second place on the circuit, while Widboom jumped into fifth.