Allen Holds Steady, Takes Commanding Las Vegas Lead
Allen Holds Steady, Takes Commanding Las Vegas Lead
Pierce closes strong to make the cut
Sunday, February 24, 2019 - 10:22
HENDERSON, Nev. – On paper, Catrina Allen's Las Vegas Challenge performance thus far has resembled a weekend vacation at the local amusement park.
The Minnesota native's fairway hit rates have undulated: 78 percent in round one, 61 percent in round two, 84 percent in Saturday's third round; circle 2 in regulation (67 percent, 39 percent, 83 percent) has been a loop-de-loop; circle 1x putting (0 percent in round three) a death-defying drop ride.
And yet, Allen has never shown any spikes in her heart rate, any rush of adrenaline. There's been no dejection or impatience from long lines.
She's been, in a word, steady. And it has her entering Sunday's final round of the 2019 PDGA National Tour season opener with a four-shot lead.
Allen's 3-under par 58 Saturday at the Innova Factory Store course brought her three-round total to a 5-under par 176 and saw her emerge with her first outright lead of the tournament. Jennifer Allen, meanwhile, shot the hot round – a 1005-rated, 6-under par 55 – to move into second place, a spot she shares with Finnish teen Eveliina Salonen, who went 4-under on the day. Paige Bjerkaas' even-par performance kept her on the final round lead card in that same second-place logjam, while Jessica Weese's 3-over par 62 dropped her to fifth with an even-par total.
Catrina Allen, who was longing for some sushi after a long day at the course, said she knew her mental game was her strongest asset so far this weekend.
"Just stick to my game plan, try to focus on just my game, I guess, and not worry about what anybody's doing," she said. "It can be a roller coaster on that course and can be a two-stroke swing here and there, so just staying focused and not letting any bad breaks or bad holes decide how the rest of my round's going to go [is important]."
That's exactly what she had to do on a day where putting the disc in the basket was difficult. Catrina Allen parked the first two holes, then missed a circle 2 bid – and a circle 1 attempt – to slump to a bogey on the par-3 3rd. She missed another from inside the paint on 4, then three-putted on 7. In all, she had to make multiple attempts inside the circle on a third of her holes.
Still, she was focused on the positive – how she's responded to adversity – and recalled her round two showing at the Innova course as inspiration.
"I putted a putt for par out of bounds and had to make one out of a bunker to save double bogey…but it seems like I walk to the next tee pad and I was disappointed, but I forgot about it and finished really well," she said.
Jennifer Allen, despite her own bogey-free showing in which she scrambled successfully on all six of her tries, dwelled on her miss from 10 feet on hole 18 that would have helped her close the round with a birdie and an elusive 100 percent circle 1 clip.
"I always have that goal – and it's haunted me forever – to have that perfect [putting] round," she said. "I was really, really close, and my very last shot kind of ruined my perfect round. But that's OK. I had some amazing shots out there today."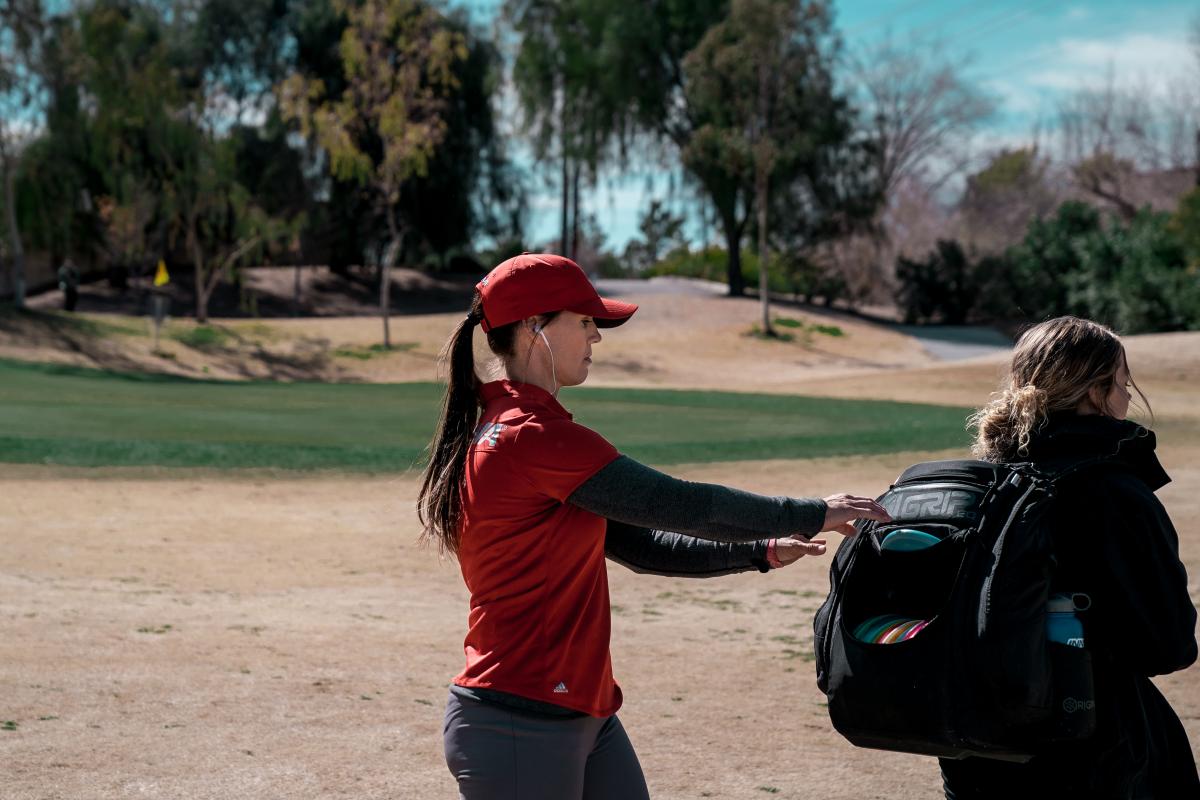 She'll need more of those to chase down her surnamed counterpart. But, much like Catrina, Jennifer Allen was taking a one-track mind into Sunday.
"I just focus only on my game and my score," she said. "I will be fine if I am making my shots and not making mistakes, hitting putts or laying up correctly – whatever it takes, then I won't care where I finish. If I win this, thank god – that would be amazing. But if I finish top 5 I'm totally fine if I executed like I wanted to."
Stat of the Day
Jennifer Allen has scored a 1000-plus-rated round twice in the last sixth months. Before that, she had only done it twice in her 20-year career.
Who's In, Who's Out
Saturday was cut day at the Las Vegas Challenge, and 12 of the Open Women's field's initial 31 players lived to see Sunday. Notable names below the line included Lisa Fajkus, who struggled with accuracy and limped to a 47 percent circle 1x showing, and Zoe Andyke, who finished six shots outside the cash.
Hovering just above the line was 2017 PDGA Rookie of the Year Sandi Hendel – one of the rare players here in Las Vegas wearing shorts most of the weekend as she let her Canadian flag fly – and Rebecca Cox.
One player, in particular, flirted a little too closely with the line, but turned it on with a turkey to finish round three and in position for Sunday. That would be defending Las Vegas Challenge Champion Paige Pierce, who has struggled to shake off the rust early in the year.
In 2018, Pierce played the Samui Swine Classic V in Thailand before heading to Sin City. In 2017, she had competed three times before taking the victory here.
"It's just getting back in that the competition mode, honestly," Pierce said. "I was thinking about that during round 2: It doesn't feel normal to me to be in a tournament setting because it's been months since I've played a tournament. I think next year I want to play a smaller event before I jump into the first National Tour of the year."
Quote of the Day
Some players are known to get a little salty after a round that doesn't live up to their standards. World Champion Bjerkaas, meanwhile, was feeling starchy on Saturday after multiple missed connections on the green contributed to her even-par finish.
"I'm a potato. I'm just bleh," she said. "I just get a bunch of pars. I'm just bland. I just sit there and don't do anything. I don't take advantage of opportunities! So anyway. I won't be a potato tomorrow."
What's Next
The lead card tees off at 8 a.m. for one more crack at the 8,625-foot Innova course. Jennifer Allen is known for her distance, but she's also known for her penchant for painting outside the lines. She went out of bounds six times during Friday's round at this same track, and she's hoping it was just an issue with the conditions.
"I'm a magnet for OB, typically, so I think I was changing my plan because of the high winds before," she said. "I'm hoping when I get back out there, maybe with some lighter winds tomorrow, that I'll get back into my rhythm and my game."
For Catrina Allen, Sunday is a chance to open 2019 the way she finished 2018: with a National Tour victory.
"It would mean a lot," she said. "I signed with a trainer this offseason to get stronger and work on a few things. It would just mean that all that hard work would have paid off. I think it means a lot when you've worked really hard."