'Pretty Magical'
'Pretty Magical'
Bjerkaas ousts Allen in sudden death for first career PDGA National Tour victory
Monday, February 25, 2019 - 16:29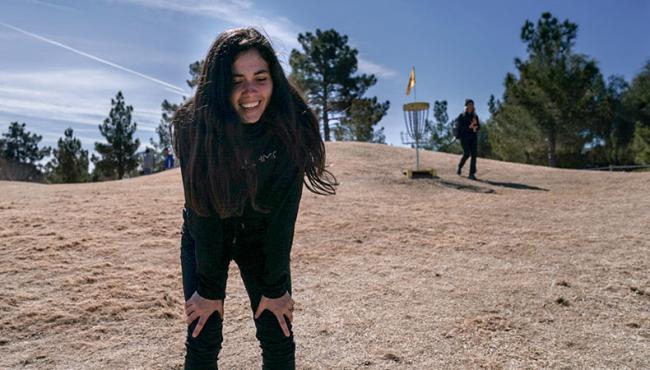 HENDERSON, Nev. – For someone who admitted to lacking confidence earlier in the week, you never would have known it by watching Paige Bjerkaas during Sunday's final round of the Las Vegas Challenge.
Precise drives. Chain rattling jump putts. A four-shot deficit chased down in the first seven holes. A three-stroke advantage gained by hole 10.
But then, some cracks in the exterior: Shaky upshots found that cushion quickly evaporating, and by the time Bjerkaas missed from 40 feet on the Innova course's 18th – a rare occasion during her final round performance – the lead was gone, and only a playoff remained.
Maybe it was the few minutes of downtime between the end of regulation and the start of sudden death. More likely, though, it was a pep talk from her contemporary and mentor Paige Pierce. Whatever happened, something clicked in Bjerkaas before she took to the tee on Innova's 1st for the second time that round, and the attacking mentality she possessed earlier in the day returned.
With Catrina Allen sitting underneath the basket with an easy look for par on the 393-footer, Bjerkaas checked the wind and asked her playoff foe if she was outside the circle. After Allen confirmed, Bjerkaas wasted no time, firing a step putt and running it down before it even slammed the chains for a rousing victory that marked her first on the PDGA National Tour circuit in her young career.
Bjerkaas' final round 1-under par 60 brought her four-round total to a 2-under par 240, while Allen's 3-over par was marred by inaccuracy and saw her push with Bjerkaas after 72 holes. Vanessa Van Dyken's 1001-rated 5-under par moved her up into third place with an even-par weekend, while Jennifer Allen and Jessica Weese tied for fourth place with 1-over par 243s.
For Bjerkaas, the comeback, fall, and subsequent victory helped demonstrate that her win at last fall's PDGA Professional Disc Golf World Championship was not a one-off affair. She has arrived.
"Magical, dude," she said afterward. "This has been a dream of mine, again, since I was 10, watching everyone win NTs. I think I kind of proved myself. I won Worlds last year and then chundered at the end of the season. I didn't do very well, so I think this just proves that I'm supposed to be here and I belong here. It's pretty awesome, pretty magical."
And the round that led to that feeling got off to a magical start. Bjerkaas parked her drive on hole 3's island green, then added another birdie by knifing down the fairway on 5. She couldn't make the peninsula on hole 6, and hit the hazard on 7, but recovered with a 40-foot jump putt for a birdie on hole 10.
At the same time, Allen – who had played calm and collected all week – found her undoing. Unlike Bjerkaas, she missed the island on 3, then sailed her approach long on 5. Hole 6 found her releasing early and fading left early for another penalty stroke, and it was double trouble on hole 7 as she landed in the right-side pond off the tee and in the sand trap on the approach.
Bjerkaas took a three-shot lead into hole 11, and that held until hole 16 as she and Allen settled into a groove. But the daunting, 765-foot par 4 – the Innova course's most difficult with an average score of 1.67 strokes over par – loomed, and Bjerkaas started to crumble. Her safe approach to the left side of the green left her with a relatively easy approach for birdie, but she misfired her Judge and ended up pinched near a tree. She shook off her hand as if she had an issue with her grip, then missed the follow-up attempt for par.
"It was absolutely nerves," Bjerkaas admitted. "I've been struggling with that distance. Tossing a putter up there, it's not that hard, and I just think the pressure and all the thoughts and emotions…kind of messed up my throw."
Allen took advantage. She ran over the OB green, just as she had during round two, and connected on a hyzer putt from 40 feet. The two-shot swing brought Bjerkaas' advantage down to one.
That held until hole 18, when each competitor played safe off the tee and were sitting on the 675-footer's upper fairway with par looks. Bjerkaas, who said she didn't know the exact score at the time, again gaffed her approach and left herself with a look from 45 feet to save a 4 and win the tournament. She missed, and before the playoff Pierce pulled her aside for some words of encouragement.
Bjerkaas said that she was questioning her abilities recently and text messaged Pierce to ask when she knew she was ready to make disc golf her career. After dispensing some wisdom then, Pierce gave out more as a crowd milled about on hole 18's green.
"She said, 'Don't ever text me that again. You know you can do it,'" Bjerkaas said.
And now, Bjerkaas is a National Tour Champion.