Heimburg Gets Hot Late For LVC Lead
Heimburg Gets Hot Late For LVC Lead
Anthon gives chase from second place position
Saturday, February 23, 2019 - 12:17
HENDERSON, Nev. – Calvin Heimburg and Josh Anthon stood underneath the one bit of neon here that is reminiscent of the nearby Las Vegas Strip, as Wildhorse Golf Club's brightly hued logo hovered over the entrance of this week's venue. The duo were about to make their exit after sharing a day that started together on the chase card and ended – still together – at the top of the Las Vegas Challenge leaderboard.
Anthon joked about not being able to throw as Heimburg. Heimburg just chuckled, ready to refuel after a long day after of competition. But it was clear that the pair were comfortable with one another, even if they're both battling for the same prize.
"Josh was kinda pushing me," Heimburg said. "…I was trying to keep up with him. I think I pulled away from him a little bit at the end, but Josh and I were getting more of the birdies on our card."
Indeed, Heimburg put the pedal to the metal with seven birdies in the back nine, giving him an 11-under par hot round that brought him to the top of the standings with a 24-under par 96 two-day total. Anthon started hot but cooled off late, emerging with a 7-under par performance that brought him up to second place with a 20-under par overall. Austin Hannum's 10-under par took his 36-hole score to 19-down, while Nate Sexton climbed from 50th to fourth place by matching Heimburg hot pace.
For Heimburg, a 23-year-old from Florida, the day was all about accuracy and aggression. He's currently leading the Las Vegas Challenge field with a 94 percent fairway hit rate and a circle 2 in regulation clip of 92 percent.
"I was attacking everything, running all the putts I had," Heimburg said. "One I can think of in particular is hole 4. I had a 40-foot death putt, I was left of the pin and had a headwind – ran that and made it. That kind of kickstarted my round. I felt pretty confident at that point."
Sexton, who has a reputation as a conservative player, also said he's going big – but off the tee. Wildhorse's fast fairways and guarded pins had him opting for the risk of potentially going OB closer to the basket instead of laying up a drive and opting for an approach, because the speed of the surfaces made the upshots just as dangerous.
"I don't care about laying up anymore," Sexton said. "These holes just don't make sense for it. They're too sketchy. At USDGC it makes sense. Here, the numbers aren't adding up, so I'm just ripping for it. If I go OB, I go OB."
Case in point: Sexton went for the 432-foot, bunker-guarded hole 7 and parked the shot for tap-in eagle.
"That seems like the percentage play for me," Sexton said. "If you go for it, 4 is the worst you can do. Luckily, I got a 2."
Hannum had a strong front nine, carding seven birdies, and currently leads the field in parked shots (36 percent). The Oklahoma native said he felt comfortable in the desert wind, and actually peeks ahead at event forecasts in the hopes it will kick up.
"I actually kind of look forward to the wind," Hannum said. "…I would definitely say that being from there would give me kind of an edge on some people, for sure."
Sexton's Shoulder Status
Scoring-wise, you'd never know that Sexton wasn't playing at 100 percent. But he's been battling a subacromial impingement in his throwing shoulder – "tendonitis, basically," he said – that's been limiting his forehand since the 2018 USDGC. He's gone through physical therapy this offseason and said he's back to about 80 percent power.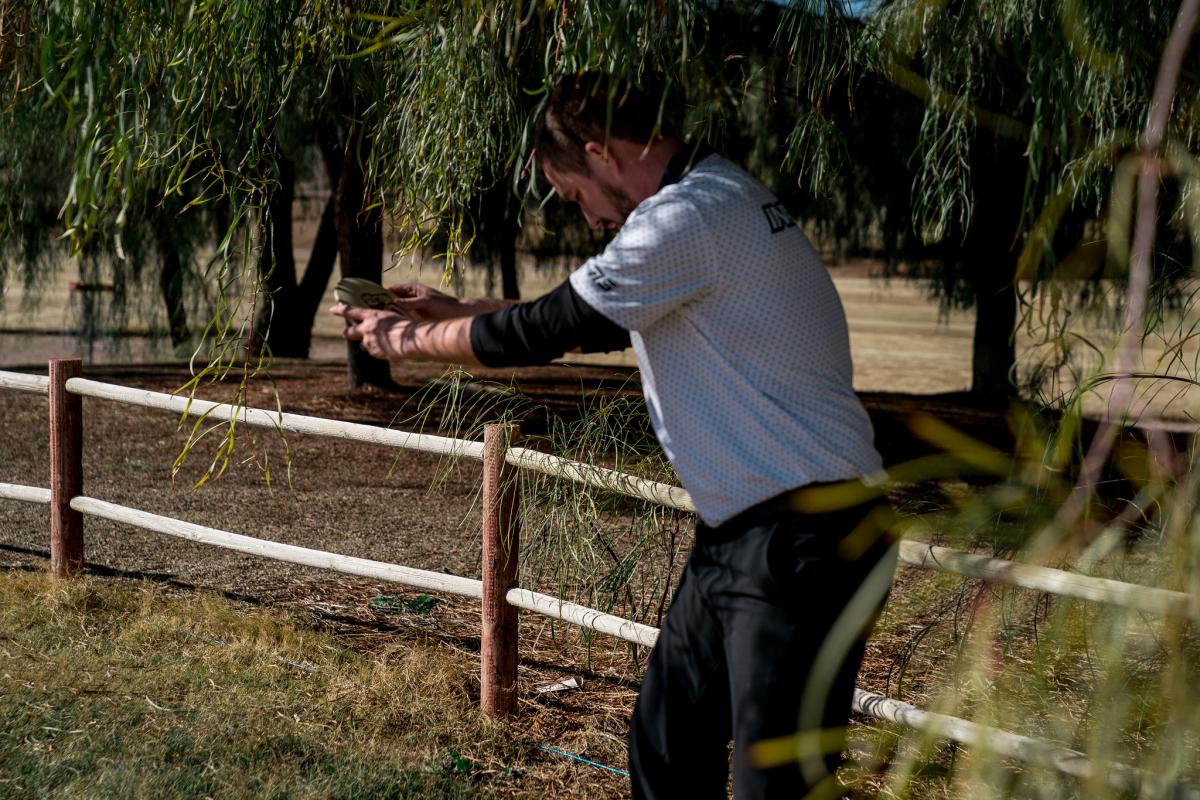 "Which is kind of fun, in a way, because I've leaned on my forehand so much in my career," Sexton said. "It's disconcerting a little bit to not have that weapon at full strength, but it's also forcing me to use my backhand, which is underrated, I think. I think I have a better backhand than people know because I hide it behind my forehand."
Shaking Off Winter(time Open)
Hannum suffered heartbreak at Wintertime Open finish last week. He was up six shots with 10 holes to play and hit a spectator on hole 18 after trying an aggressive line to stay in contention before succumbing to teammate Adam Hammes. He brought some of that emotion with him to Las Vegas, but he's channeling it for good.
"I guess just the ending in general, I tried to use that as motivation for coming into this one," Hannum said. "The process – I like to think, coming down the stretch, just [about] the process. I want to finish better…I'm using last week to finish my rounds better."
Who's Up, Who's Down
Everyone. Andrew Presnell jumped up 30 places and onto the chase card, where he is joined by Cale Leiviska, who moved up 22 slots. Spotted at the local Starbucks before round three, Leiviska lamented his putting struggles – he's at only 67 percent in circle 1 for the tournament – but focused on the positive: He still shot 1062 with a suboptimal showing, leading him to push himself for more practice in hopes he could "steal this one."
Paul McBeth moved up 16 places and into 12th place. But he, too, struggled on the green, two-putting six times. He immediately went from hole 18 to the practice baskets after yesterday's round.
The lead card spotlight was not kind. All four players fell down the standings Friday, with Garrett Gurthie dropping 20 spots and Chris Shotwell plummeting to 41st place. Gurthie said he was disappointed by the showing but was excited that he has a shot at revenge on the Innova course on Sunday.
Quote of the Day
Nate Sexton, debunking common conceptions in typical lighthearted fashion: "I haven't laid up once this whole tournament. A lot of guys in my groups are laying up, but I guess I'm a new man."
You Should Have Been Here For…
…Corey Ellis' distance clinic. Though he often failed to keep the disc in bounds, the 25-year old West Virginian can absolutely mash.
What's Next
The Innova Factory store course, the longest here at Wildhorse at more than 8,800 feet, greets players for today's third round.