Points Title, Hall of Famers Provide Motivation at National Tour Finale
Points Title, Hall of Famers Provide Motivation at National Tour Finale
Ed Headrick Disc Golf Hall of Fame Classic puts a bow on 2019 season
Thursday, October 10, 2019 - 15:43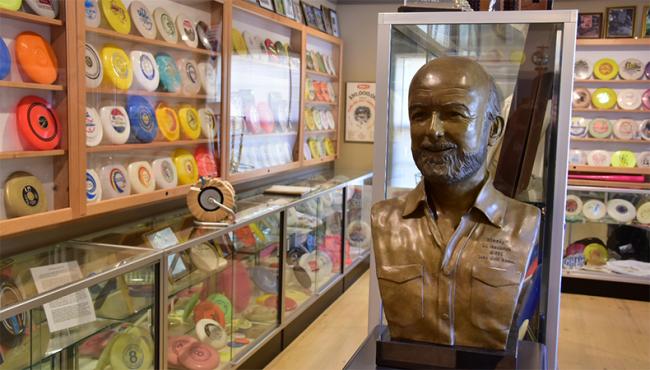 APPLING, Ga.--The long road of the 2019 season has come to an end.
The tour rolled out in Las Vegas, then blew through Kansas on the way to a Pacific time zone swing. A quick stop to crown some PDGA World Champions in Illinois gave way to the iron curtain of Delaware and some heated East Coast Majors.
Now, the PDGA National Tour comes home to the International Disc Golf Center for the Ed Headrick Disc Golf Hall of Fame Classic, where legends of the sport live on and the game's current stars take one final lap on the circuit where they can take home not just a win, but bonus cash from the season-long standings.
And in the span of just a few weeks, those standings have been drastically upended. Current points leader Ricky Wysocki? He's out as he battles the effects of Lyme disease. Second-place holder Eagle McMahon? Headed home to rehab a broken hand after a frustrating display at the United States Disc Golf Championship. And defending Hall of Fame Classic champion Paul McBeth has even withdrawn from the tournament with an injured ankle.
The absences will, without a doubt, change the complexion of the weekend.
"Paul being gone always changes the feel of a tournament," said Simon Lizotte, who is currently in fourth place in the NT points standings. "He always sets the bar at a tournament, he makes it feel more professional, he makes us try even harder. That's the special thing about him. Then of course, Eagle and Ricky are the other two guys to beat. 
"Without them, I think the next 10 guys that are usually in the hunt are feeling extra motivated this year to get an NT win, and I'm one of them," Lizotte continued. "I still only have one NT win [in my career]. Let's make it two."
On the women's side, the tournament is mostly a formality, as far as standings go: Current leader Catrina Allen has a nearly 30-point lead and would have to card a career-worst finish here at the W.R. Jackson course, which is one of her personal favorites.
It comes full circle in the Open division, though, with Las Vegas Challenge Champion Calvin Heimburg with an opportunity to take home the points title. But, in characteristic Calvin fashion, he's more focused on what's right in front of him than any long-term goal.
"The points--I mean, that's just an indicator of how I did in the past, and I need to focus on this tournament for what it is," said Heimburg, who finished in 26th here last year. "If I play well here, sure, the points might add up to where I win that. But I've gotta play here at this individual tournament before I worry about the points series."
On a punishing, 10,485-foot, par-68 Jackson course that has long been known for tight scoring, that brings plenty of players into the mix for both the tournament and the bonus. Lizotte, for example, jumps into the de facto runner-up slot with Wysocki and McMahon's absences. He didn't realize it until James Conrad informed him of the shift this week.
"I was like, 'No, that's impossible. That can't be--that can't be right,'" Lizotte said. "But I think if Calvin finishes in 10th or something and I'm in top three and Conrad's not beating me by much I can win the National Tour series. I don't know how I'd feel about that after this season, but I can, and I'll try my best."
And if money isn't enough motivation, then the atmosphere this weekend provides a boost: Lizotte and his contemporaries will be putting on a show in front of the sport's luminaries, with 34 Disc Golf Hall of Fame members in attendance.
It's a factor driving Gregg Barsby to improve on his runner-up showing here last season.
"A few of my awesome mentors back home, and at least three, probably four or five guys that I've played with since I was nine or 10 years old, are Hall of Famers, so it's really cool," Barsby said. "It's a nice ode to those guys and how much groundwork they laid for us and being able to set the foundation for pro disc golfing today. It's really cool. I look forward to it. Hopefully, I can put on another great performance out there and get on the lead card."
For 2018 third-place finisher Sarah Hokom, the Hall of Fame Classic is another chance to keep an eye toward the future.
"I think that's the pinnacle of the disc golf community showing that they respect what you've done for the sport," Hokom said. "I would be honored to someday be inducted into that. It's definitely the goal--I think it's the biggest honor you can get."
And it's the perfect way to put a bow on 2019: fierce competition, with an embrace of community.