Hammes At Home Atop HOFC Leaderboard
Hammes At Home Atop HOFC Leaderboard
Heimburg one shot back at PDGA National Tour finale
Friday, October 11, 2019 - 21:52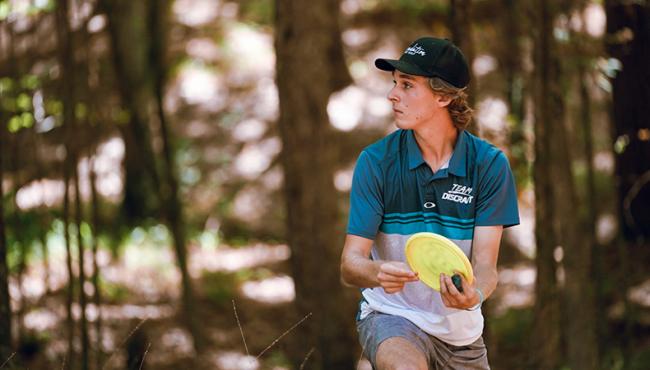 APPLING, Ga. -- The logical conclusion to draw from Adam Hammes' 10-under par 58 at the International Disc Golf Center's W.R. Jackson course Friday to open the Ed Headrick Disc Golf Hall of Fame Classic is that he was channeling 2017. After all, it was on this same track that Hammes carded a career breakout performance--the night after battling the stomach flu, at that--to jump onto the final round lead card of the PDGA Professional Disc Golf World Championship. Back then, he shot the same 58.
That conclusion, however, would be wrong.
"That was in the past," the 20-year-old Wisconsin native said. "I'm just trying to play my game that I have now. I'm a different player than I was three years ago."
Perhaps, then he'll fare better here this week than he did at Worlds, when he dipped to 10th place on the final day. Hammes' 1061-rated showing Friday has him in the lead early at the PDGA National Tour finale, a single shot ahead of Calvin Heimburg. The Florida pro and de facto NT points leader tossed a 9-under par 59 to kick off the HOFC, while five players--including Simon Lizotte and Trevor Harbolt, who will round out Saturday's lead card--are tied for fourth after opening with 7-under par 61s.
While Hammes was hesitant to cop to any similarities between his game and that of a couple seasons past, he still admitted to a certain comfort level on the Jackson course. He just needed to warm up.
"It was pretty cold when I arrived here at the course this morning. It was, like, 59 degrees or something, so I was chilly," said Hammes, showing that he's acclimated to the conditions on tour and away from his Midwestern home state. "We haven't played in that cold of weather al year. The first few holes I could feel it. I was struggling to throw clean shots because my hands were pretty cold."
That led to a bogey on the par-3 5th, but Hammes was about to thaw out, canning a heat-seeker from 120 feet for a birdie on the 744-foot 7th that jump-started his scoring.
"Once that happened it was smooth sailing," Hammes said.
The connection was the first in a run of four straight birdies, and he added three more in part to circle's edge connections on holes 13 and 14. He added a 50-footer to save a par after scrambling on 17, then took it easy to close the round with one more birdie on the par-5 18th.
"I've always loved this course," Hammes said. "It's fair, and there's nice open lines. I'm from Wisconsin--we have tons of woods golf, so it's pretty much like home for me."
Though he's one state removed from his own home, Heimburg said he was boosted by a visit from some "Florida homies" who came to watch the tournament. He was loose before the round, launching practice putts into the chains with an overhead motion like he was shooting free throws, and it translated to a hot start that found Heimburg collecting birdies on the first three holes.
Heimburg cruised through most of the rest of the round and leads the field in parked shots at 22% and is second in circle 1 in regulation with a 56% clip.
"The round went pretty good, kept it in the fairway for the most part," Heimburg said. "Had one bogey on that long tunnel hole--hole 5, maybe...Not a whole lot of putting, just some really good shots to keep me close to the basket where a lot of birdies just came."
Even when he was off the fairway--he found the backdoor route on hole 17 and joked with a cardmate that he was playing to the wrong hole--he scrambled with 86% effectiveness. That's a key component to success at Jackson that he said he'll need to continue in order to win his second National Tour event of the season.
"It's super important in the woods," Heimburg said. "A lot of the courses we play during the year are OB-lined and you don't really get to scramble--you just add a stroke and you play from where you went out of bounds. But out here, it's kinda natural OB and you can bail yourself out if you're good at hitting small little gaps and doing cool little trick shots. It's huge out here and can save you a lot of strokes. You can turn what looks like bogeys into pars."
Lizotte, too scrambled well (89%), but his putter saved him the most strokes. But first, it needed to fail him: The German star missed a birdie opportunity inside the circle on hole 3, and it threatened to impact his whole round from the start.
"That putt kind of drowned my confidence a little bit," Lizotte said. "I was trying to get it going,  but I was airballing all of my 45 to 60 footers. It was tough."
A couple connections on the back nine, though, and he was flying. He hit from 38 feet on holes 14 and 16 and was able to get enough strokes back to stay on Saturday's lead card.
"I mean, they were barely outside the circle, but it still looks good on paper," Lizotte deadpanned. "So that got my confidence going. Then I got to finish with three birdies in a row to put me in the hunt still."
"My goal was 6-down," he continued. "I shot 7-down, so I'm pretty happy."
Harbolt helped himself to the final spot on the lead card with a perfect putting circle 1 putting performance, while Chris Clemons did the same--while adding two from beyond the arc--to also shoot 7-under. He's joined on the chase card by Austin Hannum, who added three outside connections to a bogey-free performance; Joel Freeman, who went on a five-birdie streak from holes 5 through 9; and JohnE McCray, who continued his own history of strong performances at Jackson with a 6-under par start.
Looking ahead to Saturday's second run through Jackson, Hammes and Heimburg echoed a similar refrain: Just keep it clean, and they'll be OK.
"When I play out here, I just take the birdies when they come," Hammes said. "I don't try to force anything and just have a smooth round."
"I threw a lot of my Eagles out here, and if can keep throwing those smooth and in the fairway I don't see why I can't continue to string together birdies," Heimburg said. "But as soon as you get off the fairway, that's where the course can start to bite you and things can become iffy."
The Open lead card tees off at 1:40 p.m. ET, with instant scoring and statistics available via UDisc Live.
Two New Hall of Fame Members Inducted
Two new Disc Golf Hall of Fame members were inducted tonight at a post-round dinner. Congratulations are in order for Eric Marx, PDGA #1024, the 1992 Pro Masters World Champion who made his mark designing courses in the Austin Texas region, and Mitch McClellan, PDGA # 3566. McClellan is an Oklahoma product with 99 wins on his resume, and he's the current MP55+ world champion.