Gibson Buckles Down Beaver State Lead
Gibson Buckles Down Beaver State Lead
McBeth rockets into second-place tie with hot round
Saturday, June 9, 2018 - 10:13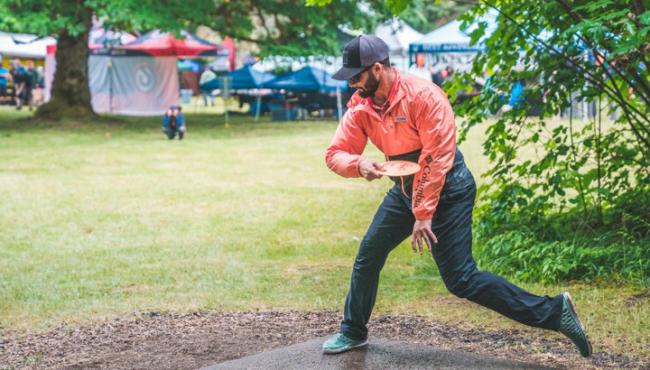 ESTACADA, Ore. – Drew Gibson didn't play the Beaver State Fling last year.
Spooked by the prospect of a week of precipitation in the Portland area, the 22-year-old instead opted for an extra few days of sunshine in his Northern California hometown and was a late scratch from the PDGA National Tour event. So when the rain started falling here Friday and he started to feel the strain of a marathon day at Milo McIver State Park's Riverbend Disc Golf Course, it was only natural that he longed for the Golden State.
"I almost went home," he deadpanned.
Instead, Gibson went home with a three-shot lead at the Beaver State Fling's halfway point, as he navigated the inclement weather with a 10-under par 51 to bring his two-round total to a 19-under par 103. Paul McBeth matched Gibson's round score with a torrid run through the East course and rocketed into a second-place tie with a 16-under par 106, where he sits alongside Nate Sexton and Eagle McMahon, the latter of whom logged his own 10-under par scorcher to pace play during the morning round at Milo McIver West.
For Gibson, the day was marked by his customary power off the tee and a newfound deadliness from outside the putting circle. He started the second round by hitting from 40 feet for deuce, then parked the 331-foot 2nd. His 115-foot throw in on 5 East was his second from beyond 90 feet – he canned a ridiculous shot from the bushes on 16 West during round one – and he was 8-down through 12 and cruising alongside McMahon.
Then, the Pacific Northwest started doing what it does. Hole 13 found Gibson spraying his drive offline to the right as it seemed to slip out of his hand, but he put his upshot within 10 feet and was in line for an easy par save. His clean-up tap-in bounced off the pole, though, and Gibson grabbed at the chains in frustration after setting the disc in the tray for his only bogey of the round.
That indignity was followed by a back-up on the course's longest hole, the 1,196-foot "Monster" on 14, but the insults weren't finished. Nearly everyone on the lead card – which included McMahon, Simon Lizotte, and Bradley Williams – struggled in one way or another on the trying track: McMahon's second shot rolled left and into the brush, while Williams slipped on his marker disc. Lizotte rolled from one side of the fairway to another en route to a double bogey 7, while Gibson nearly tripped and fell on McMahon's umbrella as he lined up his own shot.
It was a semi-chaotic sequence that ended up clogging up the pace of the round and adding to the frustration of an already long day on the course.
"I hope everyone plays good, but at the end of the day I'm out here trying to worry about myself, and when it starts raining it becomes more, 'I'm on my own. Don't talk to me, don't look at me,'" Gibson said. "…It just becomes more of a territory thing when it starts raining, I feel like."
Gibson, though, was the one taking control of the land. He added three more birdies, including a 50-footer through dangling canopy on 16's uphill pin and another 40-footer on 18, the close the round with authority.
"I was just like, 'OK, dude: You're not playing bad, but you're not playing good. Just, like, hunker down and get a few birdies. Let's finish this strong,'" Gibson said. "It was kind of a mental thing."
When all was said and done, he'd hit 57 percent of his circle 2 putts on the day – and that doesn't even count to two long throw-ins. But the long-range accuracy didn't come from any extra practice. On the contrary, Gibson said he's been taking cues from McMahon and working more from 15 feet and in as he aims to improve on a season-long circle 1 clip of 90 percent.
"[McMahon]'s like, 'If you can putt good from 15 feet, your stroke stays the same,'" Gibson said. "So this week I really focused on just honing in on the spots that I struggle on, and it's kind of traversed to me making putts I normally wouldn't make anyway."
While the lead card was drawing a crowd, McBeth was quietly plotting at his 17-spot climb up the leaderboard. He started on hole 6 during the second-round shotgun start, the result of his 6-under par morning round that found him uncharacteristically inaccurate off the tee. He saved the fireworks for the afternoon, parking the 585-foot "Genius Hole" for an easy eagle on hole 9.
"Then it was just smooth," McBeth said. "Drive, putt. Drive, putt. Drive, putt."
The four-time World Champion logged seven straight birdies before the rain derailed his record-breaking pace. McBeth connected on two putts from outside the circle, and even when he was missing was drawing metal. With more rain in the forecast as play heads back to the West course Saturday, though, he wasn't sure what would be in store.
"It gets sloppy out here, so we'll see how the next two days play out," McBeth said. "It doesn't look like it's gonna be pretty."
Sexton scrambled his way up from the chase card, making up for a 53 percent fairway hit rate by making par or better all eight times he was off the beaten path. His 70-footer for deuce on 18 catapulted him over Lizotte, who landed in fifth, and added an exclamation point to the Oregon native's bogey-free showing.
"I think I've probably played maybe 15-plus Beaver State Flings," Sexton said. "…I feel comfortable on these courses. Looking forward to trying to put together a couple more good rounds. If I can keep shooting 53s I'll be pretty happy. Great to do something a little hotter, but 8-under is great on these courses."
Indeed, 8-under was good enough to move Paul Ulibarri up 13 places – he was on McBeth's moving card, too – and into a sixth-place tie with Lewis Bitney and James Conrad at a 14-under par total. Ulibarri has been clean off the tee with a 76 percent fairway hit rate, and he threw in from 300 feet to eagle the 690-foot 11th.
Big shots like those will likely be in high supply on Saturday's lead card. And Gibson, who is well-equipped to provide plenty of them, was ready for the adventure.
"I'm sure the rest of the week is gonna be a grind. I'm looking forward to that," he said. "I like playing with Eagle. Paul is gonna be on the lead card tomorrow…Sexton. That's gonna be a good card.
"There's gonna be some battles."