Decision Time for Calvin Heimburg
Decision Time for Calvin Heimburg
2021 PDGA Pro Worlds – Day 3 MPO Recap
Friday, June 25, 2021 - 14:43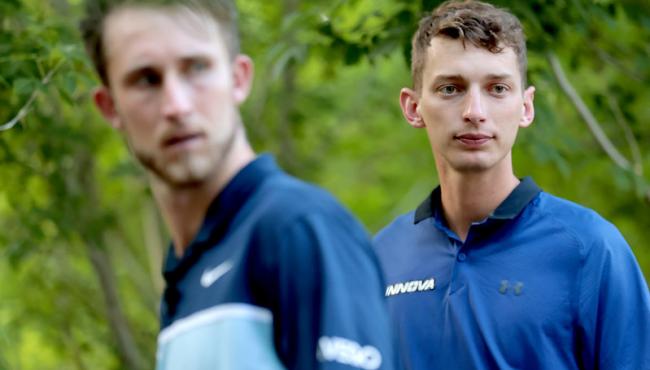 OGDEN, Utah — The moment came on hole 16, staring up at the elevated basket from his perch in the bunker below, 45 feet out. Already committed to one penalty stroke and facing the possibility of another should his putt clear the basket and find the bunker—as it inevitably would if he put anything close to a full bid on it and missed—it was decision time for Calvin Heimburg.
He knew it. The commentators on Disc Golf Network knew it. The gallery knew it. And when his putt found center chains, the energy exploded—from everyone, that is, except the famously stoic Heimburg.
"I walked up to it and checked out the back side," Heimburg would go on to say. "There was the other bunker there, but I stepped up to it and said, 'I think I can make this', so I went for it and made it fortunately and was able to save par."
That was, perhaps, a bit of an understatement.
It was the kind of championship-defining moment that, should Heimburg go on to win the title, will be remembered as one of the most important putts in his career.
The bold strike was enough to propel Heimburg into sole possession of the lead after three rounds at the 2021 PDGA Professional Disc Golf World Championships.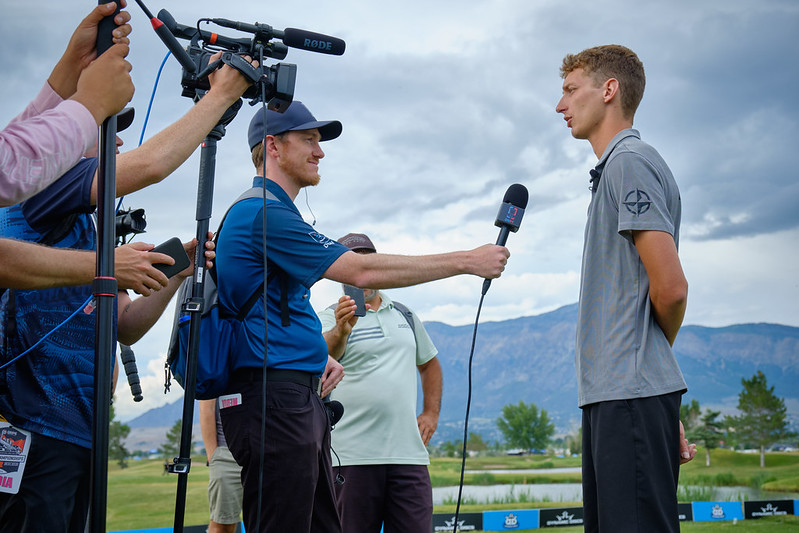 One stroke behind Heimburg at 25-under for the tournament, 2017 U.S. Champion Nate Sexton took a somewhat more conservative approach to finish his round.
After cashing a birdie putt from nearly the exact position on hole 17 where a low miss had derailed his momentum in round 1, Sexton chose to lay up from circle's edge on hole 18 to consolidate a hold on a leading position.
"It was a better feeling 10-under today because I didn't choke it away right at the end. It's another 10-under, just like last time at Mulligans, but this time I came in a little stronger.
"There's still two whole rounds to go. You don't win anything with a three-round lead. So, I'm not worried about it — I just want to keep playing good golf, keep committing to my shots, keep hitting my putts, and I'll start caring [about the lead] around 6 holes to go on the final day."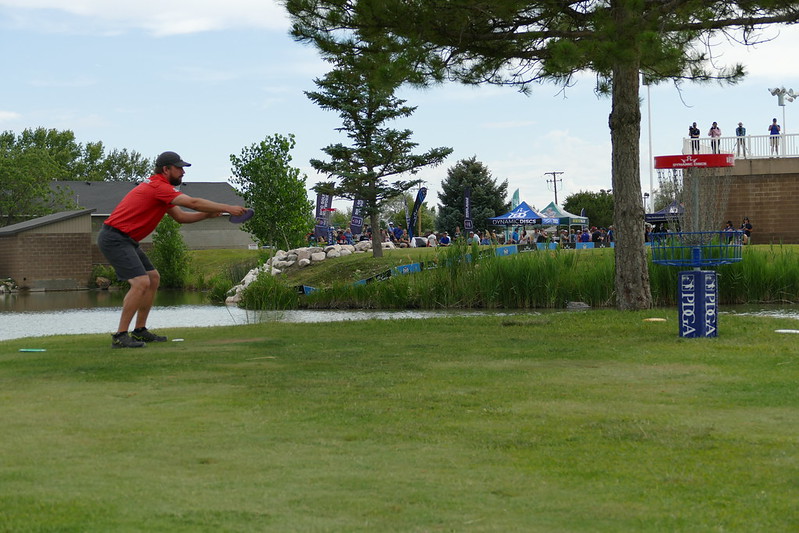 Heimburg, Sexton and company still have two imposing summits to climb if they hope to lift the trophy on Saturday—and that is not to refer to the two remaining laps around the daunting wooded track known as 'The Fort'.
It will be the twin peaks of Paul McBeth and Ricky Wysocki—who have combined for seven of the last eight MPO World titles— that still pose the biggest mental hurdle to the rest of the field.
Neither McBeth or Wysocki are in a terribly strong position, sitting five back and six back, respectively, but if history is our guide, one—or both—of them is likely to make a charge over the final 36 holes of this championship marathon.
It is yet to be seen whether anyone else in the field can garner enough belief that they can break through the stranglehold that these two titans have had on the game—especially at the World Championship level—for nearly a decade.
Live MPO coverage of round 4 kicks off live on the Disc Golf Network at 3:30 p.m. MT / 5:30 p.m. ET.