Bjerkaas Holds Serve At Brewster Ridge
Bjerkaas Holds Serve At Brewster Ridge
Tattar moves to lead card as Pierce struggles on the green
Saturday, September 8, 2018 - 08:35
JEFFERSONVILLE, Vt. – A five-round tournament is bound to yield a difficult performance for any player, even one who has been playing as hot as Paige Bjerkaas. At some point, the event becomes a battle of attrition and survival mode kicks in.
That's exactly how Friday went for Bjerkaas during her second tilt at Brewster Ridge, as she scuffled down its tightly wooded fairways en route to a 4-over par 65 that was two shots worse than her Wednesday performance here.
"I'm not stoked," she said as she stood just near the practice area after the round, her posture striking a stark contrast with the exuberance that accompanied her career-best 1021-rated showing Thursday. "I made a lot of mistakes, and I wasn't able to minimize the mistakes. When I was making mistakes, I was taking double bogeys."
Luckily for Bjerkaas, she wasn't the only one doing that. And so, after carding her highest score of the tournament – which, at 960, still clocked in 22 points above her player rating – the 21-year-old still leads the Open Women's field with a 1-over par 186 total after 54 holes.
Sarah Hokom held onto her second place position with a 3-over par 64 that helped her trim one shot off Bjerkaas' lead and took her total to a 6-over par 191, while Rebecca Cox's 6-over par 67 dropped her to third place with a 9-over par 194 total. Kristin Tattar took advantage of a hot finish to move into third place at 11-over par, while defending world champion Paige Pierce continued her putting slump and fell to fifth place after her 10-over par round brought her three-day tally to a 13-over par 198.
Bjerkaas started the day strongly, connecting from 30 feet to save par and then adding an easy birdie on the 325-foot 3rd. Soon, though, she hit the most adversity she's seen so far in the event. Those double bogeys came in succession, with her second shot on hole 8 kicking far into the woods and another miscue on 9 forcing her into a patent pending stance. She recovered with a par on 10 before taking one stroke back with a 40-foot birdie connection on 11, but quickly got added to her total with a bogey-double bogey combo on 12 and 13.
Still, her ability to score late was key. She was parked on holes 15 and 17, with the former giving her a two-shot advantage on Hokom, who missed from inside the circle on her own attempt for deuce.
That was one of four times on the day that Hokom two-putted, a number Pierce matched as her circle 1 rate for the event plummeted to 83 percent.
"We had a case of the spitouts on our card, all the way around," Hokom said. "Paige had a ton – Pierce had a ton of spitouts. I had at least three that I'm like – every other day of the week that putt falls. Just this weird kinda bounce and it falls out."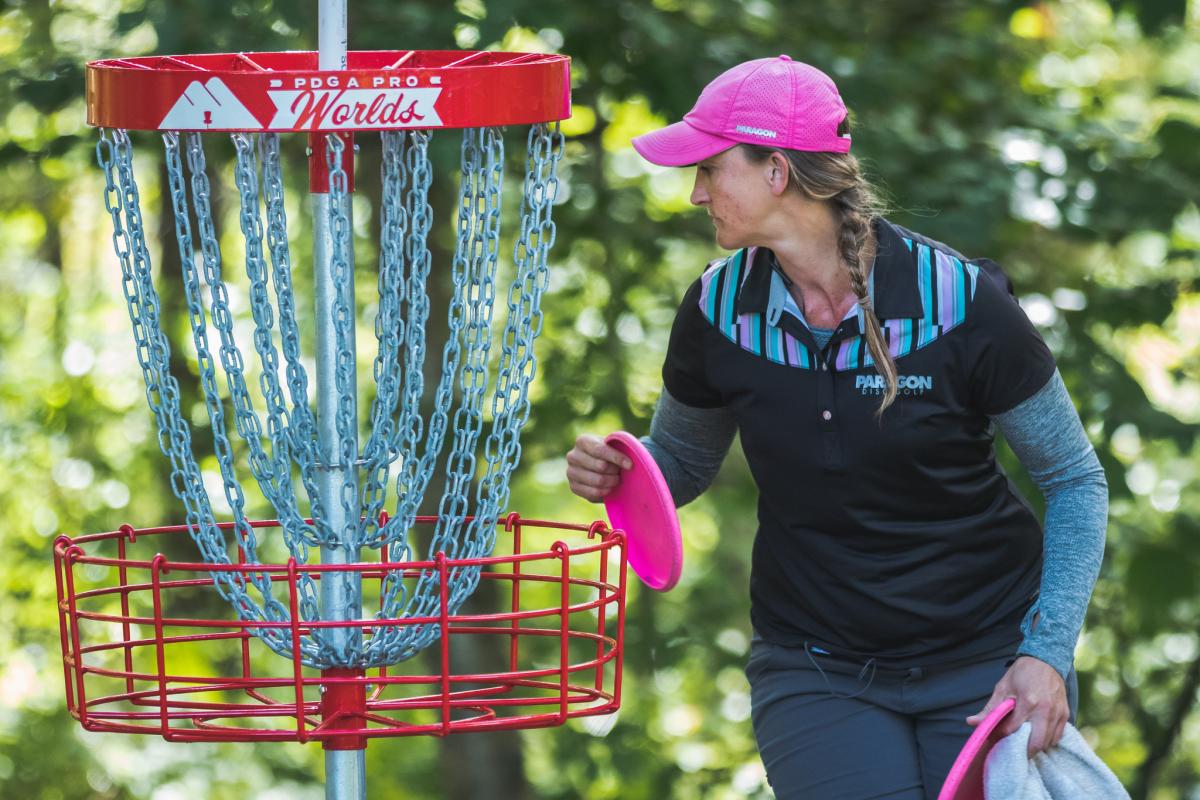 Success in the circle, meanwhile, was key to a couple of big moves on the leaderboard. Tattar, Estonia's top-rated women's player, scrapped her way through the front nine before bouncing back in a big way down the stretch. A 40-foot putt for deuce on the 410-foot 12th kickstarted a run of four-for-five that helped her leapfrog Pierce.
"Started out really rough, and just my upshots weren't good, and my putt didn't go in, and I was thinking, 'What are you doing, and why did you come here?'" Tattar said. "Then I got a few pars, and on the back nine I took, I don't know, four birdies straight or something – I can't remember. I took a lot of birdies, but I thought, 'OK, this isn't too bad.' But I didn't know I was going that good to make it back to the lead card."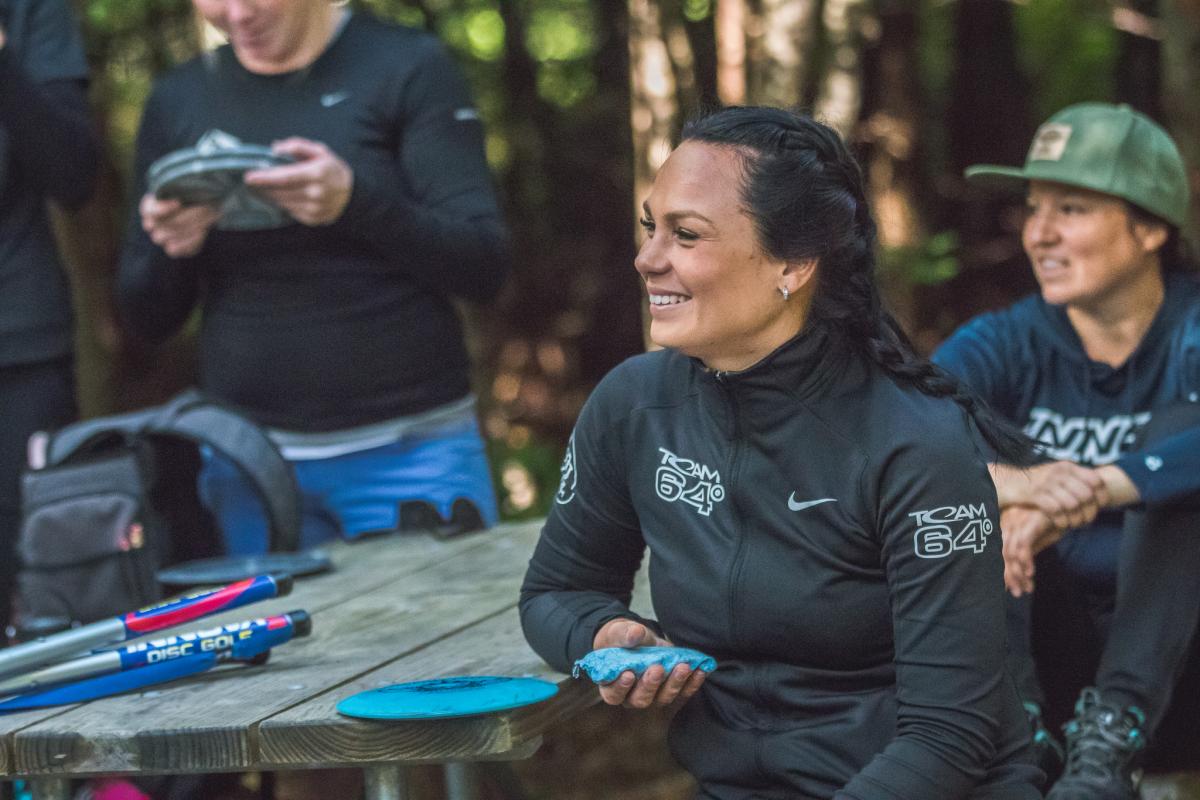 For Sara Lamberson, who shot the hot round with a 1-under par 60 – a 16-stroke improvement over her round one showing at Brewster – a change in mentality helped her get close enough for a perfect putting rate and a career-best 999-rated performance.
"I feel like the other day was just a practice round for me – I just couldn't get anything going," Lamberson said. "…I wasn't being super aggressive on my approach shots, and it would leave me with a big putt or even outside circle 2. My goal today was just to be a little more aggressive on the tee, definitely be aggressive on the approach shots and scrambling and get inside the circle at all costs."
Lamberson is now three spots above the cut line heading into Saturday's fourth round at Fox Run, a fate she knew was looming. The key to making it to Sunday?
"Stay in bounds," she said. "[Thursday] I felt really good on Fox Run. All of my drives were working…I don't think I'm gonna change my game plan very much."
Though she's nowhere in danger of missing the final round, Hokom echoed a similar sentiment. As a veteran player chasing a young up-and-comer, she knew that there would be stress on Bjerkaas. But Hokom wasn't planning on trying to be more aggressive or take any extra risks to make her feel it.
"I'm not gonna change my game plan to apply some pressure, but I know of course that if I have a good start that helps," Hokom said. "A player may be more apt to fold early if you can get out to a good start, but I have no expectations that Bjerkaas is going to falter. There's a lot of OB, so depending on how her game plan sets up and how she executes it…"
Indeed, Bjerkaas said she plans to play it safe. She carded a single penalty stroke during her first go at Fox, and a conservative approach was key to helping her maintain her lead.
"It's just so crazy that typically at this point Paige and Hokom are beating me by probably five, 10 strokes," Bjerkaas said. "It gives me the confidence I need to keep succeeding the last two rounds."
The Open Women's lead card tees off at 9:20 a.m. ET, with action being live streamed on SmashboxxTV.