Bjerkaas Breaks Through For PDGA World Title
Bjerkaas Breaks Through For PDGA World Title
Pierce takes second, while Weese and Hokom tie for third
Monday, September 10, 2018 - 09:49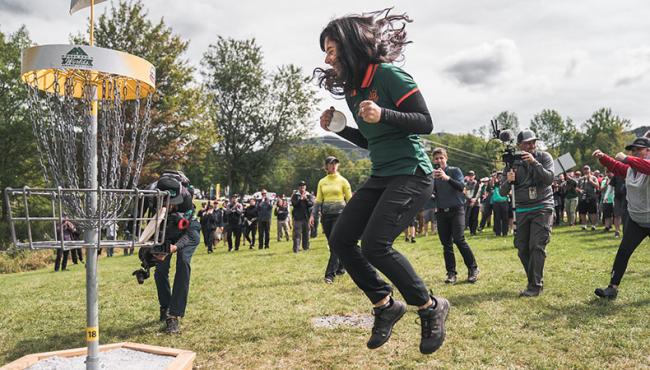 JEFFERSONVILLE, Vt. – Paige Pierce said it. Sarah Hokom echoed the same sentiment. Even the new world champion's father felt that she would eventually win a major tournament.
Everyone always knew it was coming. They just didn't expect it to happen so soon.
So when Paige Bjerkaas tapped in her final putt Sunday at Smugglers' Notch Disc Golf Center's Fox Run Meadows to secure her first career PDGA Professional Disc Golf World Championship title and an explosion of energy flowed up from the ground and through her legs, catapulting her into the air before escaping from her lungs with a high-pitched celebration, it represented an earlier return on her talent and potential than even she, or her family and closest competitors, expected.
Bjerkaas' 6-over par 317 performance over five rounds in Vermont was a master class in precision and self-discipline, as the 21-year-old demonstrated poise beyond her years in holding the lead from round two until Sunday's final. Her coronation at Fox Run found her hitting her goal of an even-par 63 to finish the event, while Pierce logged a 1-over par 64 to bring her week-long total to a 12-over par 323 for second place. Jessica Weese climbed the leaderboard Sunday with a 1-under par 62 hot round to tie for third place with Sarah Hokom, with the pair taking home 19-over par 330s. Rebecca Cox took fifth place in her first PDGA World Championship bid with a 23-over par 334.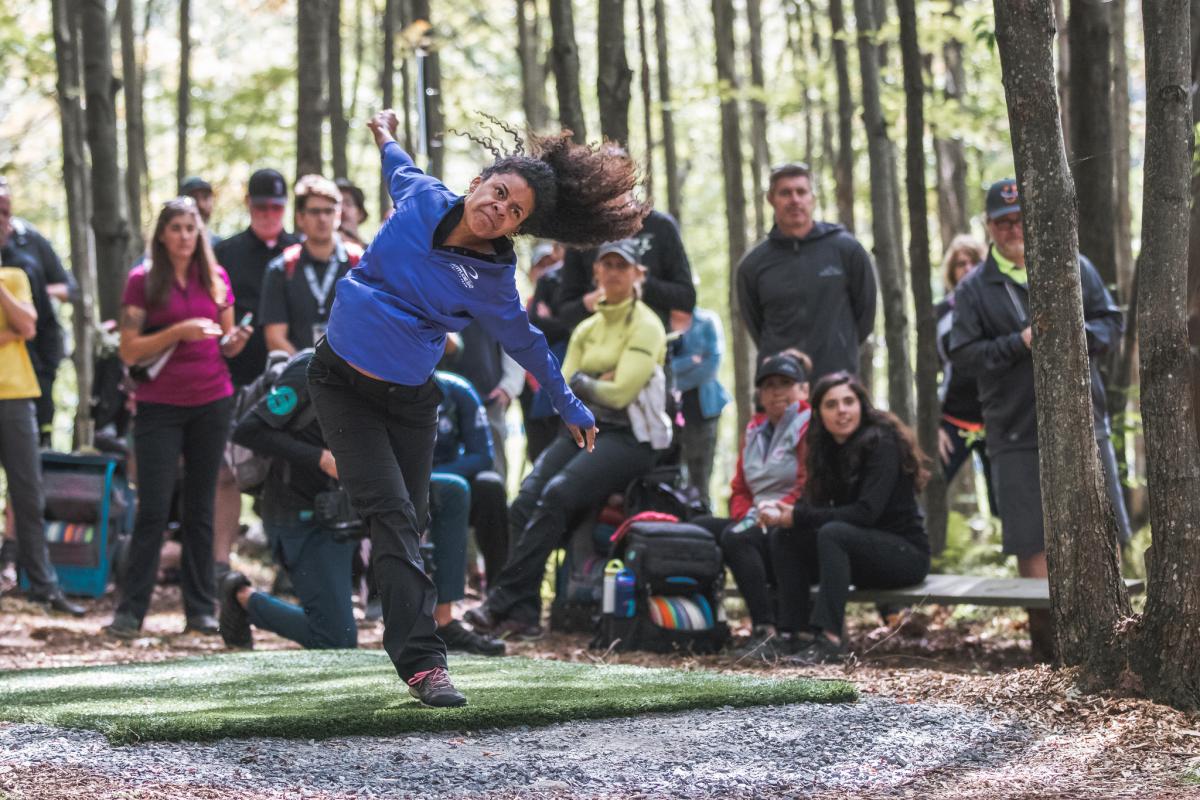 Bjerkaas pocketed $5,000 in winnings, the largest payout of her young career. Pierce took home $2,500, while Weese and Hokom each walked away with $1,400.
Though she held a five-shot lead coming into the final, Bjerkaas never blinked. She corrected the mistakes on Saturday that cost her those five strokes early, keeping her drive on hole 1 inbounds to take a clean par as Pierce did the opposite: Her tee shot hit the dewy fairway and skittered outside the left-side stakes, and she ceded a much-needed stroke.
Bjerkaas' bounce off a tree on hole 2 left the door open for Pierce to take a shot back, which she did, but the first turning point in the round came on the 465-foot 4th, a par-4 where Pierce dialed up an aggressive drive that put her within 90 feet with a look for eagle. Bjerkaas pitched her drive up to a safer island position before throwing to 25 feet. Pierce gave her jumper a bid but couldn't connect, and Bjerkaas knocked down the circle's edge putt to stave off Pierce's momentum.
"I had a tester putt – I'd say it was kinda windy, probably like 22 feet. You know, enough to make me nervous, especially, when Paige is right there for the 3," Bjerkaas said. "When I made that I was like, 'Yeah, this is good. Keep it going. Just keep it going. You'll be fine.'"
Even as her tee shot failed to make the corner on 6 and she fell OB, she maintained her composure. And when the time came for hole 7, a 1,085-foot par 5 that spoiled many competitors' entire tournament, she took a BioFuzion Enforcer safe off the tee, then powered down for three more shots down the fairway to take her third par of the event on a hole that played 1.61 strokes over for the event.
"I just trusted my disc, trusting the hyzer," Bjerkaas said. "The first shot is pretty easy – just go hyzer, hopefully don't skip too far left. Really having control of the end of the flight of my disc – the skip. I know my discs super well to know how much they're gonna skip, so I aim a little to the right toward the OB a little bit, but I knew my disc was overstable enough to skip safe."
On the same hole, Pierce fell victim to the wind. She pulled her tee shot right, but found a fortunate tree that swallowed it up before spitting it out in bounds. Aiming to play the next shot safely to the middle of the fairway, she turned over her putter and strayed out of the lines, then did the same on her third shot. By the time she tapped in she was carding a double-bogey 7, the same score she logged there on Saturday. Pierce took a combined seven strokes over par on the hole for the week.
Bjerkaas' margin of victory was six.
"I'm definitely disappointed in what I showed out there – it's not anything even close to what I'm capable of," Pierce said. "That's hard to swallow, for sure.
"I have been thinking about it since the final putt tapped in, and I think even if I cleaned up the mistakes I had, she putted incredible down the stretch," Pierce continued. "If I was right there, pushing her, pushing her, pushing her – essentially playing match play – she was still hitting the putts, you know? And she went into the round with a five-stroke lead. It was hers. I wish I could have pushed a little harder, for sure, but I'm definitely super happy for her."
The back-and-forth finally resulted in a quiet moment on the green of hole 16, when Bjerkaas' lead on Pierce was up to nine. The four-time world champion took the future one-timer aside and gave her a long hug, a display of love and sportsmanship that the two longtime friends were able to share before the chaos of celebration.
"Oh my gosh – she walked with me when I won my junior world title," Bjerkaas said of her mentor. "I won Junior Worlds in 2010, and she walked with me, and ever since then I've looked up to her. She's given me advice, and even some of these tournaments I've finished second at, like Utah and all that jazz, she sent me messages saying, 'Hey, keep it up.' Even when we were competing against each other she'd say, 'You know, shake it off,' or 'Great putt.' Just really encouraging the whole time.
"She's always been there for me," Bjerkaas continued. "It's so cool, because I've looked up to her for freaking years."
While Bjerkaas was running away with her title, Weese was using her accuracy to climb up three places on the leaderboard. She went bogey-free through 14 holes, saving par on hole 9 with a circle's edge putt and going perfect from inside 10 meters for the rest of the round. Though she carded three bogeys down the stretch, Weese ended up with her career-best finish at Worlds, a testament to the experience she has gained with a full season on the road.
"I'm very, very stoked about it," Weese said. "I think that, more or less, my game has almost stayed the same. I've gotten more sidearm rollers in my bag and I feel more confident in that shot, but other than that, honestly, the only thing that's different, I feel, is my mentality. I think it's more mental than anything. I think focusing on trying to stay calm and working on my mental game is the biggest change in my game lately."
Elsewhere on the leaderboard, Catrina Allen matched Weese's hot round to finish Worlds on the upswing, moving up five spots and into a sixth-place tie with Zoe Andyke at 25-over. Estonian Kristin Tattar recovered from an 893-rated fourth round with a 961-rated showing Sunday to take eighth place, while Switzerland's Natalie Hollokoi takes a ninth-place finish back across the pond. Seventeen-year-old Hailey King moved up two spots to share a top 10 performance with Madison Walker at 32-over for the tournament.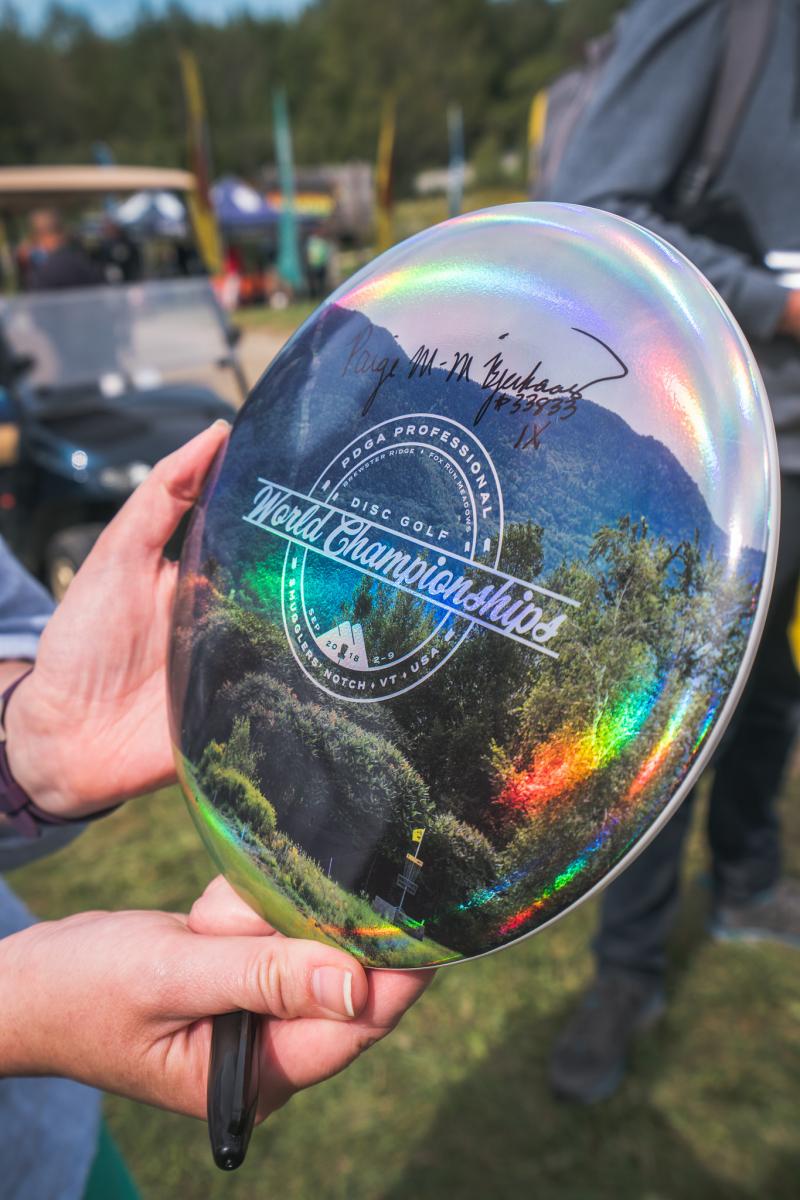 After the exuberant celebration on the green, where Bjerkaas embraced her parents, Doug and Noemi, the new World Champion reflected on her recent decision to take a semester away from college – although she is taking online classes, she pointed out – and how quickly her game had developed.
"I mean, it's crazy that I was so close to deciding to go to school, and imagine that if I did I wouldn't have been here," Bjerkaas said. "I know I'm a good player and I can do it, but it's cool to string it five days in a  row, to play consistently."
And now, she has a 1X next to her signature to show for it.