Am Worlds Field Cut for Semis and Finals
Am Worlds Field Cut for Semis and Finals
10 new world champions to be crowned Saturday afternoon at Renaissance Park
Saturday, July 28, 2018 - 10:57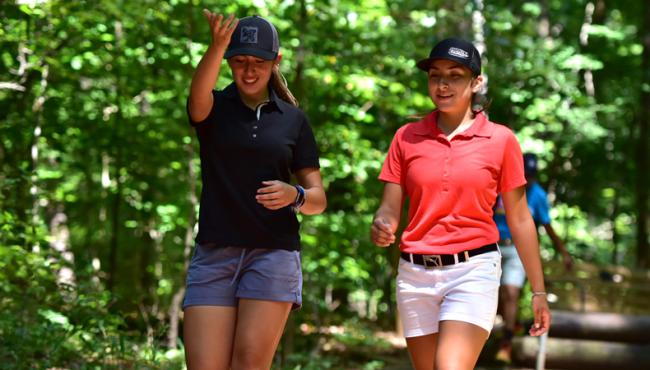 After four days and six rounds of competition, the 2018 PDGA Amateur Disc Golf World Championships in Charlotte, North Carolina has come to an end for nearly two-thirds of the field. The 200 or so that made it through to the semifinals will again be reduced on Saturday afternoon to just 38 for the finals at Renaissance Park. By the day's end, 10 new PDGA Amateur Disc Golf World Champions will be crowned in front of friends, family, and spectators.
Friday's preliminary rounds opened up the lead for many of the divisions as several now have a leader ahead by double-digits. However, the race for the title is perhaps less important at the moment than the battles being fought in the slots below. The opportunity to compete in the finals in front of a crowd is certainly something to be coveted.
The Advanced Women's division took on Reedy Creek, Charlotte's oldest disc golf course, for their last preliminary round. For the first time at a world championship, there were two Mandujanos on the lead card. The oldest, 19-year-old Valarie led the field going in and continues to lead heading into semifinals, while her younger sister, 17-year-old Alexis, duked it out for the second place spot with South Carolina's Deann Donaldson.
In the largest division, Advanced, Luke Humphries now looks to be unstoppable. Every day he has added to his lead and his sixth preliminary round proved to be no different than the five before it. After a fantastic round at Hornets Nest of nine under par, he now leads by 12 and has no intention of slowing down.
After a tough loss at the United States Amateur Disc Golf Championship in June, Humphries isn't about to let another PDGA Major slip from his fingers. "After giving away the win in Michigan, the last thing I want is for this be interesting," said Humphries, referring to how far ahead of the competition he was after finishing his round at Nevin on Friday.  
Only three courses will be used for the semifinal rounds and the finals will begin soon after those morning rounds come to an end. Follow the scores and updates on pdgalive.com and make sure to check the 2018 Am Worlds page for more info about the semis and how cuts will be made for the finals.