2018 PDGA Amateur Disc Golf World Championships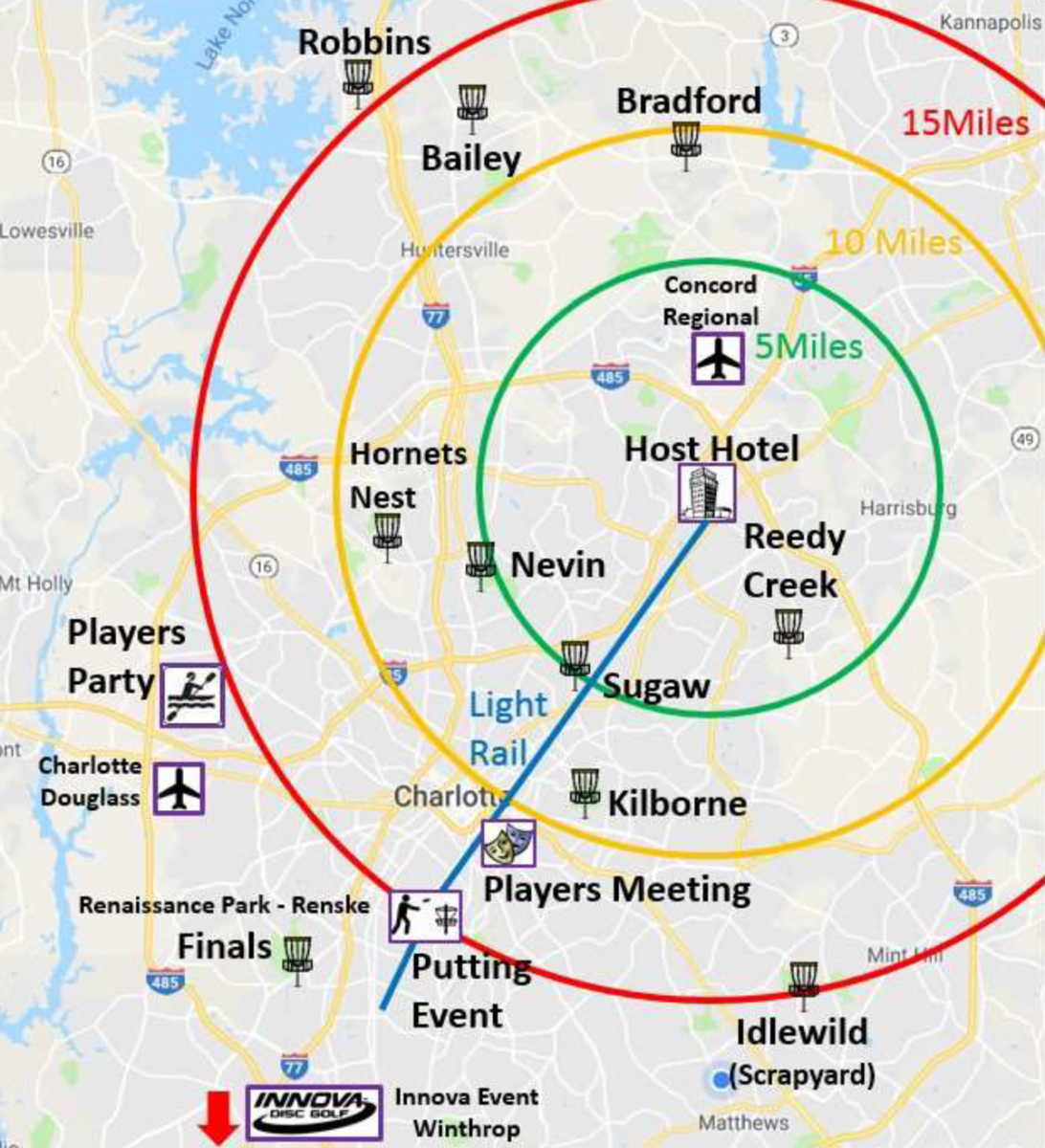 Host Club
The Charlotte Disc Golf Club (CDGC) is the host of the 2018 PDGA Amateur World Championships Driven by Innova. The CDGC has a long history of hosting events within the sport.
Originally founded in 1979 by local players, the CDGC produced Hall of Famers Stan McDaniel, Barry Schultz, and Alan Beaver, and is now home to players such as Michael Johansen, Jeremy Koling, and Austin Turner. The club has been hosting PDGA and local events for decades and currently has 17 courses in its jurisdiction. Under the leadership of President Jim Banbury, the CDGC hosted dozens of PDGA sanctioned events in 2017 alone. Combined with weekly singles, doubles and putting leagues, there is always something disc golf related going on in Charlotte.
The CDGC is also no stranger to major events. Host of the 1997 PDGA Professional World Championships, the 2012 PDGA Professional and Amateur World Championships and the 2015 Tim Selinske United States Masters Championships, legends of the sport have all played on the same courses you will compete on.
The CDGC also has a very active annual role in the United States Disc Golf Championship as scores of volunteers make the 30-minute drive south of Charlotte to Rock Hill, SC to assist in what is known as the game's premier event.
The CDGC is honored to add another notch on a belt full of notches - host of the 2018 PDGA Amateur World Championships Driven by Innova.
Sponsorship Information
Anyone interested in sponsoring the event, please email [email protected]. Sponsorship helps us increase your enjoyment and experience!
Registration Information
QUALIFICATION INTO THE EVENT DOES NOT ENSURE YOUR SPOT IN THE EVENT AS THERE ARE MORE QUALIFIED PLAYERS THAN SPOTS AVAILABLE.
All players must register via The Disc Golf Scene to compete. The registration schedule can be found at  www.pdga.com/2018amworlds/registration/schedule.
Contact Information
The official event website: www.2018amworlds.com
Even more information can be found on the event's Facebook page:  https://www.facebook.com/2018amworlds/