Allen Reminds Us of Her Greatness
Allen Reminds Us of Her Greatness
2021 Delaware Disc Golf Challenge - Final Round FPO Recap
Wednesday, September 1, 2021 - 16:39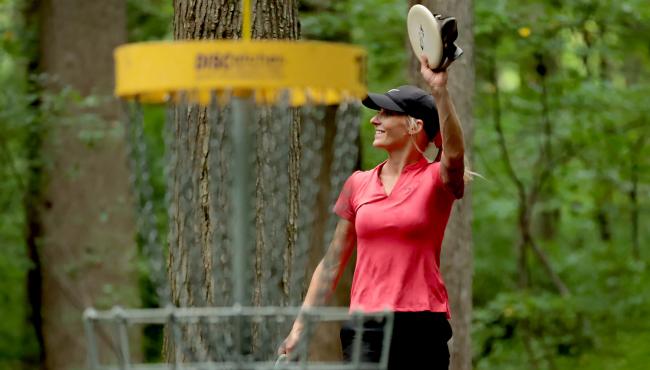 Catrina Allen is built for Iron Hill.
The two-time and defending Delaware Disc Golf Challenge champion, known to have one of the most intensive fitness, nutritional and mental training regimens on tour, seemed to only grow stronger as the grind of three days on the steeps of the storied Revolutionary War grounds took its toll on others.
Entering the third and final round of the 2021 edition, Allen held on to the slimmest of leads – one stroke over her three cardmates. The course is known to be unpredictable, and the headlines read, 'anyone's game'.
It was all true – at least on paper.
It turns out that, despite being right on her heals, Kona Panis, Heather Young and Holly Finley had a much larger hill to climb to get past Allen they did to climb the course's iconic stone steps.
Allen's presence loomed large despite her slim lead and, only a few holes into what would turn out to be a career performance, it felt as though a third DDGC title was but a foregone conclusion.
"It just felt easy for once," Allen said, having just finished a bogey-free, 11-under par masterpiece. "That always feels great — getting my mind out of the way and letting all of the hard work come through."
It's not been coming easy as of late for Allen, who had not won a title since winning the 2021 PDGA World Championships in June and revealed during this week's pre-event press conference that she had been dealing with personal issues off the course.
She also said that she had been able to put those issues behind her this week and was looking forward to getting back out and competing at her top level.
That mission, it is fair to say, was accomplished on Sunday.
Allen's round was unofficially rated at 1030, which, if it stands, will equal the eighth-best of her career and serve to quietly remind us that we are watching an all-time great at the peak of her powers.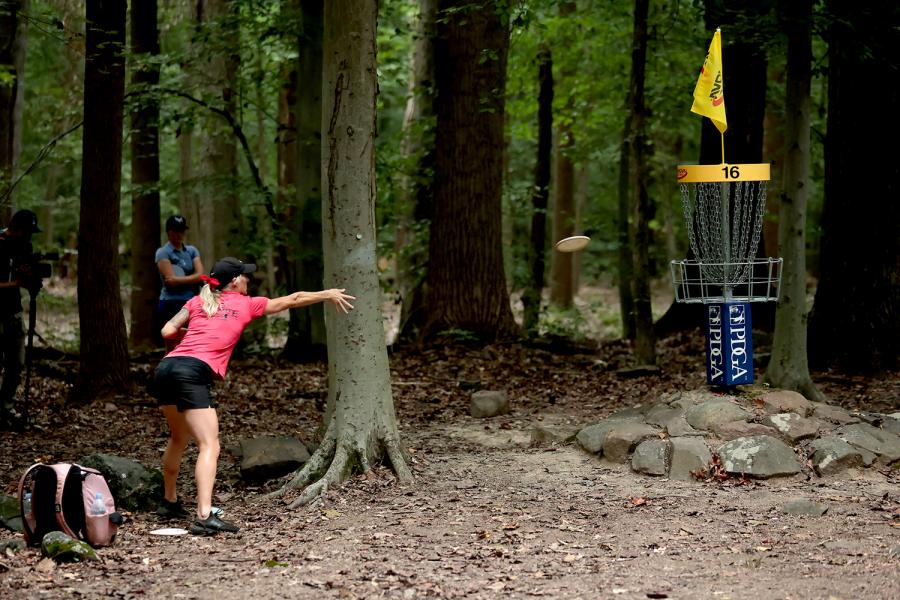 It also helps build on a legacy that now includes two world championships, seven PDGA Major titles, and 21 Elite Series wins.
"It means a lot," she said when asked to reflect on what has already been a career year. "To think back to a couple years ago and how low it was, it makes it even better. I'm just thankful for the challenge and for everyone who supported me and helped me get to where I am."
While Allen was busy shooting 11-under, none of her card mates were able to get under par for the round, with only Finley managing to stay even-par to take home third place.
It was Sarah Hokom who, shooting 5-under from the chase card, was to give Allen her closest challenge. But even then, it was a never-in-doubt, 10-stroke victory for Allen who was, at every turn, more than up to this Challenge.
The PDGA National Tour will have its last dance of the 2021 season, Sept. 23-26 at the Music City Open in Nashville, TN. Catch all the action live on the Disc Golf Network, or visit pdga.com for complete coverage.