Allen Again Solves Jackson To Maintain Hall Of Fame Classic Lead
Allen Again Solves Jackson To Maintain Hall Of Fame Classic Lead
Pierce puzzled by inconsistency, but still only three behind
Saturday, October 13, 2018 - 21:29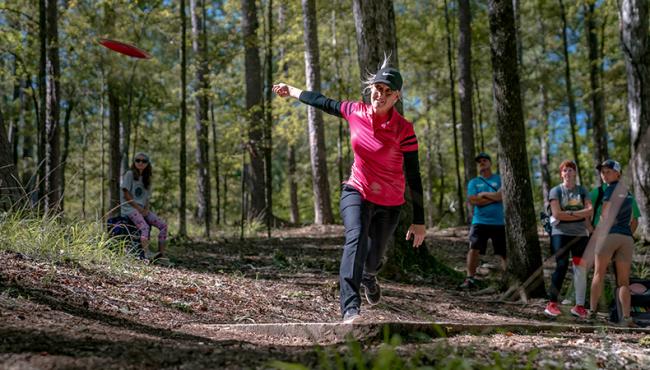 APPLING, Ga. – Caught in a backup on hole 7 Saturday during the second round of the Ed Headrick Disc Golf Hall of Fame Classic, Catrina Allen passed the time with the USA Today crossword. She asked cardmates Elaine King, Paige Pierce, and Lisa Fajkus to help her solve come up with a 10-letter word for "ladder company vehicle" and after some debate about the placement of certain consonants, King hit the jackpot: The answer was "fireengine."
"In 2016 I did a crossword pretty much every round," Allen said. "That's probably why I'm so impatient on backups this year, because I don't have anything to do. I used to be like, 'Oh, I love doing the crossword, I'll bring that.'
"…Some golfer said that on backups you should be thinking about other things, not that," she continued. "It would be different if we were playing four courses and I was kind of unsure, but every hole here I know exactly what I'm doing."
That moment of levity was followed by a sequence that could, arguably, cast doubt on Allen's assertion that the puzzle didn't detract from her concentration. She sprayed her second shot on 7 across the fairway, but recovered safely from the rough and connected from circle's edge to save par. From there, she went bogey-bogey to close the back nine, then scuffled some more off the tee until she was halfway up hole 13's 399-foot fairway. Pinched to the right side and up against the brush, Allen lofted a high forehand that she thought had stalled and sunk toward the basket, but it flared and skipped beyond the pin. She then missed high on her par save before cleaning up another bogey, her fifth of the round.
That misfortune was all she needed to snap out of her mid-round funk, as the defending Hall of Fame Classic Champion rattled off three straight birdies to jump back to the top of the leaderboard and take a three-shot lead into the last day of the PDGA National Tour finale.
Allen's 2-over par 69 took her 36-hole total on the International Disc Golf Center's W.R. Jackson Memorial Course to a 1-over par 135, while Pierce matched Allen's round score to remain in second place with a 4-over par 138. King maintained her standing on Sunday's lead card with a 5-over par 72 that brought her to a 9-over par 143 overall, while Sarah Hokom rounds out the group with the same total.
For Allen, the unlucky skip past hole 13's pin was the wake-up call she needed. She again parked hole 14's second shot for an easy tap-in birdie, then slammed chains from circle's edge for another three on the demanding, 543-foot 15th. She was again clean on 16, logging one of only three birdies in the Open Women's field on the 297-footer; Allen is the only player who has successfully navigated the mound-shaped green for deuce in both rounds.
"Just [got] kinda sick of playing mediocre golf, I guess, just parring," Allen said. "And it seemed like every hole I made a big mistake or didn't get up and down. I don't know, I just feel comfortable on that stretch. I just feel really confident in those shots."
Allen wasn't the only competitor to struggle on the course's middle run of par 4s. After canning a difficult uphill straddle putt for birdie on 7, Pierce's accuracy was hit or miss. Her fairway hit rate dropped to 45 percent – down from Friday's 60 – and she wasn't able to correct course until parking the same 14th Allen did.
"It was literally opposite – like, however it felt out of my hand, the opposite happened," Pierce said. "I think it was a six-hole stretch where if I shanked it, it was perfect in the center of the fairway, and if I pured it it was out of position. It just felt weird, but they come and they go."
After Allen's run helped her climb back up to match Pierce's round score and regain the lead, it was decision time for Pierce. Faced with a safe right-side gap or a tricky, but more rewarding left-side play on the 726-foot 18th, Pierce playfully begged caddie Tina Oakley to pick whether or not she should be aggressive. Oakley chose the cautious play, and Pierce went station-to-station for an easy par.
"I need a voice of reason sometimes because I don't ever want to lay up," Pierce said. "If there's ever a shot that I – whether it be a tee shot or it's from the fairway and I'm standing at my mini, I know that I'm capable of making the shot. Sometimes it's not necessarily feasible, but I know that I'm capable. So I have a hard time sometimes deciphering when it's not worth it. Tina's a good voice of reason for me."
Playing on the chase card, Hokom chipped away at Jackson with a relatively clean performance. She currently tops the Open Women's field with a 68 percent fairway hit rate and is second in scrambling with the same percentage. Oddly enough, the 2018 season leader in parked shots has done that precisely zero times this tournament, but her 94 percent circle 1 putting has kept her in the game.
Hokom moved up to the lead by way of her lower PDGA number, but Jessica Weese is also tied for third place with a 9-over par total. Lisa Fajkus struggled off the tee and slipped from the lead to the chase as she sits at 12-over, while Holly Finley moved up three places and into a seventh-place tie with Kona Panis at 16-over.
With a three-stroke deficit to claw back and the PDGA National Tour points lead to protect, Pierce said she didn't plan to change much in her approach on Sunday, including on that tempting tee shot on 18. Instead, she'll dial back her desire to wow the crowd and likely opt for the higher percentage route.
"It'll be the last hole of our tournament and there's gonna be a lot on the line, especially with the NT point finale as well, so I don't think I'm gonna be trying to perform on that shot," she said. "I think you'll see me go hyzer with my Felon."
Allen also wasn't looking to deviate from her aggressive play, and as she lounged in a rocking chair on the porch of the IDGC it was clear her relaxed mindset from Saturday would bleed into Sunday.
"I know it sounds crazy because I'm super competitive, but – of course I want to win and that's my goal tomorrow…but my goal isn't to win," Allen said. "My goal is to go out and execute my game plan on each hole, and if I do that, that should result in a win. And if it doesn't, as long as I did that, that's all I can do."
The Open Women's lead card tees off for one final run through Jackson at 8:50 a.m. EST, with instant scoring and statistics available via UDisc Live.