Bigger & Better
Bigger & Better
2023 PDGA Major, Elite Series & EuroTour Schedule Announced
Friday, September 30, 2022 - 11:19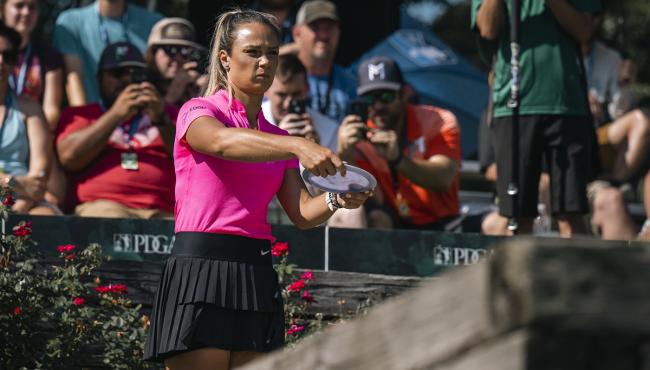 Bigger and better.
That's how disc golf has operated over the past few seasons and that trend will continue in 2023 and the proof is here with the release of the 2023 PDGA Elite Series, PDGA Euro Tour and PDGA Majors schedule.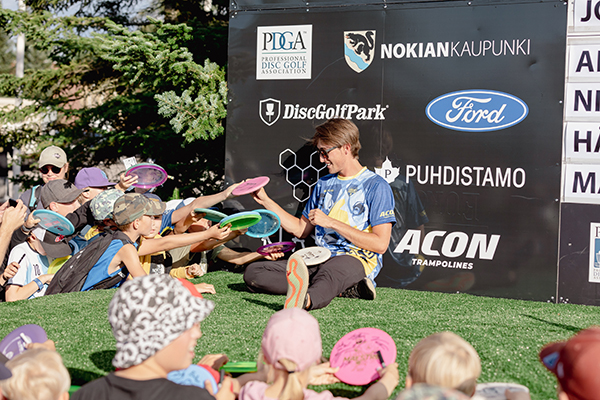 It's a global schedule that includes 11 PDGA Majors, 12 PDGA EuroTour events, and 16 total Disc Golf Pro Tour Elite Series stops, including two DGPT Playoff events and the DGPT Tour Championship.
More Information on the 2023 PDGA Majors »
Over the nine months of the 2023 schedule, which kicks off with the DGPT – Las Vegas Challenge in February and wraps with the DGPT Championship in October, players will compete for Elite Series titles and PDGA Major championships.
See: DGPT Releases 2023 Schedule »
The 2023 schedule represents an ongoing collaboration between the PDGA and the Disc Golf Pro Tour, which enters its second season as the Official Pro Tour of the PDGA, to ensure a flow that benefits players and fans as well as the countless stakeholders involved in these incredible events around the world.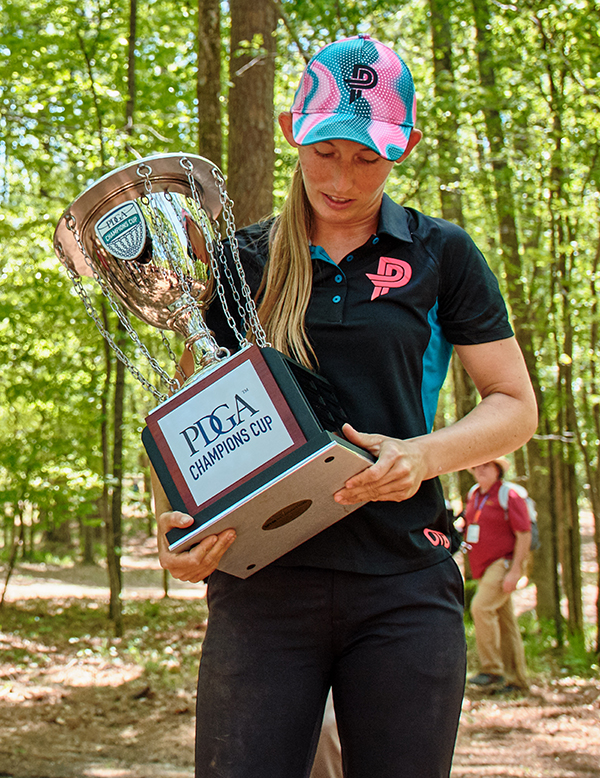 Some highlights include: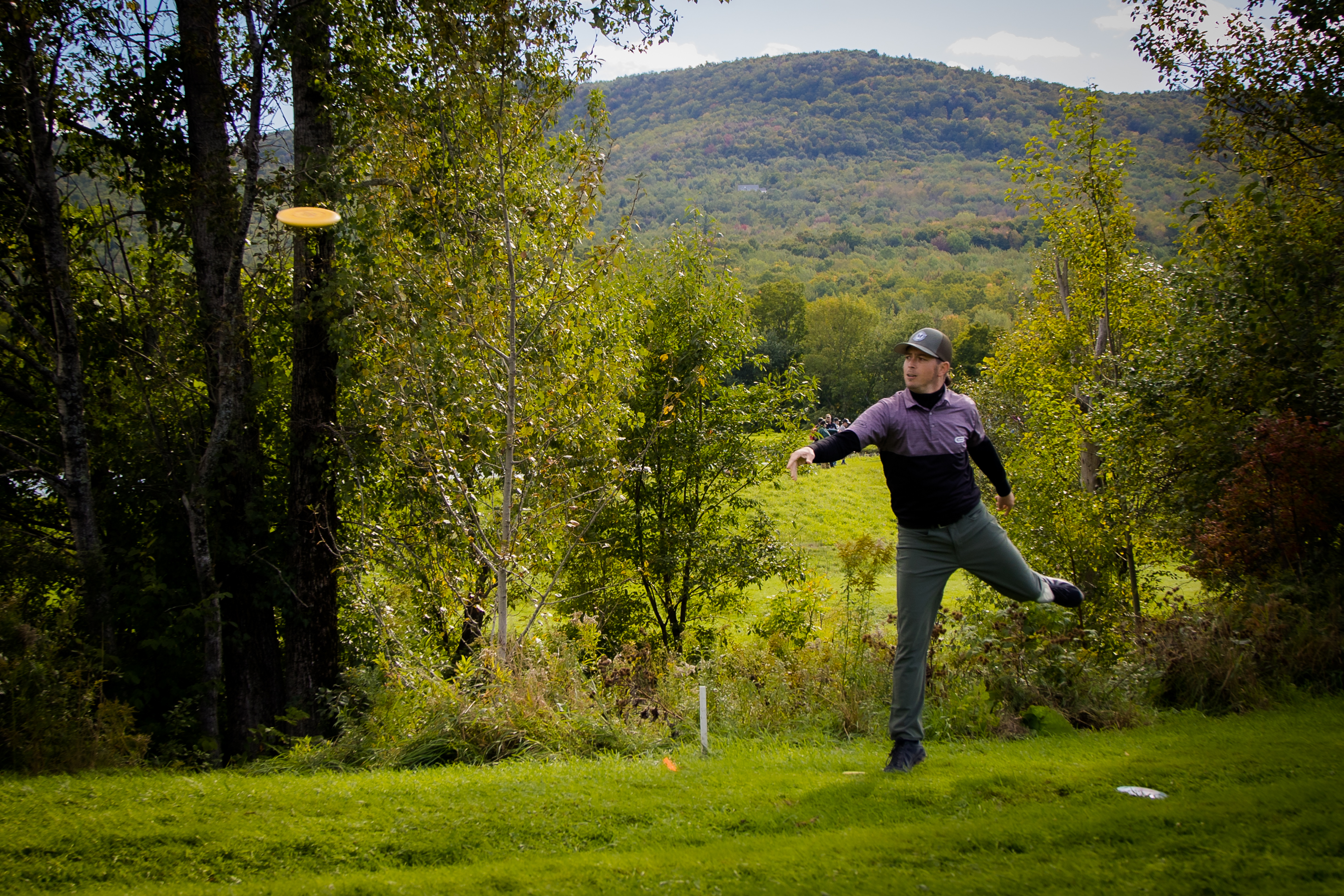 11 DGPT events return in 2023 but new events — The Open at Austin debuts in March in Austin, Texas and the Music City Open, which was elevated from a DGPT Silver Event in 2022, returns to the Elite Series in April in Nashville, Tennessee.
Two events — the Portland Open and the Ledgestone Open — receive a new DGPT Elite+ status, which will feature bigger purses, additional media focus, and elevated spectator experiences.
Discraft's Great Lakes Open and the MVP Open at Maple Hill will serve as the two DGPT Playoff events.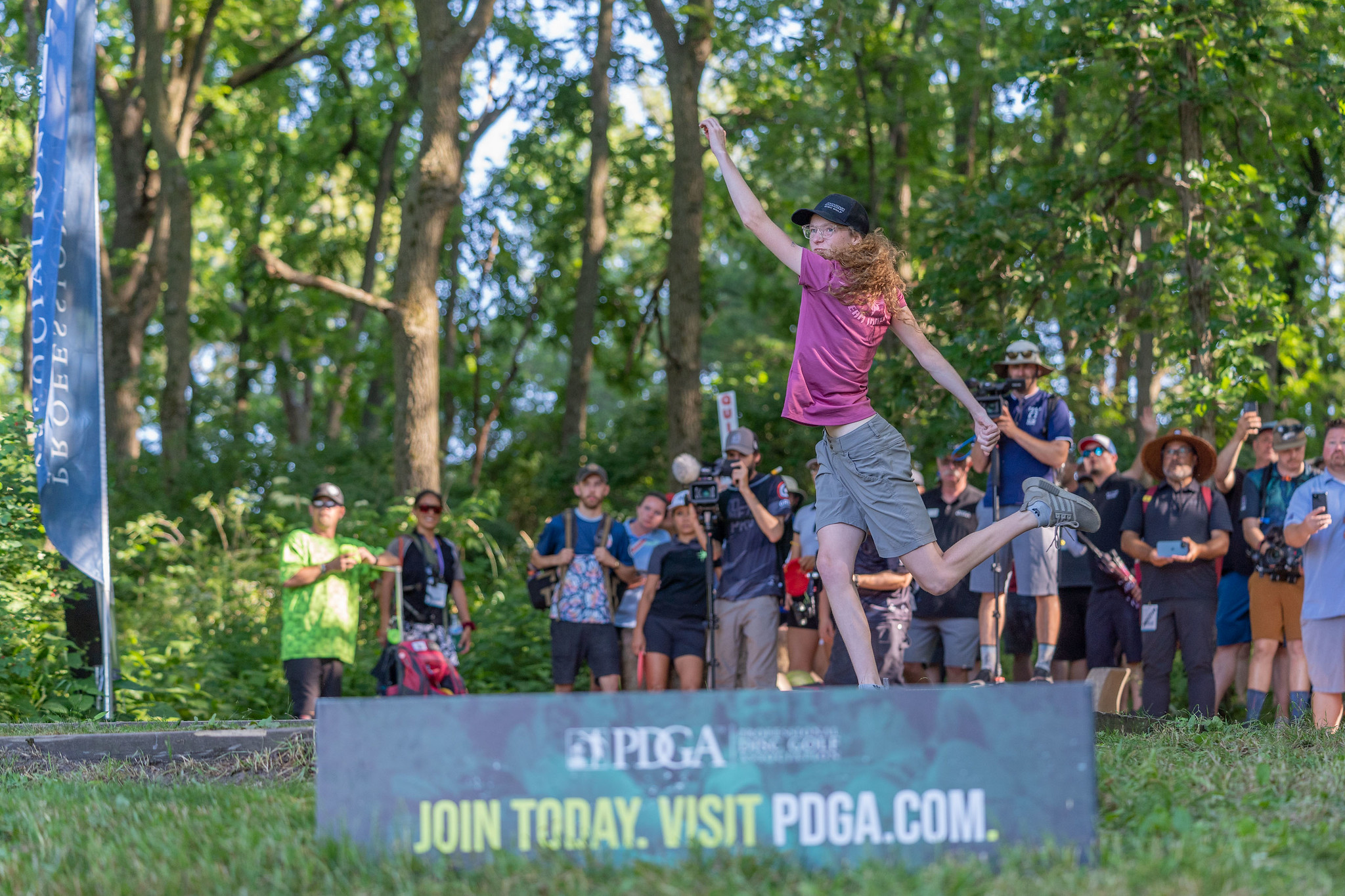 Coast-to-coast: From Smugglers' Notch to Oregon, competitors will compete for PDGA Major titles — open and age-protected — across the United States.
Up from seven events in 2022, there are now 12 events on the PDGA EuroTour, including a DGPT stop at the PCS Sula Open in July, a week before the European Open, as well as the EuroTour Championship as the finale in Spain.
Get ready, disc golf, once again, is bigger and better than ever.
Here's a look at the full schedule. Final, up-to-date schedules can be found on their event pages: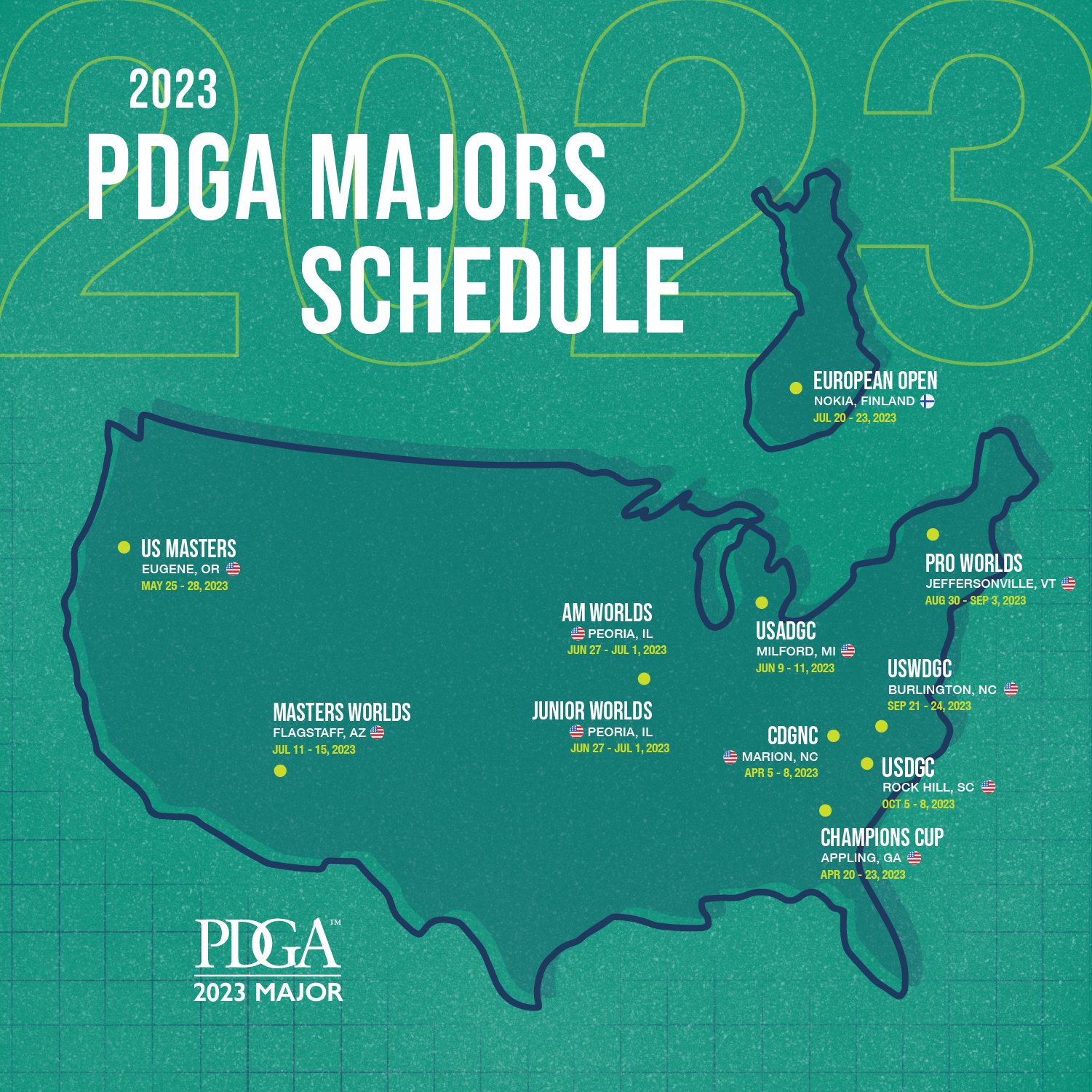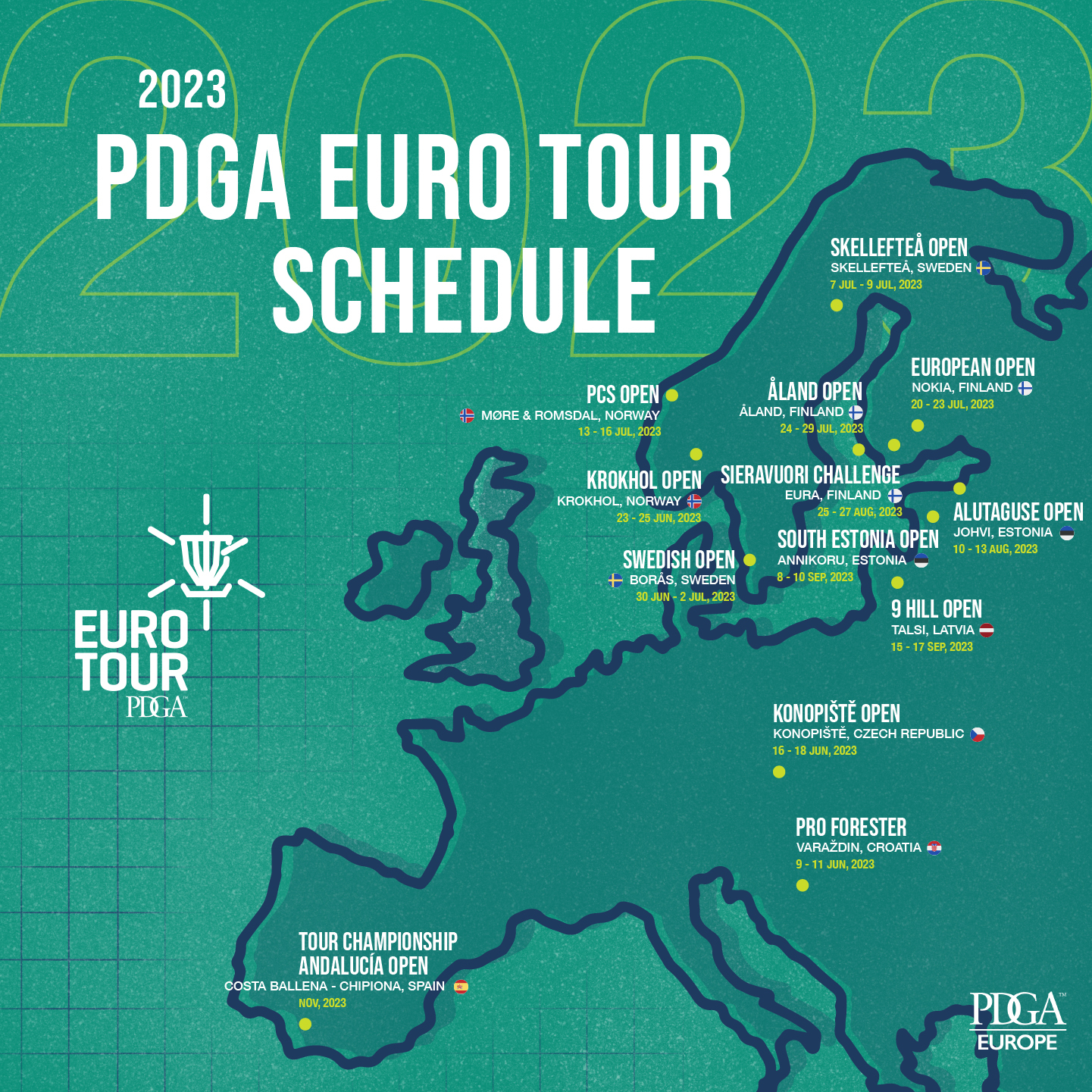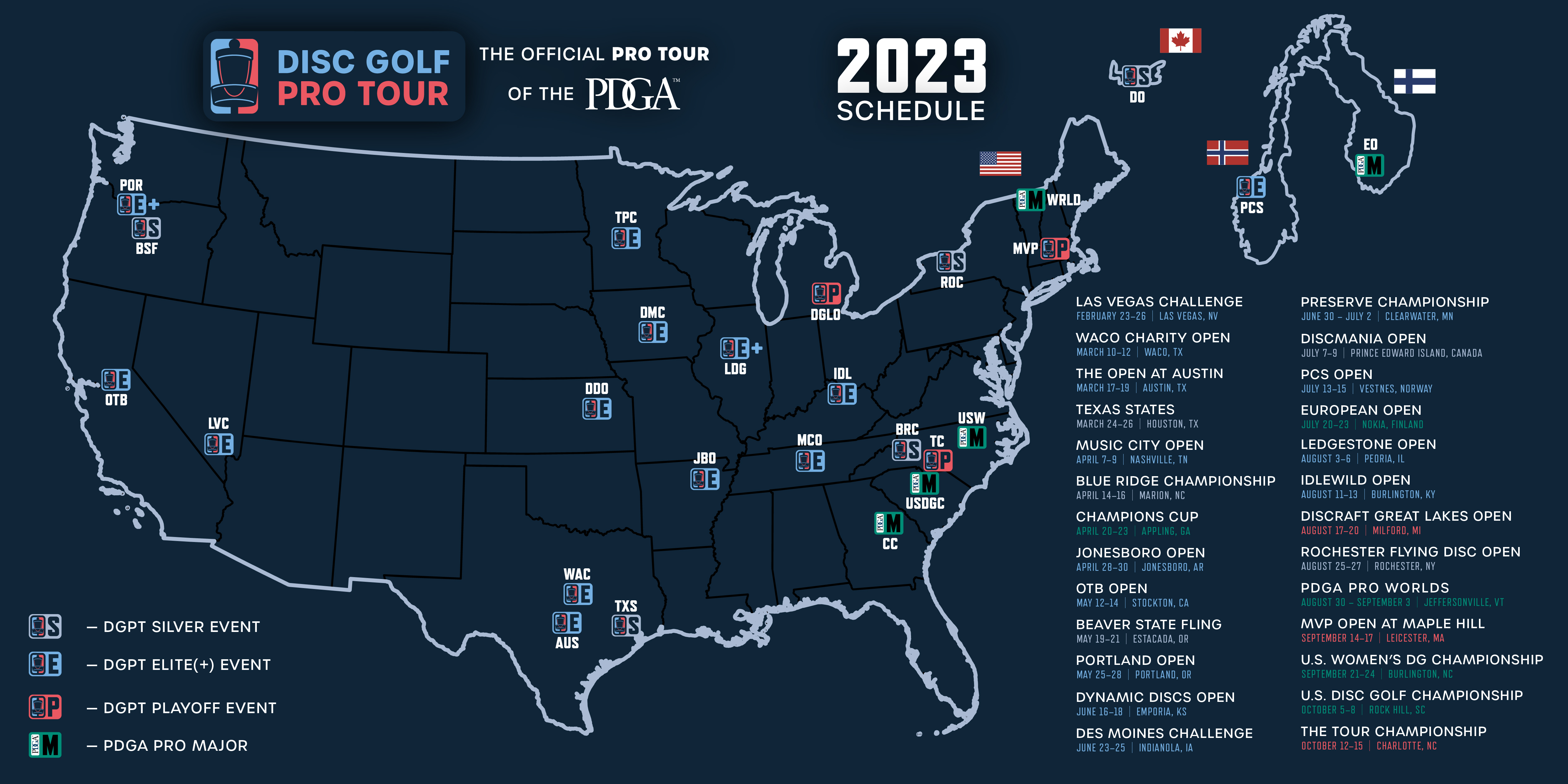 | Date | Tour | Event | Location |
| --- | --- | --- | --- |
| Feb 23-26 | DGPT | Las Vegas Challenge | Las Vegas, NV |
| Mar 10-12 | DGPT | Waco Annual Charity Open | Waco, TX |
| Mar 17-19 | DGPT | The Open at Austin | Austin, TX |
| Mar 24-26 | DGPT SS | Texas State Disc Golf Championships | Houston, TX |
| Apr 5-8 | XMajor | College Disc Golf National Championships | Marion, NC |
| Apr 7-9 | DGPT |  Music City Open | Nashville, TN |
| Apr 14-16 | DGPT SS | Blue Ridge Championship at North Cove | Marion, NC |
| Apr 20-23 | Major | PDGA Champions Cup | Augusta, GA |
| Apr 28-30 | DGPT | Jonesboro Open | Jonesboro, AR |
| May 12-14 | DGPT | OTB Open | Stockton, CA |
| May 19-21 | DGPT SS | Beaver State Fling | Estacada, OR |
| May 25-28 | Major | PDGA Tim Selinske U.S. Masters Championship | Eugene, OR |
| June 1-4 | DGPT | Portland Open | Portland, OR |
| Jun 9-11 | Major | United States Amateur Championship | Milford, MI |
| Jun 9-11 | Euro | Pro Forester | Varaždin, Croatia |
| Jun 16-18 | DGPT | Dynamic Discs Open | Emporia, KS |
| Jun 16-18 | Euro | Konopište Open | Konopište, Czech Republic |
| Jun 23-25 | DGPT | Des Moines Challenge | Indianola, IA |
| Jun 23-25 | Euro | Krokhol Open | Krokhol, Norway |
| Jun 27-Jul 1 | Major | PDGA Amateur & Junior World Championships | Peoria, IL |
| Jun 30-Jul 2 | DGPT | The Preserve Championship | Clearwater, MN |
| Jun 30-Jul 2 | Euro | Swedish Open | Borås, Sweden |
| Jul 7-9 | Euro | Skelleftea Open | Skelleftea, Sweden |
| Jul 11-15 | Major | PDGA Masters World Championships | Flagstaff, AZ |
| Jul 13-15 | DGPT / Euro | PCS Open | Møre / Romdsal, Norway |
| Jul 20-23 | Major | European Open | Nokia, Finland |
| Jul 24-29 | Euro | Aland Open | Aland, Finland |
| Aug 3-6 | DGPT | Ledgestone Open | Peoria, IL |
| Aug 11-13 | DGPT | Idlewild Open | Burlington, KY |
| Aug 10-13 | Euro | Alutaguse Open | Johvi, Estonia |
| Aug 17-20 | DGPT | Playoff - Discraft Great Lakes Open | Milford, MI |
| Aug 25-27 | Euro | Siervuori Challenge | Eura, Finland |
| Aug 25-27 | DGPT SS | 50th Rochester Flying Disc Open | Rochester, NY |
| Aug 30-Sep 3 | Major | PDGA Professional World Championship | Smugglers' Notch, VT |
| Sept 8-10 | DGPT SS | Discmania Open | Prince Edward Island, Canada |
| Sep 8-10 | Euro | South Estonia Open | Annikoru, Estonia |
| Sep 14-17 | DGPT | Playoff - MVP Open | Leicester, MA |
| Sep 15-17 | Euro | 9Hill Open | Talsi, Latvia |
| Sep 21-24 | Major | USWDGC | Burlington, NC |
| Oct 5-8 | XMajor | USDGC | Rock Hill, SC |
| Oct 12-15 | DGPT | DGPT Championship | Charlotte, NC |
| Oct 20-22 | Euro | ET Championship / Andalucia Open | Costa Ballena - Chipiona, Spain |