2020 PDGA Women's Global Event Expects Record Turnout, Aces
2020 PDGA Women's Global Event Expects Record Turnout, Aces
And a look back at Margaret Sassaman's magical moment from the 2018 WGE
Tuesday, March 3, 2020 - 17:06
How many women does it take to throw nine aces in a single day? The answer, as we learned during the last PDGA Women's Global Event, is about 2,100.
The 2018 WGE heralded another record-breaking turnout for the biennial Mother's Day Weekend event, which, since its inception in 2012, has exploded in popularity thanks in large part to its welcoming atmosphere and innovative use of the PDGA's ratings-based virtual tournament platform.
The format, which allows players to compete with thousands of other women participating in WGE events around the world, represents a unique opportunity for many players who may not often get a chance to test their skills against large fields of players at their own skill level. This has long been a key selling point, according to former PDGA Women's Committee Chairwoman and WGE architect Valerie Jenkins.
"While the PDGA Women's Committee hopes that someday there will be an event where more than 2,100 female participants are able to show up in person," Jenkins wrote in her 2018 recap, "the WGE is the perfect resource to encourage the growth of women's disc golf without asking players to travel far from home."
One of the nine players who threw an ace that day was Margaret Sassaman, who – to everyone's good fortune – was playing in front of a Gatekeeper Media film crew at the Ladies of Stafford Woods WGE in Voorhees, New Jersey.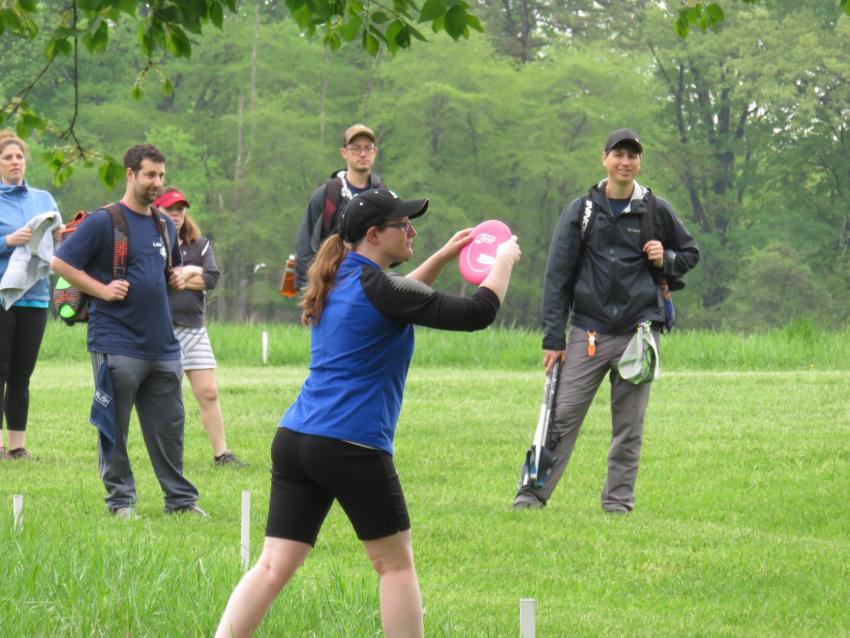 Sassaman was already one-down through two holes in her second round when she stepped up to the 224-foot par-3 holding her yellow Champion Tee Rex.
"During the first round I had gotten pretty close to it, and I knew that I need to throw a little bit lower because the first one had gone just over the top," Sassaman said. "So I just made that slight adjustment, and right out of my hand we were all looking for it to go in."
The gallery and her cardmates erupted in cheers as the disc crashed chains and settled into the bottom of the basket. Gatekeeper's footage perfectly captures the shot from start to finish, and before long it was getting tens of thousands of views online, appearing on espnW's Top Ten Plays of the Day and reaching the final four of Ultiworld's Ace of the Year Bracket.
Nearly two years later, Sassaman was happy to learn that her epic shot would again be helping to promote the WGE, an event that she enthusiastically supports.
"The Women's Global Events is just a fantastic day. It's a bunch of fun, and so relaxed with a lot of joking going on and a lot smiles," she said. "That the ace happened on a day dedicated to women's disc golf made it even that much better."
The WGE returns for a fifth run on May 9, 2020, and event organizers are optimistic about another chance to set all-time participation marks. There will almost certainly be more events, more players, and more countries involved than ever before, but will there be more aces?
Just keep the cameras rolling because, as Sassaman will tell you, when you get thousands of women together from around the world to play disc golf on a single day, magic can happen at any moment.
Find a participating WGE near you by visiting pdga.com/findmywge or learn more by visiting the WGE FAQ.
Sponsors
Platinum Sponsor

Gold Sponsors