#NationalDiscGolfDay Is Back!
#NationalDiscGolfDay Is Back!
Join the PDGA Today for a 20% Discount!
Saturday, August 5, 2017 - 09:00
Thanks to the hard work of PDGA Minnesota State Coordinator Jason Wilder #17523, former PDGA Memberships Manager Sara Nicholson #33589, and several others, the first Saturday in August was selected as the official National Disc Golf Day in the spring of 2016!
Picking the date was one of the most difficult parts of the process. In doing so, Wilder called on the wisdom of one of the earliest names in disc golf, "Lightnin' Lyle" Jensen #102, one of the original 100 disc golfers around the country to receive a letter from "Steady" Ed Headrick #001 himself, the Father of Disc Golf, in which Ed explained his new idea for the Professional Disc Golf Association and why Lyle should join.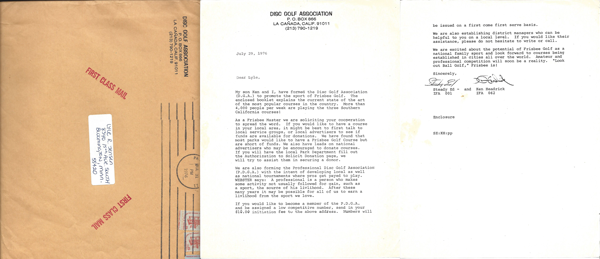 After talking with Jensen and reading through "A Chain of Events", a look back at the history of disc golf written by Disc Golf Hall of Fame member Jim Palmeri #23, Wilder and Jensen came up with the date of the first Saturday in August, which was when the first Rochester Flying Disc Open took place in Rochester, New York, decades ago. This isn't something that just randomly came about. "It's like a lot of things in this sport, where multiple people might be working towards the same thing at the same time without ever knowing it," said Sara Nicholson. "I was working on this idea back in March...talking with Dan "Stork" Roddick #003...trying to find a date relevant to disc golf that would work." There were more hoops to jump through than one might think to get this accomplished. "The [National Day Calendar] has an [application] to fill out and each question requires a lot of detailed information," Sara explained. "There has to be an official organization involved and significant historical dates with real meaning to even get through the first step of the process."
Read more about how National Disc Golf Day came to be in our article from last year.
So, what can you do on National Disc Golf Day to help spread the word? If you're already a disc golfer, think outside the box. Instead of simply going to play disc golf, go out and do something different to help grow the sport. Go out and teach someone to play. Sign someone up for their first tournament. Donate some used discs to someone at your local course that could use some new equipment. Get involved with a different community group (church groups, Boys Scouts of America, Girl Scouts of America, local schools, etc.) and see if they are interested in learning about the sport.
If today is the day you want to finally become a PDGA member, or you simply want to purchase something from the PDGA Store, you're in luck! Use the coupon codes below for discounts, today only!
Whatever you decide to do, even if it just going out and playing a round with your friends, make sure to take pictures and videos. Put them up on social media and use the hashtag #NationalDiscGolfDay to help spread the word!