Koling Calmly Collects Waco Lead
Koling Calmly Collects Waco Lead
McBeth, Perkins tied for second place
Saturday, March 17, 2018 - 02:52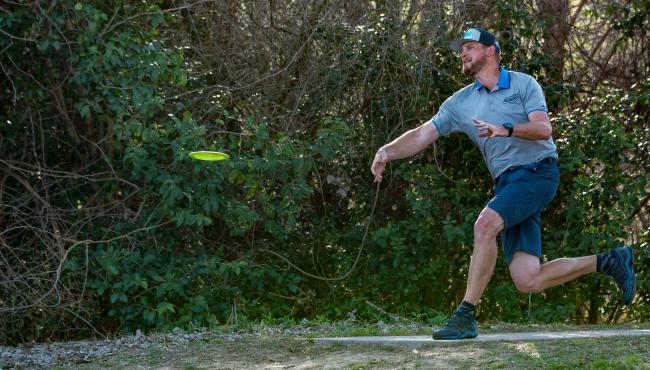 Paul McBeth was on a historic pace Friday at the Waco Annual Charity Open. A near impossible eagle connection through a wooded jail on Brazos Park East's 15th put him at 10-under par through nine holes, and it looked as if a vintage performance was in the making.
But lurking alongside him on the lead card was Jeremy Koling. While the 2016 United States Champion wasn't making the same highlight reel putts as McBeth, he was executing shots with his smooth forehand release and dialing in pinpoint approaches. So when Koling emerged with a 13-under par 54 for the round and headed into the clubhouse as the day two leader, it wasn't a surprise. It was just calm and collected.
Koling now takes a 23-under par 111 total into Saturday's final at "The Beast," where he'll aim to defend his 2017 championship at the event. He'll be chased not only by McBeth, whose late-round hiccups found him leaving the course with a 12-under par round, but also Texas local Nate Perkins, who matched Koling's hot round and tied McBeth for second place with a 22-under par 112 total. A resurgent Garrett Gurthie joins the trio on the lead card, as the Florida pro also went 13-down to jump into a fourth-place tie with Devan Owens at 19-under par overall.
Though it's easy for spectators, and even younger pros, to be wowed by McBeth's high ceiling moments, Koling relied on his experience to stay focused on his own shots.
"It can be distracting if you haven't seen that before, but I've played enough with Paul to come to expect hot starts like that," Koling said. "Especially on moving day, Paul's gonna be out there making moves. I'm sitting there on the front nine, I shoot 6-down. That's nice, but I just got smoked by four strokes. I'm totally happy with the way I played on the front nine…but for the most part just plugging away."
That's if an 80 percent fairway hit rate and an 83 percent circle 2 in regulation mark can be classified as "plugging away." Koling parked a third of the course's middle nine holes and was only left with one putt outside 10 meters, which he made for birdie on the 279-foot 17th.
It was around that time that McBeth's scoring pace started to slow, mostly as a result of him pushing the pace. He said he got a bit gluttonous heading into Brazos Park East's more open section, and instead of taking what the course would give him he amped up the power and paid for it with inaccurate tee shots. He completely misfired on the 303-foot 2nd and threw his forehand straight into the ground, then followed with a roller that veered OB on the 585-foot 4th.
"When I got out of the woods every one of those holes is eagle-able," McBeth said. "…I just got too greedy. I was like, 'I should try to eagle.'"
The putter that had been so hot early also went cold. McBeth sailed a long bid on hole 5's peninsula green OB and then, after missing from 25 feet for birdie on hole 6, clanged a quick 10-footer off the cage to end the round on a low note.
The sequence found McBeth decamping to the practice basket for 45 minutes after the round in search of a lesson. For the first time, he said, he put pen to paper to commit what he learned to memory.
"Let me get the exact words I wrote down," he said. "'I need to humble myself and take responsibility.'"
"It's an individual sport," McBeth said later. "I can't rely on someone else to make those putts or tell me, 'Hey, you should play for the 3 here because you're 12-under."
Koling then took advantage. He followed McBeth's water putt on 5 with a connection from 50 feet and a simple fist pump, a symbol of the confidence he's been feeling from close range all weekend. "Any time the putt is feeling good it eases the tension and the pressure of the other parts of the game," he said.
Perkins, too, is enjoying that same level of comfort. He grew up in the Fort Worth area and at one point held the Brazos Park East course record, and the de facto home-field advantage has found him averaging 30 points above his 1014 rating.
"There's no hole that I'm really afraid of – fear never sets in there," Perkins said. "Every tee pad I'm comfortable on because I know exactly what I'm throwing, exactly where I want to throw it."
The Lone Star State sojourn came at a good time for Perkins, as he said he'd been struggling with his mental game after a lackluster showing at the Memorial Championship where he finished outside of the cash. As a result, he had tempered his hopes heading into Waco. "Expectations were definitely, you know, not lead card final round kind of thing," he said. "But I'm happy to be here."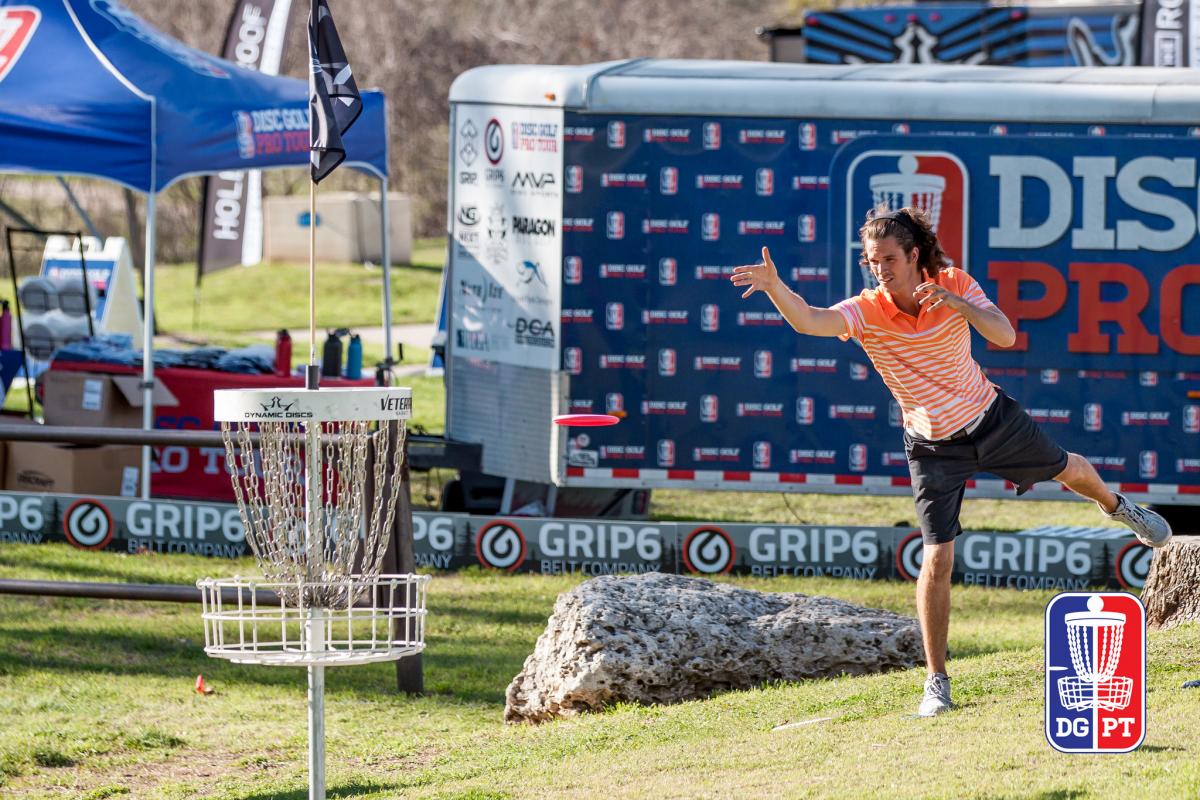 The same goes for Gurthie, who recently set back out on the road after a three-year hiatus from touring. The Florida native landed three 40-foot putts and carded two eagles to climb 11 places on the leaderboard. It'll be his first time on a final round lead card in a premier setting since 2007, he said, and he was looking to continue to use his distance to his advantage.
"I told [touring partner] Jess [Weese] yesterday that this course is easy," Gurthie said. "I don't mean no harm by it, and I don't mean to jinx anything, but I told her this is a course for me to score on. Some of these holes are set up perfectly for my distance and the wind here in Texas. I'm not the greatest putter yet, but today my putt was on…All the cylinders were firing."
Gurthie's double-digit jump in the standings was one of many on a day of scorching scoring. Nate Sexton shot a 12-under to move up nine spots and into a tie for sixth place, while Seppo Paju matched that score to move up 26 spots. He's tied for 14th place with Eric Oakley, who moved up 14 places, and Bradley Williams and Austin Turner, who fired off 13-unders from the same card to make a 38-place improvement.
Turner has been battling seasonal allergies in Texas – "I feel like garbage," he said – and has powered through them to lead the field in circle 2 putting at 60 percent. His circle 1 rate of 81 percent, though, has left him scratching not his eyes, but his head.
"I played a tournament last week and my putting was the best it's felt in a while, but out here I don't know what it is," Turner said. "…I'm just not connecting on the ones I should be making. If I can clean that up I can definitely shoot the same round as today. Maybe even better."
Koling, meanwhile, was not taking any solace in his Waco win from last season. Instead, he was only focused on moving forward.
"What's happened in the past has nothing to do with how I feel now," Koling said. "I'm not banking on any performances or expectations based on what I've done in the past. The fact I've won shows how comfortable I am out here, and that's what I'm taking into tomorrow."
The Open lead card tees off at 3:15 p.m. CT and will be broadcast live on the Disc Golf Pro Tour's YouTube channel. Real-time scoring and statistics can be tracked for all groups at UDisc Live.