Eight to Watch in '18
Eight to Watch in '18
From veterans returning to the road to young up-and-comers, a host of players who should fly above the radar this season
Monday, February 19, 2018 - 01:17
With a combined slate of 15 events in 2018, the PDGA National Tour and the Disc Golf Pro Tour are creating an opportunity for more professional disc golfers to pack up their cars, vans, and RVs and trek from sea to shining sea. Add in the various PDGA Majors and the Pro Tour Championship, and that number swells to almost 20 stops – and that doesn't include the well-attended A-Tiers that provide players another shot at competing in the interim weeks.
A full calendar, then, means full registration lists and some intriguing names to watch at early-season events. Between long-time pros returning to tour after extended breaks, seasoned players seeing the chance to travel for the first time, and young travelers looking to polish their skills, there will be far more players to keep an eye on than just the perennial contenders. With that in mind, here are eight competitors to put on your radar as 2018 gets into full swing.
Austin Turner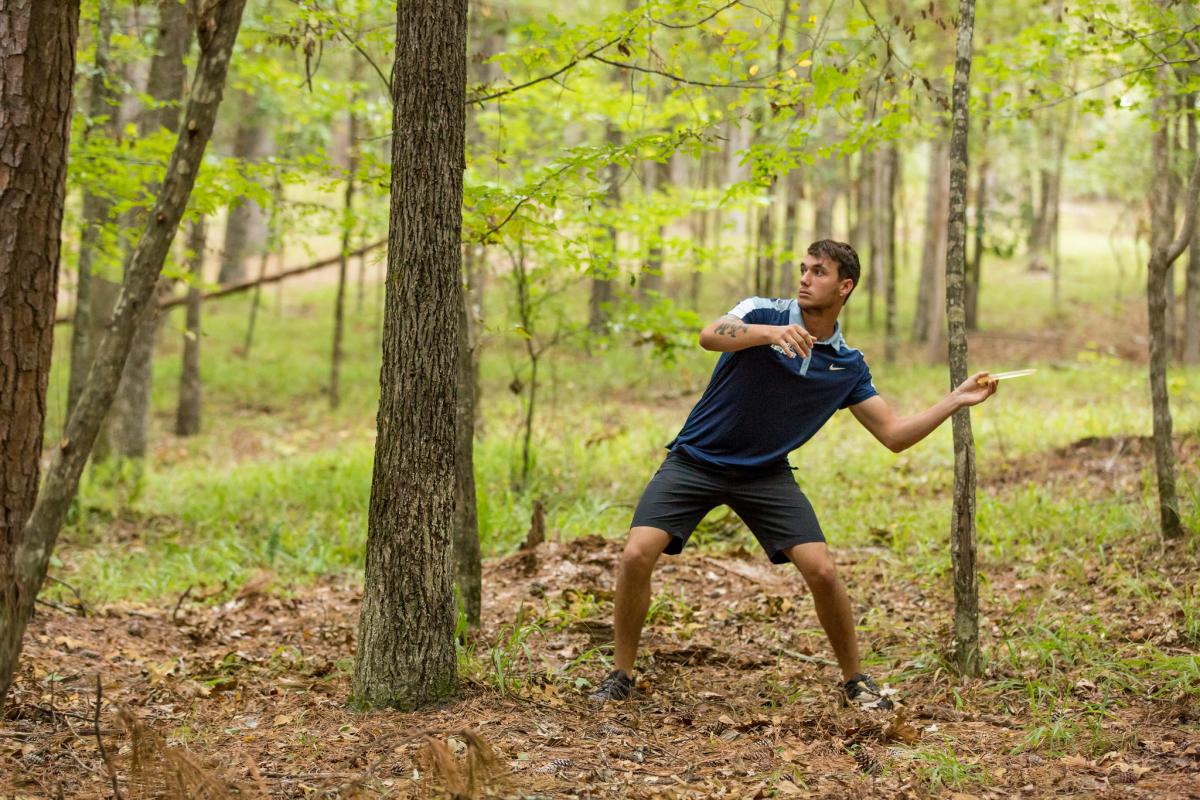 Fourth place in National Tour points. Seventh place at Worlds. A midseason team promotion.
To say that 2017 exceeded Austin Turner's expectations would be an understatement.
"Last year blew my mind, kinda, on how well I played," the 19-year-old North Carolina native said. "I kinda thought I was gonna be, like, 25th at every tournament, to be honest…It was definitely a good year. It had ups and downs, just like everyone had."
Turner's offseason has been filled with even more ups and downs – in the weight room, that is. He said he's added 20-25 pounds of muscle to his 6'1" frame to fight the feeling he had of growing up as "the super small kid." His bench press is up to 225 pounds, and while that might run counter to the core and flexibility training other disc golfers espouse, he said he's been able to stay loose and has noticed early returns on the course.
"It doesn't really affect anything [negatively] as long as you take care of your body and do the right stretches," Turner said. "I haven't had any problems. I have noticed a little bit of an increase in distance. I've noticed a little more stamina in my body throughout rounds and more endurance and everything."
Now entering his second full season of touring, the left-hander is tasked with following up on that tremendous 2017. But other than a ratings goal – 1025 by the end of the year – he's trying to take it easy on himself.
"I just want to have anything happen," Turner said. "I've been telling myself a lot, 'Just try to be better than yesterday,' and that's really pushing me through and getting me through what I need to get done."
Still, that doesn't mean he won't allow himself to be excited: "This year's hopefully gonna be a game changer."
Ellen Widboom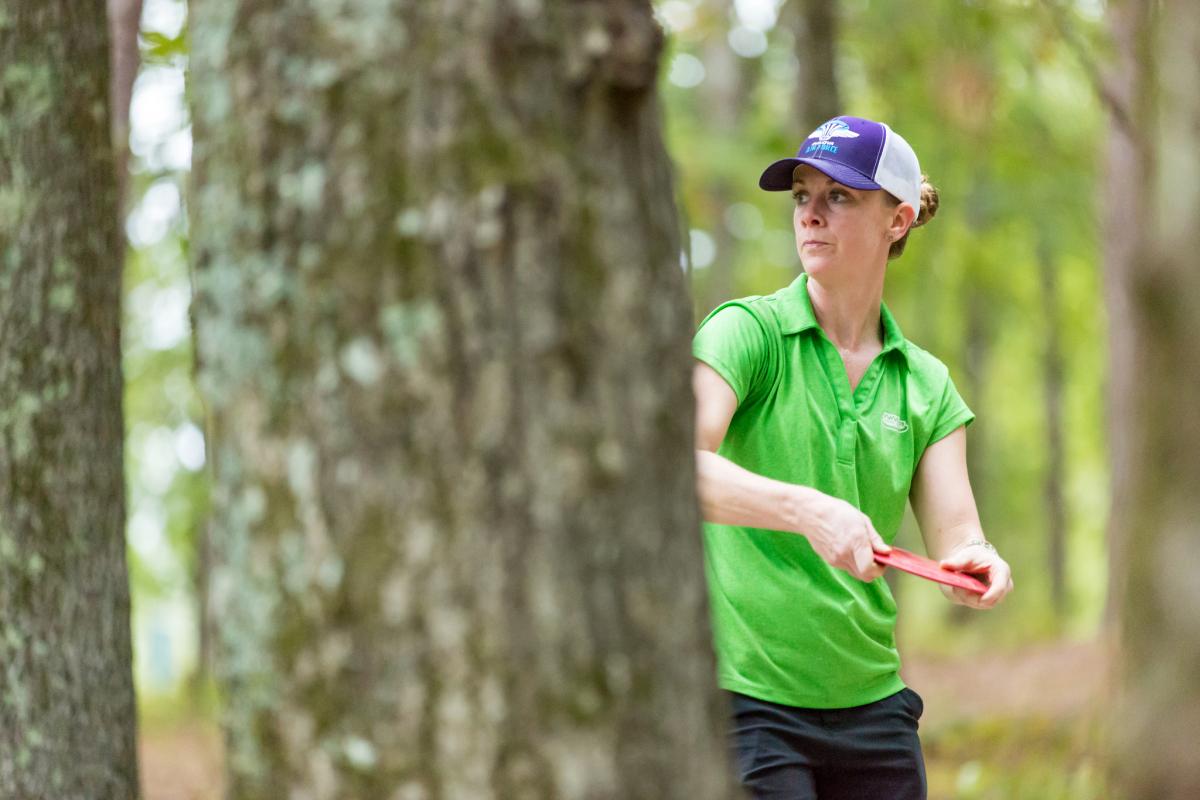 Ten more years in the Air Force would have yielded Ellen Widboom a significant number of stamps on her passport and, more importantly, a comfortable retirement. But she was no longer feeling fulfilled by her work as a loadmaster on the Lockheed C-5 Galaxy, so she's setting out in her RV to capture her disc golf dreams.
"I think my biggest thing was that I looked at where I was in life," the Florida native said. "I'd gone halfway [through a military career] and everybody was like, 'You've gone halfway, why not go 10 more?'…[I thought] am I gonna look back and be happy doing this…or am I going to be truly happy following my passion and stepping out on a limb and challenging myself?"
Though it sounds like a gamble, the decision has been a positive one so far for the 905-rated pro. Widboom kicked off 2018 with a win at the Smog City Classic, a one-day C-Tier in Los Angeles, by shooting both rounds above her rating. And while she hasn't previously toured nationally, she is no stranger to big events: Widboom has notched two top 10 finishes at National Tour stops in her brief career, and in 2017 took second place at her home state's Throw Down The Mountain.
After a career that kept her literally jet-setting around the globe, she said she's more than ready to settle in, see more of the United States, and keep her aspirations realistic.
"I think the biggest goal for me is gonna be top 10 at Worlds," she said. "I was top 15 last year, I met my goal…[I'm excited about] meeting a bunch of cool people, seeing a bunch of cool places, and getting to play a crap-ton of disc golf."
Kevin Jones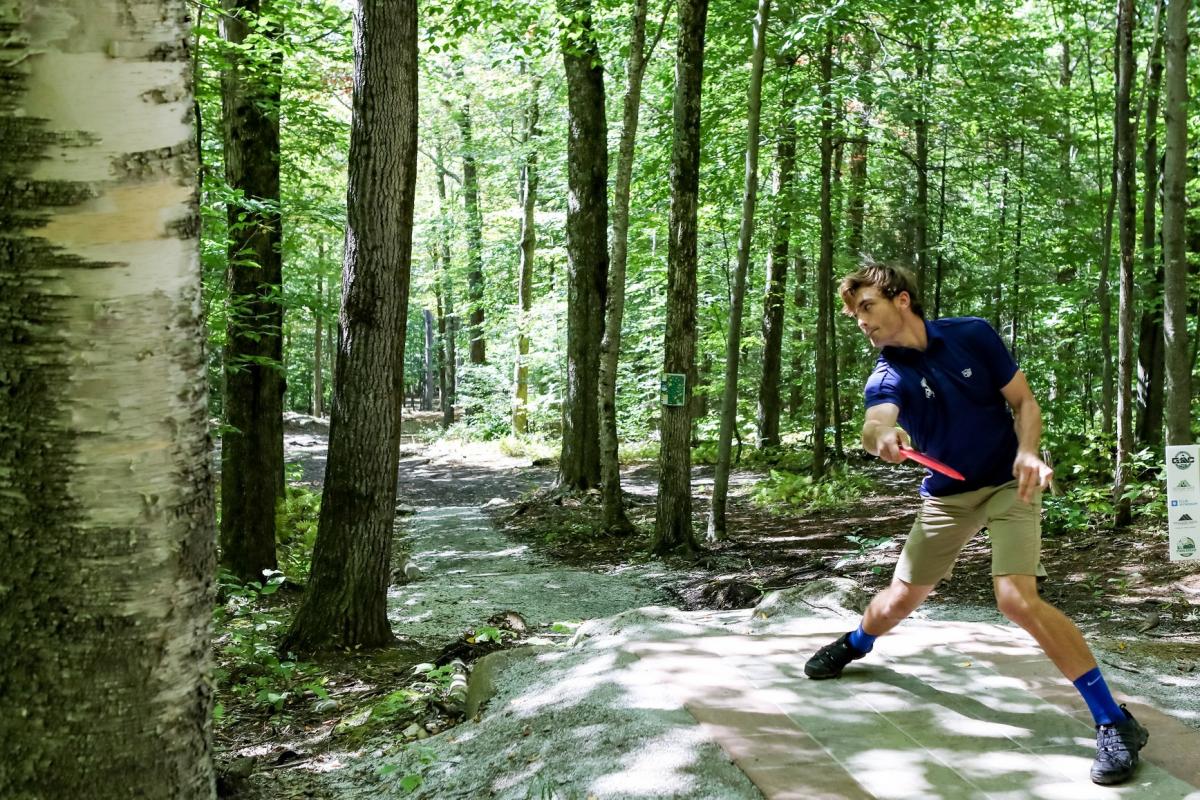 Arkansas native Kevin Jones is acutely aware of the buzz following him into the 2018 season. After coming virtually out of nowhere to post a 1061-rated opening round at the United States Disc Golf Championship in October, the former college football punter kicked off this year with back-to-back comeback wins in Arizona that saw him firing off 1051 and 1078-rated performances.
Just as he knows more people will be watching him, Jones also knows it is going to take more than a couple eye-popping scorecards to be successful.
"It does bring along a sense of pressure, but the thing about it is we play professional disc golf – what we have to do is shoot incredible rounds over and over again," Jones said. "It's not gonna be that one time's good enough, but [instead] we've got to improve every time and prove that."
Indeed, Jones is still seeking that consistency – he started last weekend's 40th Annual Wintertime Open with a 949-rated 2-over par 64 before bouncing back with a 1048-rated 10-under second round – and trying to absorb all of the knowledge he can. He spent time this winter camping with his "disc golf idol" Devan Owens, who helped him add some touch to his putt and find the benefit in throwing understable discs. And even if Jones' game is a work in progress, his recent performances have given him to confidence any player needs to thrive.
"I'm definitely looking more toward the top of the leaderboard [this season]," Jones said. "I want to finish toward the top 5 of any event I play…Nothing's impossible now."
Grady Shue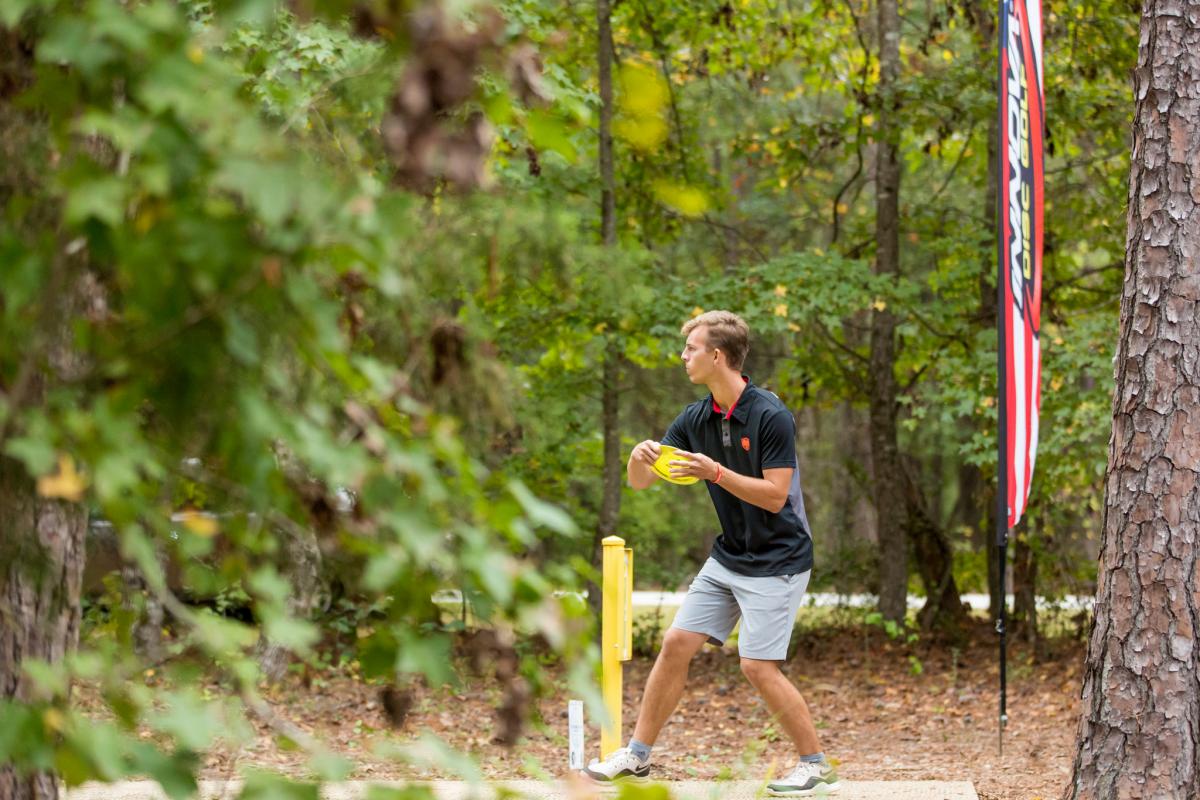 A late-2017 stint on the road served as a trial for North Carolina native Grady Shue. He wasn't sure if he was a fit for the touring lifestyle, but after a 10th place finish at the Vibram Open, a 12th place showing at the USDGC, and a victory at the Kentucky State Disc Golf Championships it was clear: The trial was a success.
The soft-spoken Shue now plans on spending almost all of 2018 hitting both professional circuits as he looks to follow up on a likely Rookie of the Year campaign (he leads the points standings with one update remaining). Though he didn't know he was in the running for that title until midway through the year, it gave him a push to elevate his game on some of the sport's most prominent stages. "That's kind of how it goes for me," he said. "The more I play, the better I end up playing, and the bigger events I always play well at, for some reason."
Though he knew earning Rookie of the Year accolades will bring increased expectations for 2018, Shue seemed unfazed. He may not boast extensive experience, but he already has the mindset of a seasoned veteran: "It doesn't matter if there's no one there or 100 people watching. You've still gotta throw the shot. You've still gotta make the putt."
Rebecca Cox
Much like Shue, 21-year-old Ohio native Rebecca Cox said her 2017 season was a test to see if she could hang with the rest of the Open Women's field. In 21 events she notched 11 top 5 finishes, including a runner-up showing at the Tennessee State Disc Golf Championship and a third-place finish at the Brent Hambrick Memorial Open. Her player rating jumped from 874 in January to her current 898 standing and, more importantly, she gained priceless experience.
"I learned a lot about my mental game last year," Cox said. "I struggled a lot with my putt and because – before I started touring last year I had just started playing again the September before. I thought I had everything together, but once I realized I didn't have the confidence there where it needed to be it was like, 'That was what I needed to work on the most.'"
This season will likely yield more learning. Cox just transitioned to a new sponsor – "Changing my entire bag has been a challenge," she said with a laugh – and will be traveling alone. Though she cashed in Las Vegas to start 2017 with a 16th place finish, she's looking to improve there and parlay it into more top 10 showings as she traverses the West through summer.
"I'm really excited about it, and I'm looking forward to seeing how my game stands this year," she said.
Nick Wood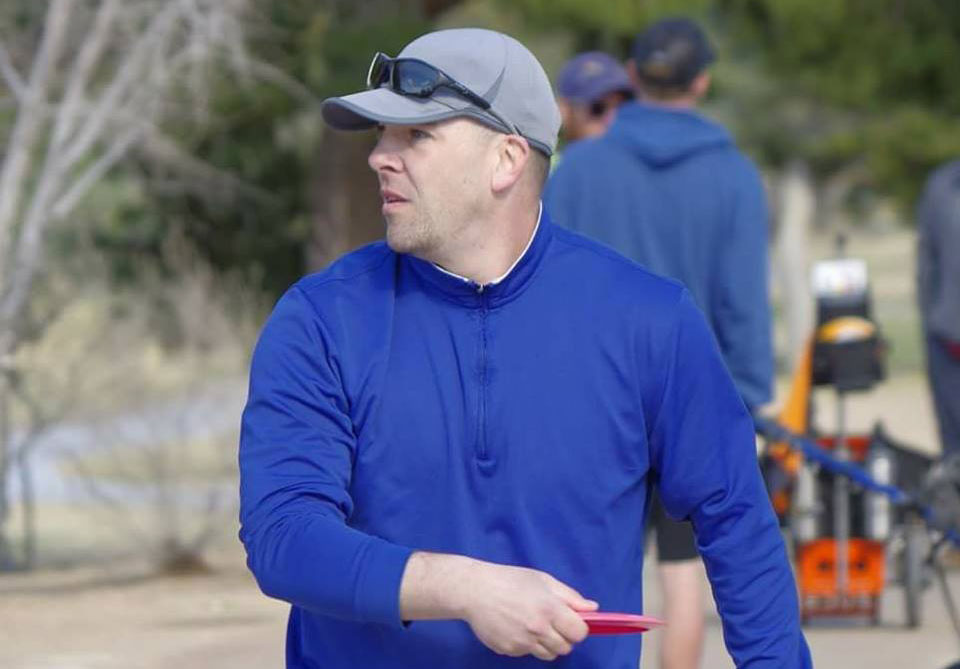 Washington state pro Nick Wood didn't start playing disc golf until he was 29. Right around the time he found success in the Advanced division and wanted to step up to Open, though, his wife, Mackenzie, needed help starting a real estate business in the Pacific Northwest. That was in 2012, and he gave away most of his discs and rarely hit the course.
"The deal was if I don't do any hobbies or anything for a year and I help grow the real estate business, that if it's successful I can go and be a disc golfer," Wood said.
Flash forward six years, and Record Real Estate has more than 50 employees. And now, at the ripe age of 37, Wood is finally acting on his ambitions of becoming a touring professional. He's already registered for 13 events through June, and he'll aim to put his strengths as a scrambler to good use and build on his 1016 rating.
Even though his career has taken some time to develop, Wood said it's all felt like a whirlwind. "My lifetime goal a year and a half to two years ago was to get to 1005 and to get on Innova as an ambassador, and last year just blew up," he said. "I don't even know what happened, honestly. I just love [disc golf] so much. I don't play for the money, obviously, and I've got the support of my family. I just love it, so I just go and enjoy it, and I think it makes it easier for me to be at the level I'm at this time of my life."
He said Mackenzie plans to put her marketing acumen to work to help build his professional profile, too.
"She has my back 100 percent to go out and kick everybody's butt this year," he said, "because I did what I was supposed to do."
Madison Walker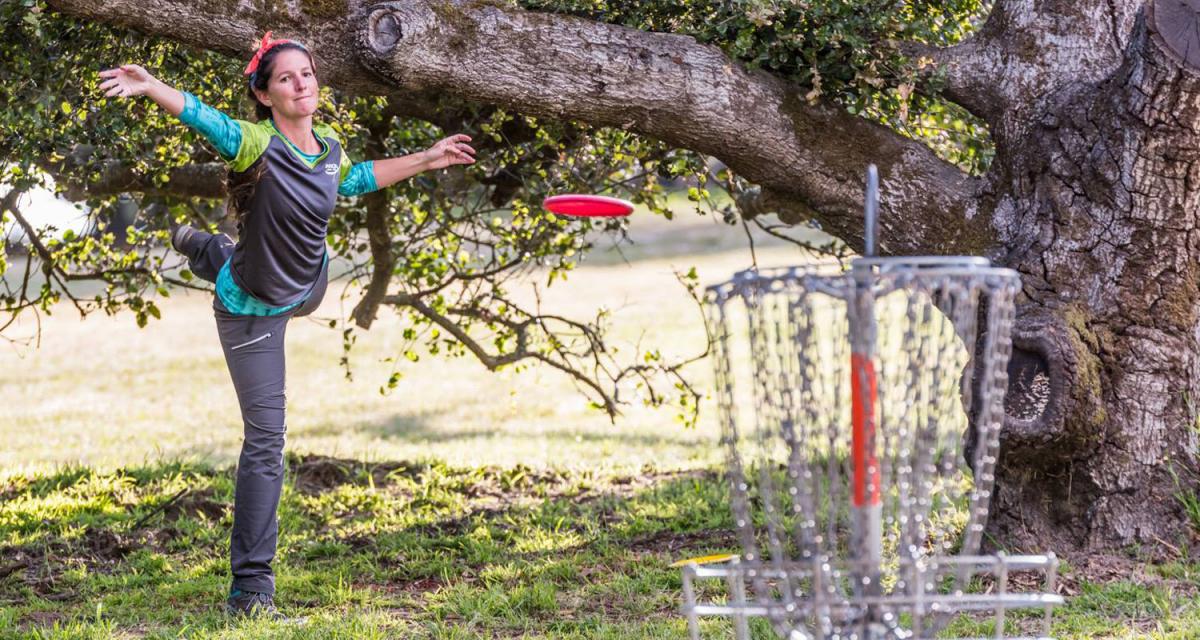 Madison Walker sustained a right wrist injury after a fall at the Tallahassee Open last March, but she powered through the pain for a few months. By Pro Worlds in June the damage was too much to bear, and that simple trip on a tee pad derailed her season.
The Florida native said the resulting uncertainty and anxiety made 2017 the worst year of her life. But she never lost her sense of humor.
"It was actually a bar fight," she said she would joke whenever anyone asked how she got hurt. "People would eat it up."
Now mostly healed, Walker heads into the 2018 season with that same uncertainty that she carried in 2017, but said she is in a better headspace. She worked during the offseason with Seth Munsey of Disc Golf Strong, who helped her rehab both physically and mentally, and she just finished a three-day paddleboarding sojourn that saw her tax the limits of her wrist's capacities. "Getting through all of that and feeling completely fine, I'm ecstatic," she said.
Walker is signed up for the Las Vegas Challenge, but said her participation there will be a game-time decision. When she does hit the course, she said she'll be adopting an approach akin to that of Des Reading and Elaine King, placing a premium on accuracy and strategy over power. And she's not going to put too much pressure on herself, either. "I'm keeping my expectations very low, and if something awesome happens so be it," Walker said. "I know I'll enjoy my time playing disc golf and being around the disc golf community."
Garrett Gurthie
Garrett Gurthie hasn't toured extensively since 2014, when he racked up six wins and an additional nine top 5 finishes. His rating peaked at 1039 in 2015, but he said real life soon took over. He's only played 14 PDGA-sanctioned events in the last three seasons, mostly in his native Florida, and his rating slipped to 995.
After working at New World Disc Golf Complex in Jacksonville, though, the man known as "Double G" felt the passion return. Now, he's hitting the road again full time.
"I was inspired a lot by some people, and having the Disc Golf Pro Tour finale at Jacksonville where I worked at...seeing all the people [motivated me]," Gurthie said. "And then I got to go to USDGC last year as a business trip with New World. It caught in my mind that I miss it a lot, and I'm getting back out there."
Gurthie spent the early part of 2018 in Northern California, honing his focus at courses like Penn Valley and Shady Oaks. His car was destroyed after Hurricane Irma ripped through Florida last year, so he's teamed up with Jessica Weese for this season's travel. He's currently playing without a manufacturer sponsorship, but has the support of his friends at Sunshine State company DG4 – they set him up with a camper that he is hauling with Weese's truck – and plans to play at least 30 events.
"I don't really have concrete finishes down on paper, but I know my ability can be as best as anyone," Gurthie said. "I've been practicing as much as I can. The putt's gotta do some work, but once I'm around tougher competition I kinda play into the competition a lot more...I've got the distance, so everything in between is what I've been working on."
Comments
The company that loaned the camper to Double G is #DG4, not "4DiscGolf". https://m.facebook.com/DiscGolf4/
Thanks Eddie! I've corrected that.
You got it! Great article.
Great article, and great pics!
Ellen was at TDTM in 2017.
Thanks!