Goodness Gracious! Gurthie Goes Big For Jonesboro Open Course Record
Goodness Gracious! Gurthie Goes Big For Jonesboro Open Course Record
Three tied for second place after round one
Saturday, April 7, 2018 - 00:12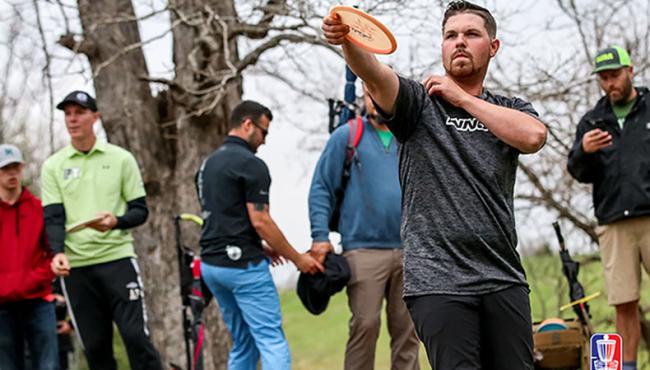 If it seems like Garrett Gurthie is playing like a man trying to make up for lost time, perhaps that's because he is. 
Plenty changed in the three years he was away from disc golf, and the Florida native took notice. Now back on tour full time, he's making good on his decision to hit the road. And he's ready for his close-up.
"The support and the want to make jaws drop fascinate me," Gurthie said. "Not that I'm a center of attention kind of guy, but seeing all the production crews like Jomez made me want to get back out there. I was jealous in a way that really made me start working hard. My friends, sponsors, and family throughout the world also motivate me to push hard and play to the best of my potential.
"I'm super grateful to be back and to have the opportunity to play disc golf for a living."
That gratitude has shown on the course already this season, as the big-armed right-hander's 14-under par 50 Friday during the Jonesboro Open set a Disc Side of Heaven course record and helped him open up a two-shot lead heading into Saturday's second round. It's put him on the lead card and in front of the cameras for a second consecutive Disc Golf Pro Tour event.
He'll be joined there by two of the few players in the tournament who rival his distance prowess, as well as the defending Jonesboro champion. Eagle McMahon, James Conrad, and Ricky Wysocki tossed 12-under par 52s to land in a tie for second place, while a five-way logjam comprised of Dave Feldberg, Will Schusterick, Kyle Webster, Eric Oakley, and Chris Dickerson makes up fifth place at 10-under.
Gurthie leads the field in four of eight UDisc Live measures: circle 2 in regulation (89 percent), birdie percentage (72 percent), scramble (100 percent), and circle 1 putts (100 percent). He's second in parked shots (28 percent) and only finished outside the top 3 in circle 2 putts, cashing in one of four attempts from beyond the arc.
Disc Side, though, places a premium on distance, as its 9,885 feet of fairway makes it the longest on tour at this point in the season. And Gurthie has distance in spades. "I love playing big courses and this one suits my game," he said. "But you still have to execute more than just a big drive."
The 1004-rated pro kicked off his round with four straight birdies, including a park job for deuce on the 435-foot 3rd. He took a brief respite with a par on hole 5 before rattling off seven consecutive birdies, highlighted by a 50-foot putt for 3 on the 615-foot 7th. Though his pace cooled on the back nine, he had a cheering section of three friends who made a surprise trip from Jacksonville, and Gurthie rewarded them with a 27-foot connection for eagle on the 855-foot 16th that features a second-shot water carry.
"I practiced that hole once and it kind of just suits my natural flight without having to dig for extra D," Gurthie said. "...[My friends] definitely gave me the courage and comfort as they rooted for me on every hole."
Wysocki, playing on the day's feature card, also landed an eagle on 16 via a tap-in putt. The reigning PDGA World Champion has had a sluggish start to his season, logging zero victories through the first three months of 2018, but hasn't hit the panic button. He chalked up his lowest performance in more than a year – a 976-rated second round two weeks back at the Open at Flat Creek – to "one bad hole" and said he just needs to correct his headspace.
"It's just been mentally trying to find my fire that's lit under myself like I did last year," Wysocki said. "I was real fiery, and I feel like that's what propelled me into winning Worlds and Player of the Year and all these successes I had last year.
"I'm starting to get that fire back, and it's a good sign for me," he continued. "Week in and week out I wanna play great, but we still have 80 percent of the season left so I feel like, from here on out, I have the mental capacity and the drive is coming back."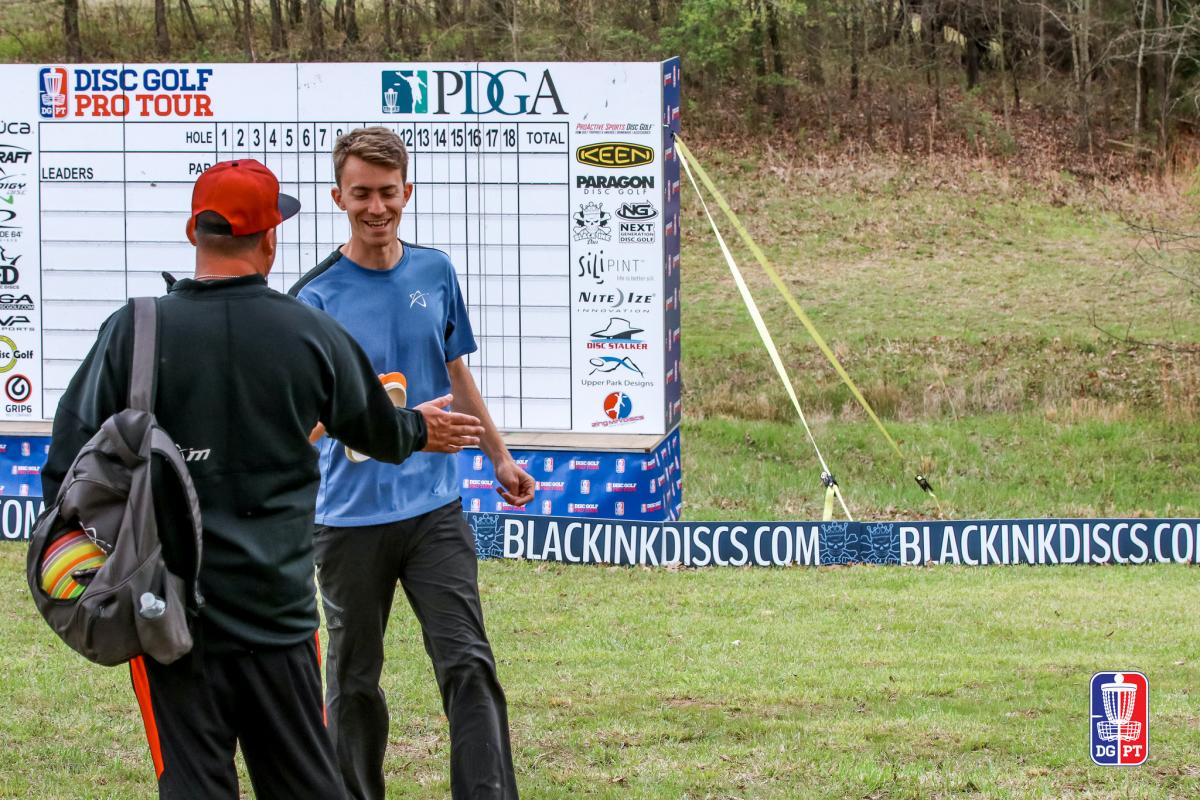 Schusterick, meanwhile, made a strong return to tour after missing the last six months with a shoulder injury. Though the malady still nags at him while putting, he was pleased with his 1043-rated effort, his highest so far in 2018. The three-time United States Disc Golf Champion estimated that his shoulder is at 75 percent health, but that he couldn't sit on the sidelines any longer.
"I am dying to play," he said. "I'm dying to be 100 percent better. It's not gonna be a thing to where I wait it out as long as possible and it's better…It's gonna be 100 percent after playing and working out the right ways."
Schusterick said he thrived during round one because Disc Side of Heaven is a "thrower's course" that doesn't require long putts to score well. Now motivated "100 percent, all the time" to prove to people that he is still an elite professional, he's looking to string together more rounds like the one he had Friday, which found him landing in circle 1 in regulation on 56 percent of his holes.
"I need to be doing this 20 rounds in a row," he admitted. "I need to have these rounds constantly, and that's what I'm looking for, is the consistency aspect of it."
Wysocki was aiming for the same, as he said he was confident that two more 12-under par rounds would put him in contention for the win. And he was happy to share the spotlight with Gurthie, who he has known for more than six years.
"He's a great person," Wysocki said. "He always seems to be a happy-go-lucky kind of person, always looks at the positive side of things. I look up to him for that – he's got a great outlook on life…It's good to have his energy around the tour."
The Open lead card tees off at 3:15 p.m. CT, with real-time scoring and statistics available throughout the day at UDisc Live.