Gamecocks Defend Title at SECO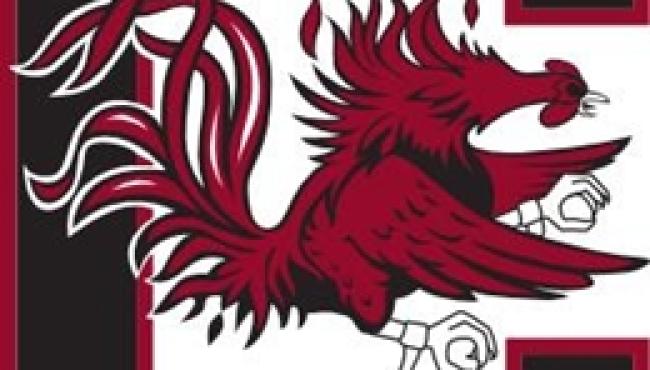 South Carolina won the Pocket Disc SouthEast Collegiate Open for the second year in a row this past Sunday.
The Gamecocks took a four throw lead heading into the final round of Team Doubles Sunday Morning. They held their lead over Kennesaw State University, the only team with a realistic shot of catching the leaders. Georgia sat in third place eight off the lead. USC Team Captain Josh Day and Team President Tyler Graham had their team ready to go. They shot the 4th best round of the day and added a thro to their lead to take home the title and the trophy. 
Last year the Gamecocks were also playing to try to qualify for the National Championships. This year they didn't have as much pressure on them as they had already qualified being one of the top 16 at the 2012 National Championships. Per NCDGC rules the two berths awarded at the SouthEast Collegiate Open, a Premier Qualifier, go tot the two highest finishing teams that haven't already qualified. Kennesaw State was playing in only their second tournament ever and with a couple new players on their team greatly improved their performance. KSU finished second and secured their bid along with the 5th place Georgia Tech Yellow Jackets. Georgia Tech was extremely excited to get back to competition after finishing last season one throw away from making the final round at Nationals.
In the Women's division, Mississippi State cruised to their victory, winning the first ever SECO Women's Team Championship. The team was never challenged by the rebuilding East Tennessee State team. That said, there was quite a development in the individual womens' field. Defending Individual National Champion, Sara Lamberson, and Mississippi State Team Captain and All-American, were beat by newcomer Ruth Hudson out of Western Carolina University. If she can recruit some more players to compete with at NCDGC, they'll have a good chance at challenging the mighty MSU Bulldogs.
In the individual Men's Competition, South Carolina showed that their club has some real depth. Kevin Johnson tied Georgia Bulldog Adam Schneider with an 82 on the par 96, 27-hole layout. Johnson played on South Carolina's second team proving that the Gamecocks have more than enough talent to push for a National Championship this year.
The first place finish helped the Gamecocks jump two spots in the National Rankings form 10th to 8th. There was quite a bit of movement in the rankings since there were 19 different schools competing in this tournament. The next NCDGC Premier Event on the Qualifying Schedule is the Great Lakes Collegiate Open in Kalamazoo, MI at the end of the month.