For Yetter or for Worse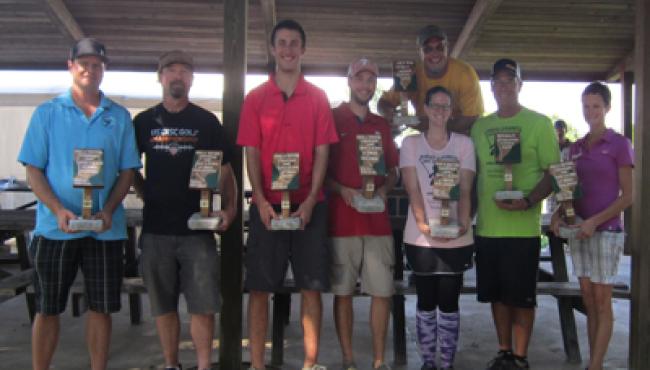 The Bucks County Disc Golf Alliance was proud to host and present the 21st Annual Eric C. Yetter Champions' Cup.  The event was granted some exceptional and beautiful end of summer weather, breaking the streak of rain in years past.  The event featured Tyler State Park's longest layout of C pins, with long tees for all of it's 27 holes, and the addition of the famous temporary 9 field holes.  As usual, the field holes created a lot of challenge for the players, including a 1,070ft and a 1,200ft hole, but not to be outdone by the 436ft island green of hole 36.
Round one Saturday, the pros and masters played the mostly wooded 1-18 layout and Richard Wysocki started off strong with a 9 under par round of 63.  Joe Mela and Jeremy Koling were close behind with 64's and David Wiggins, Devin Frederick and Justin Madore in the hunt with 65's.  Round two proved that Richard Wysocki had no problems with the 10,000 foot mostly open, but littered with OB 19-36 layout, by scoring a hot 12 under par round of 57.   Round two's highlight was Matthew Kashima scoring an eagle 2 on hole 36.  Saturday night concluded with a player buffet at the park delivered by Slack's Hoagie Shack.
On Sunday, the leader card of Richard Wysocki, David Wiggins, Jeremy Koling and Devin Frederick was ready for an 8am tee off to tackle the 27 hole, par 105 layout of the round three lead card.  Ricky Wysocki continued what he started on Saturday, throwing an 18 under par score of 87.  A highlight of Ricky's round was his eagle 3 on the wooded 711 foot hole 12.  This win marks back to back Yetter wins for Wysocki.
In other divisions, Jon Baldwin finished with a 12 stroke lead to win Masters and Robin Billig shot the hot final round to sneak around Linc Morgan for a Grandmasters win.
Erick Simonds and Chip Adams battled during rounds one and two in the MA1 pool, staying tied after each round and going into round three with only a one stroke lead over Mike Tolbert & Rick Sassaman.  Round three finished with Mike Tolbert shooting 1 over par and Erick Simonds shooting 2 over par, leaving a first place tie in MA1.   There was a huge gallery gathered around to see the playoff as it started on hole 1.  Erick threw a solid drive, leaving himself a 40 foot uphill putt.  Erick's putt was a little low, and he putted out with a 3.  Mike's drive left him with a 25 foot putt that he was able to make for a 2, taking home the win and the trophy.
Richard D Sassaman received the 2013 BCDGA Club Dynamo Award for his hard work and dedication to the course and to the club. Linc Morgan received the 2013 Yetter Spirit Award for being the player displaying best attitude and camaraderie during the event.