First Class Day One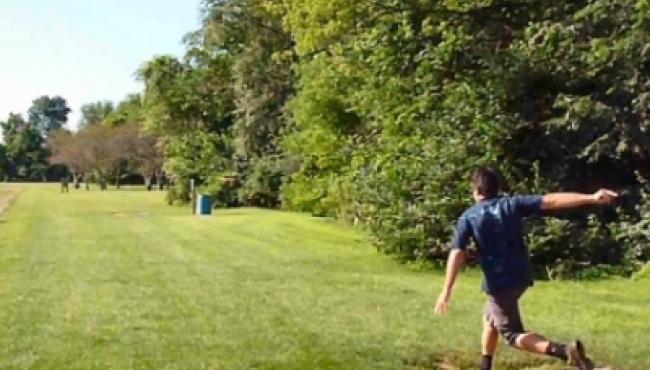 First Class Challenge National Tour - Day 1
---
The First Class challenge kicked off this morning with a brisk breeze and a chill in the air for 224 competitors. The Iowa corn had all ears focused on the Open Men and Women at Ewing then Pickard. Hambrick winner Feldberg drew the tough signature hole 12 to start and pulled out a tricky four like many pros would get today.
Hole 12 has a gravel road (OB and across) along the whole left side of its 667 length. Dave turned over his drive (photo) and ended up to the right of the grove of fruit trees scattered in mid-fairway about 350-450 from the tee. You'll see all types of throws off the tee to try and set up a good position for a chance to crush an approach close. Only three players got the 3 today, even with a tailwind.
The mostly northerly but swirling winds would make several holes tough to score on but easy to bogey if you weren't careful. Matt Orum emerged from the pack with the hot score of 53 while followed by five - David Feldberg, Paul Ulibarri, Jeff Layland, Dave Hemmeline, Pat Blazek - coming in at 54. Among the nice sized field of 10 women, Valerie Jenkins stepped out with a 62 to lead Des Reading by 2 followed by Angela Tschiggfrie 2 more back.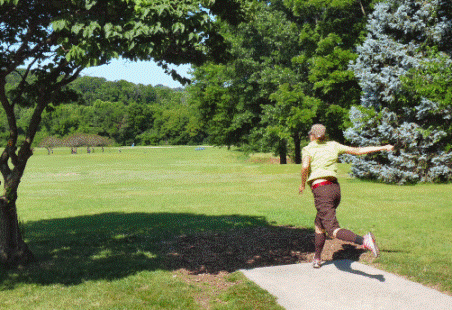 The regular SSA for Ewing runs around 56-57 and came in around 59 today. The north wind seemed to ramp up as the field headed down Hwy 69 to tackle the even more wide open Pickard course in Indianola. Checking around with the officials and players, only a few shots were really exciting. The stiff winds made conservative play the order of the afternoon where hanging on and not blowing up was the challenge. Apparently, GregGory Barsby again demonstrated his roller skills by first crushing a backhand roller then using the strong tailwind to literally sail it down the 573 foot hole 6 fairway as it finally curled into the tucked green area.
After the scores were tallied, the hot score was again a 53, this time thrown by Cale Leiviska, Eric McCabe and, coming from several cards back, Mike Robinson. The SSA came in almost identical to Ewing with a 59. Feldberg, rated 1036, shares the top of the leaderboard with Matt Orum, after shooting a pair of "routine" (for him) 54s rated 1039 and 1038. Live Scoring planned for the Open Men in the morning at Big Creek. 
Angela Tschiggfrie and Barrett White both threw 63s bringing Angela within one of Valerie Jenkins and tied with Des Reading. The top three in both Open Men and Open Women are now within one heading into Saturday.