DGPtv Announces 2014 Broadcast Schedule
DGPtv Announces 2014 Broadcast Schedule
Fifth Season to Reach Widest Audience in Disc Golf's History
Tuesday, March 4, 2014 - 09:18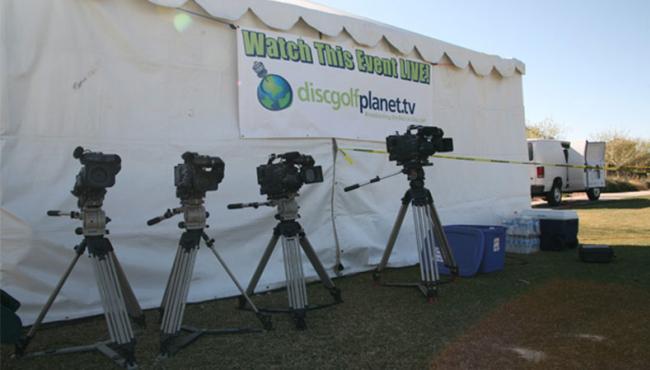 When DGPtv began their Live Internet broadcasting operations in 2009, "Broadcasting the Best in Disc Golf" was adopted as the network's tagline. Now, as disc golf's only Live Internet broadcaster beginning it's fifth season, this moniker holds true now more than ever.
With three National Championships, a World Championship and the PDGA National Tour crowning event on the 2014 broadcast schedule, DGPtv continues to cover disc golf's most important events.
In addition to the 35-50,000 unique viewers that log-in to every Live Internet broadcast, DGPtv will be producing four half-hour long TV shows for the Beach Sports Network again this year. These episodes will reach 60-80 million households, depending upon how many more regional sports affiliates sign on to distribute these shows from the PDGA, who is the rights holder to all of disc golf's sanctioned events.
2014 DGPtv Live Internet Broadcast and Beach Sports Network Television Production Schedules
| Event and Location | DGPtv Live Internet Broadcast | BSN Television Production* |
| --- | --- | --- |
| 2014 National Collegiate Disc Golf Championships North Augusta, South Carolina | April 16-19, 2014 | May 17-24, 2014 |
| 2014 Japan Open Nasushiobara, Tochigi Prefecture, Japa |   | July 12-19, 2014 |
| 2014 PDGA Professional Disc Golf World Championships Portland, Oregon | August 8-16, 2014 | September 13-20, 2014 |
| 2014 Rochester Flying Disc Open Rochester, New York | September 5-7, 2014 |   |
| 2014 United States Disc Golf Championship Rock Hill, South Carolina | October 1-4, 2014 | October 25-31, 2014 |
* List of Confirmed BSN Regional Sports Affiliates
In 2014, DGPtv is again pleased to enjoy support from its foundational partners, the Professional Disc Golf Association and Innova Champion Discs. Both broadcast partners have been with DGPtv since the October 2009 launch at the United States Disc Golf Championship and have remained vital to our success, as we continue to improve and grow our capabilities. A rich number of sponsorship opportunities remain available to other brands and businesses in the disc golf industry, as well. For more information, contact John Duesler at 215-913-0569 or [email protected].
The decision to produce four Live Internet Broadcasts and four shows for television was based, in large part, on many of the lessons we learned from our very aggressive broadcast schedule last year. In the pull of quantity or quality, DGPtv has opted for finding the right balance between each. Most of the venues we have selected this year are familiar to us, and we know what to expect once we arrive. Whether it is shelter, electricity, a robust Internet connection, or even a hotel close to where the course lies, there are a multitude of elements that go into bringing you our Live shows and the television productions. We believe that this year is an important year for DGPtv, since most successful businesses experience explosive growth in their fifth year of operations! This makes 2014 a pivotal year, not just in the success of DGPtv, but in us helping disc golf to reach its full potential.
So it is with great pleasure that we present to you, our Lifetime Members and fans, our 2014 DiscGolfPlanet.tv Production Schedule. We do hope that you will agree we are fulfilling our mission by still "Broadcasting the Best in Disc Golf!"