51 Universities Ready to Battle at National Collegiate Championships
51 Universities Ready to Battle at National Collegiate Championships
Monday, April 11, 2016 - 16:07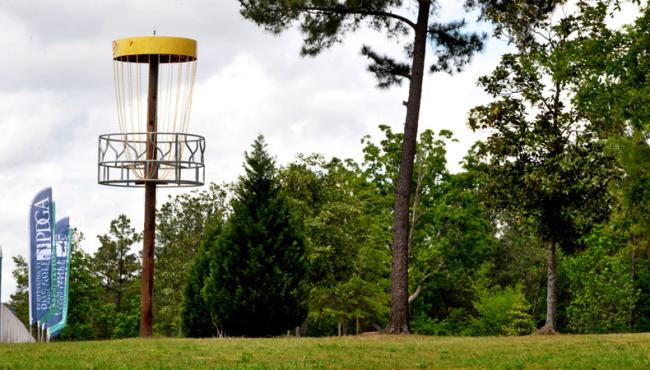 After months and months of planning, the 2016 National Collegiate Disc Golf Championships (NCDGC) is finally here. The NCDGC is the first PDGA Major of the year and is without a doubt one of the most unique and most exciting. 51 different universities from around the country will be represented at the Hippodrome Disc Golf Complex in North Augusta, SC, all with the hopes of bringing home the title of Collegiate National Champions.
Rivalries = Growth
It's no secret that college athletics produce some huge numbers, both in fan bases and financial impact with their events. The NCAA Division I Men's Basketball Championship game alone generated a peak of 22 million viewers, and that's not even counting the millions that were streaming it online. In the weeks leading up to the Championship, hundreds of millions of views (and dollars) were generated throughout the duration of March Madness. That is the power of college athletics. It unites fans and alumni behind their schools with an unrivaled passion.
That passion goes well beyond basketball. As an Indiana University alumni myself, I can tell you that if IU is playing against Purdue University in ANY sport, I know who I will be cheering for, no questions asked. Some might call that kind of rivalry petty, but it's an important element of helping a sport or a particular event gain attention that it might not otherwise get. Do I watch college lacrosse? Nope. Would I watch an IU vs Purdue lacrosse match if I saw it on TV as I flipped through the channels? Absolutely.  
Over the years, disc golf has grown immensely at the collegiate level, now with hundreds of schools offering it as an intramural and/or club-level sport. As more and more colleges continue to add disc golf to their lists of athletic options for students, we can only expect that the rivalries and eventually the financial impacts will grow with them.
"Typically, every year the biggest rivals are between the returning top teams from the year before. Last year's team champions, Ferris State, have a pretty good rivalry with Augusta University (formerly Georgia Regents-Augusta University, who finished 3rd in 2015) and their team members usually have a friendly back-and-forth throughout the week," says NCDGC Tournament Director Alan Kane #35901. "There are a lot of natural rivalries as well, e.g. Oregon vs Oregon State, Clemson vs. South Carolina. But, the tournament itself has developed new rivalries between the teams that have historically ended up having close battles year after year."
Last year's fourth place finisher in the Individual competition, Augusta University club president John Baker #54600, has a seemingly endless back-and-forth rivalry with Bryan Murphy #57183, captain of the returning champions team, Ferris State. "Bryan and I have known each other through disc golf for the last three years. We got the better of them in 2014, then they came back strong last year to take home the title. This year we're coming out swingin' and we like our chances." 
NCDGC Schedule & Formats
Teams and individual players are assigned to pools and the detailed list of each will be available on PDGA.com shortly. We will update this article as soon as they are posted.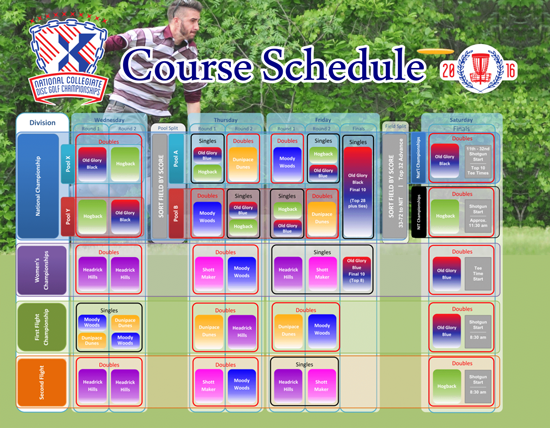 Format - Singles Play
The lowest 3 singles scores per round per team count towards cumulative team score. Each hole should have no more than two teammates competing to prevent conflicts when making rules calls.
Format - Team Doubles Play
Doubles is played with two sets of teammates, one ODD, one EVEN. The ODD set will tee off on every odd-numbered hole, while the EVEN set tees off on every even-numbered holes. After the tee shots, the team chooses which of the two lies to play. From there, the set that did not tee throws their two shots. Again, the whole team decides which lie to play from and the set that teed off would throw. That alternating process continues until the hole is complete.
On the next hole, the corresponding set of teammates according to the hole number, ODD or EVEN, would tee off no matter which set putted out on the previous hole. This format allows for each player to tee off the same amount of times and for teams to play as whole. Each hole has two teams playing together as an eight-some. 
Substitution Rule
At the National Championships, we allow teams to substitute players between rounds if they wish.
Teams are limited to using a maximum of 6 players.  
Those 6 players may be substituted as many times as the team desires. 
Any player who participates in the Championship Division will no longer be eligible to play in the First Flight Championships.  
All substitutions must be made at least 20 minutes before round tee off at Tournament Central.  
There shall be no substitutions during any round of play.  
Once a player is substituted out of individual play, by default, that player will not be eligible for any individual awards. 
NCDGC Courses
The Hippodrome Disc Golf Complex is home to several courses, all of which were designed by the disc golf legend that is 5x World Champion Pete May #12700, with assistance from NCDGC Tournament Director Alan Kane. There are six total permanent courses, two of which are the only ones open to the public: Old Glory and Hogback. The other four courses are permanently in the ground, but are only open to the public one week a year, AKA this week. The courses and brief descriptions are listed below. For more information, see the Courses page on the Hippodrome's website.
| Course | Par | Length | # of Holes |
| --- | --- | --- | --- |
| Old Glory | 65 | 7,010 feet | 20 |
| Hogback | 60 | 4,952 feet | 20 |
| Dunipace Dunes | 55 | 5,650 feet | 18 |
| Shottmaker | 54 | 3,146 feet | 18 |
| Moody Woods | 56 | 4,684 feet | 18 |
| Headrick Hills | 54 | 4,586 feet | 18 |
NCDGC Flights
Last but not least, the NCDGC uses a "Flights" system, allowing each school to create up to four total teams that can compete for a title in both the team competition and the individual competition: Championship Flight, First Flight, Second Flight, and Women's Flight. The Championship flight would be the team's top players, and the Women's Flight...well, that one is pretty self-explanatory.
First Flight
The First Flight Championships is a high-caliber event focused on adding to the great experience of the National Collegiate Disc Golf Championships. The First Flight Championship provides an opportunity for many schools to compete against teams of the same level for the title of First Flight Champion. In addition to teams that may not qualify for the Championship, the NCDGC also invites schools with more than one team to compete. 
The First Flight Championship will crown a champion as well as trophy for the 1st runner-up. The First Flight Champion's school will also receive a 1st Round seed in the Championship Flight at the following year's National Championships.
Second Flight
Due to the high demand for schools to bring additional teams, the Second Flight Championships was created.
The Second Flight Championships is a division within the National Championships for schools with large disc golf clubs and bring multiple teams. Schools will only be allowed to have two teams in the First Flight, but can also have two more in the Second Flight.
The Second Flight Championship will crown a champion and award a trophy for the 1st runner-up. The Second Flight Champion's school will also receive a 1st Round seed in the following year's National Championships.
GUTS
One of the funnest non-disc golf activities at the NCDGC is the collegiate GUTS competition. If you don't know what GUTS is, you're in for a real treat.
Guts is a sport played between two teams of one to five players each. The objective is to be the first team to score 21 points. To start play, each team lines up facing each other 14 m apart. Play is accomplished by a player attempting to throw the disc toward or at the opposing team and within the reach of at least 1 player of that team, in such a manner that the opposing team cannot make a clean catch. Scoring is contingent on the success or failure of the throwing team. A good throw, without a catch, results in a point for the throwing team and a bad throw results in a point for the receiving team.
Opening day is tomorrow, complete with college fight songs, flags, and much more. Previous year rivals are paired against each other to start the event, hence the staff-coined term "Rivalry Day". There are several ways to keep up with the latest updates, pictures, and videos, and they're all listed below. Live scoring will begin later in the week as the true team and individual scores start to pile up. Stay tuned for an amazing week of disc golf here at the 2016 National Collegiate Disc Golf Championships!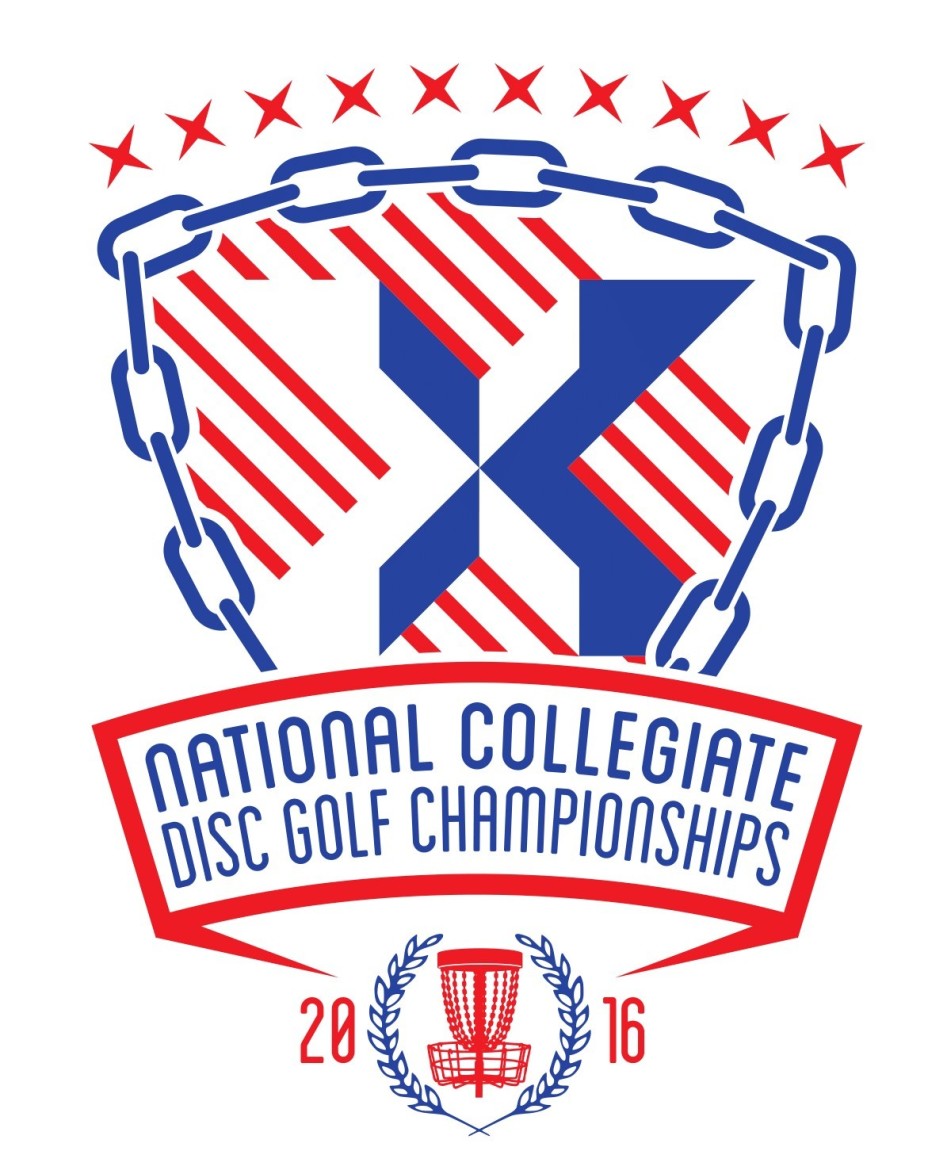 Comments
What no live coverage. Surely, every school competing has a curriculum in video production. Why not combine the two?