Collegiate Season Underway!!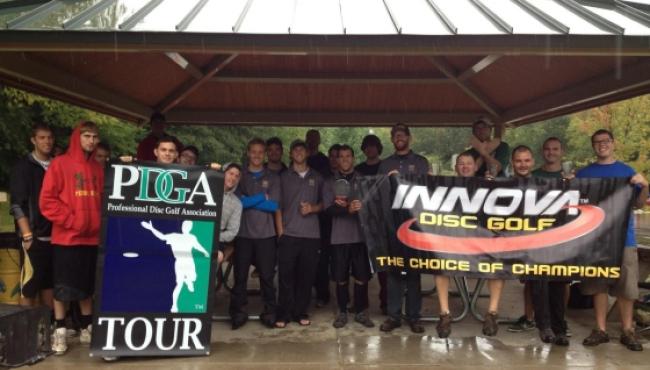 The 2013-2014 Collegiate Disc Golf season kicked off on September 14th. The PDGA and Innova Disc Golf are proud supporters of the collegiate disc golf season and are a great help to our tournament directors and our players.
The Great Lakes Collegiate Open was the Upper Midwest Region's Premier Qualifier and was contested over two days in Kalamazoo, Michigan. The teams were competing for two of the coveted Bye Seed Qualifications and one First Round Seed Qualification to the National Collegiate Disc Golf Championships.
On Saturday, the weather was perfect for throwing plastic through the trees and into baskets. The Blue Gill Disc Golf Course is one of the many gems in Michigan. Its 24 hole layout would push the teams with a Team Doubles round in the morning and singles competition in the afternoon.
After the first round, Western Michigan held a one throw lead over cross-state rivals Eastern Michigan. Michigan State and Grand Valley State sat four off the lead and Ferris State was one throw behind those two. The singles rounds were extremely important as they made up 85% of the final team scores. Western Michigan had no problem stepping up. After the 24 holes, they had stretched their lead to eleven. It was surely a good lead, but not insurmountable. Especially seeing that Eastern Michigan's Pat Burke was capable of some great golf. His 64 came in with an unofficial rating of 1056. That hot round was also only two off of the current course record. 18 holes at Kalamazoo's Oshtemo Town Park course stood between the WMU Broncos and winning their collegiate disc golf debut.
Sunday was nowhere near as nice for being outside. There was a chill in the air and a steady drizzle of rain throughout the day. EMU's Pat Burke would shoot the hot round again with a 1006 rated 55, but the depth of the Western Michigan team was too good. Western came in nine throws better than Eastern and had taken the win by twenty. The Broncos won the title of Great Lakes Collegiate Open Champion, a Bye Seed to the National Championships, four 2014 PDGA memberships for the team members, and perhaps most important, bragging rights over their rivals until the next event. Also earning their way to the NCDGC were Eastern Michigan with a Bye Seed and Michigan State with a First Round Seed.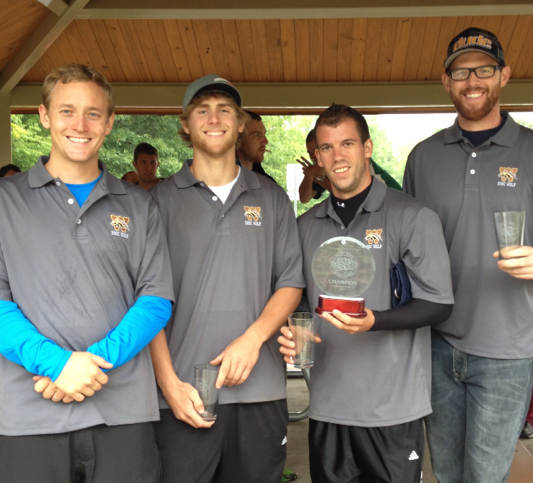 GLCO Champions - Western Michigan University
Results from the second event of the season, the Upper Midwest Collegiate Disc Golf Championships, from this past weekend will be updated soon. The largest qualifier of the season and the Southeast's Premier Qualifier, SouthEast Collegiate Open, is this coming weekend. Watch PDGA.com and NCDGC.com for coverage of the SECO.