BSFling-Day 2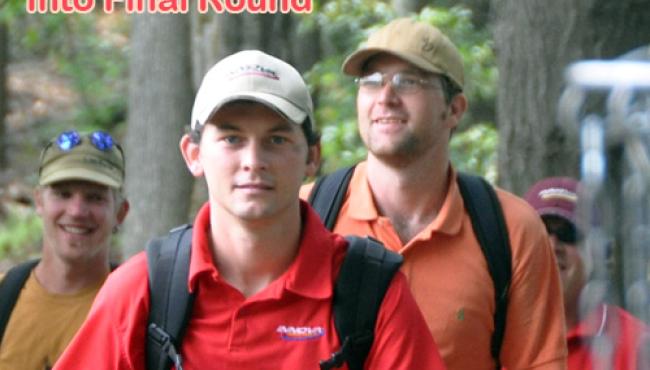 Dietrich Lays Down Law to Claim Lead at Fling
For Missoula, Montana's Christian Dietrich life is very much worth living right now.  With the appealing combination of never-ending smile and incredible long putting, Dietrich sits atop the Beaver State Fling leader board with a gaudy five-throw lead over Nikko Locastro going into today's final round at the awe-inspiring Milo McIver State Park's East Course.
"I came out of my first round yesterday in a great mood, and it really carried over into today," Dietrich said, toting a wide smile and his custom-made Mystery Ranch disc golf bag over his shoulder.  "I began today really playing up-and-down with an eagle to start on the first hole, but some pretty bad throws after that," Dietrich acknowledged.  "But after grinding it out early, I had a stretch of birdies on the middle par-4 holes that set the tone for the rest of my round."
Dietrich is no stranger to the top of the men's open division, as he was atop the leader board through the middle of the 2008 PDGA World Championships in Kalamazoo, Michigan before slipping back.  But Dietrich brings a whole different approach to life with him during this year's Beaver State Fling National Tour event.
"I'm excited to be on the lead card," Dietrich said.  "But I've really learned to get out of my own way when I'm playing against these great players," Dietrich revealed.
Playing against the top talent is nothing new to Dietrich, who grew up playing soccer at a very competitive level.  But this five-year disc golf professional has a fundamentally different perspective than most of his rivals on winning disc golf tournaments.
"I just graduated from University of Montana Law School, so I don't have as much pressure to win as our touring pros do," Dietrich said.
And judging by the relaxed approach he had during and after today's round, one would not be surprised if Dietrich ballooned his already impressive five-throw lead into even something bigger.  On the other hand, judging from the real contentment Dietrich is currently enjoying in his life right now, he probably would not complain if he somehow slipped back to second place either.
Follow all the action from the 2010 Beaver State Fling finals round at pdga.com.