National Recognition
National Recognition
Visit Quad Cities honored for Event Partnership
Thursday, May 11, 2023 - 09:03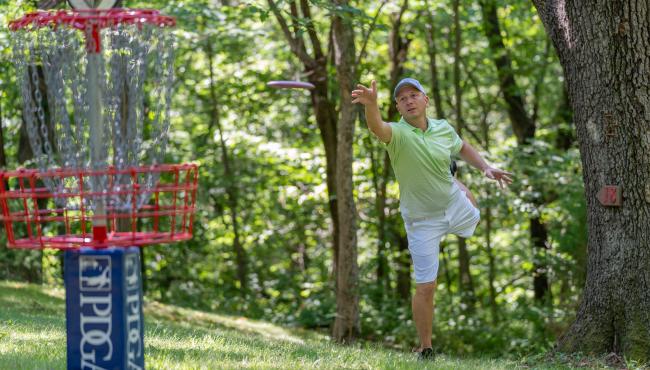 (Press release via Visit Quad Cities)
KANSAS CITY, MO (May 10, 2023) – Visit Quad Cities was honored by Sports ETA as Event Partnership of the Year, population under 500,000 category, for the Professional Disc Golf Association's Tim Selinske U.S. Masters Championship event. Visit Quad Cities was one of 10 awardees honored today among the 600 Sports ETA member organizations.
The award selection committee commented on the nomination: "For this event, Visit Quad Cities partnered with a local disc golf supply business that handled the unique sports logistics, which included recruiting volunteers and giving up space in their personal cars and homes to make the event happen. Visit Quad Cities also provided an event experience, including food truck offerings that catered to multiple dietary restrictions, American Sign Language interpreters, and partnerships with the local parks department and waste commission to provide adequate water and recycling needs for participants. It was a true partnership all the way around."
The award was accepted by Joan Kranovich, Visit Quad Cities, at the annual Sports ETA Symposium held this week in Kansas City, Missouri.
"On behalf of our Board of Directors, professional team, and the Quad Cities regional destination, we are incredibly grateful and humbled by this recognition by Sports ETA," said Dave Herrell, President and CEO, Visit Quad Cities. "Sports tourism is such a vital part of our community's culture and to be honored for our collaborative approach with an important partner like the PDGA makes us very proud. In addition, to be recognized by Sports ETA, an industry leader helping to shape the future of sports tourism means a lot to our organization who works extremely hard to drive value for our partners, support our mission, and create a legacy for the Quad Cities."
"Visit Quad Cities' values are driven by people, partnerships, and personality and this award captures how we prioritize partnerships," said Joan Kranovich, Vice President, Business Growth and Director, Sports QC. "Sports QC relies heavily on important local relationships to support our sports tourism efforts and our ability to partner with organizations like Iron Lion Disc Golf Supply to exceed the expectations of national governing bodies in hosting world-class sports events. We share this recognition with Iron Lion Disc Golf Supply, the Quad Cities disc golf community, and our Sports QC Advisory Group."
Almost 300 professional and amateur players from 37 states across the U.S. competed in the Quad Cities for the Professional Disc Golf Association (PDGA) Tim Selinske U.S. Masters Championships on September 8-11, 2022.
About Sports QC
Sports QC Powered By Visit Quad Cities is a private, 501(c)(3) non-profit organization and division of Visit Quad Cities that operates as the official sports commission by attracting, hosting, creating, and facilitating sporting events, tourism, and opportunities for the region. Learn more at SportsQuadCities.com.
About Sports ETA
As the only trade association for the sports events and tourism industry, Sports ETA is the most trusted resource for sports commissions, destination marketing organizations (DMOs), and sports event owners. Sports ETA is committed to the success of more than 600 member organizations and 2,400 sports event professionals. We promise to deliver quality education, ample networking opportunities, and exceptional event management and marketing know-how to our members to protect the integrity of the sports events and tourism industry.  For more information, visit SportsETA.org.