Breaking World Records for Great Causes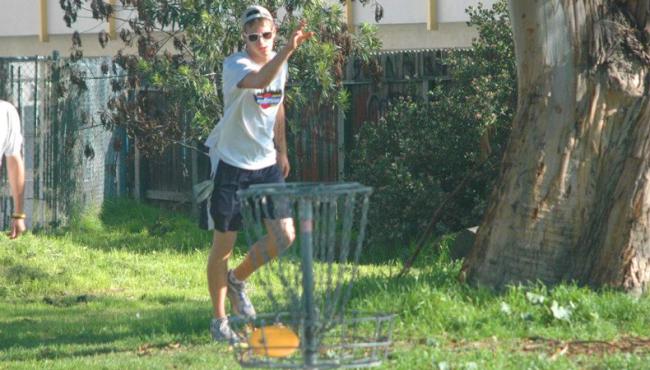 18 months ago, I could have never seen myself in the position I am in today. At 6:00am, as I was struggling to finish my 1,200th hole of the day, 21 hours in, I told myself that there was absolutely no way I would ever take on an event of this magnitude again. Clearly, I was mistaken. I had no way of knowing that the months of May and June would once again bring me to attempt to play disc golf for 24 hours straight and propel myself into Guinness' archives as a World Record Holder.
Let's back up. Upon my arrival at the University of California - Santa Barbara in the fall of 2012, I knew I wanted to explore Collegiate disc golf, and what it had to offer. I had hoped UCSB would already have a team, but to my dismay, they did not. I was lucky enough to find three guys that played disc golf that happened to also be crazy enough to go along with the idea of creating a team and getting said team out to the National Collegiate disc golf Championships (NCDGC) taking place in April in North Augusta, SC.
Disc golf was not very popular in Santa Barbara, and flights out to Atlanta weren't exactly cheap so I knew I would have to do something ridiculous to catch the eyes of my new classmates at UCSB. That is how I came upon the idea of attempting to break the Guinness World Record for the most disc golf holes played in 24 hours. I was hoping to spark the interest of everyone and raise money to get us out to the NCDGC. Thus, from February 10th-11th, I played disc golf for 23 hours and 45 minutes, completing 1,310 holes and traveling 78 miles on my feet in the attempt. I had bested the record by only five holes, but I had achieved a Guinness World Record and it ended up playing a big part in our trip out to Nationals that year.
Fast forward to May of this year, it took around fifteen months, but the record finally had a challenger. Joe Duncan #61581 and Garry Murphy #61540 played Nims Park in Rock Falls, IL to break the record at 1,620 holes. Although they broke the record by an astounding 310 holes, it did not stand for long. Just two weeks later, the record was once again challenged by Cody Miller #54075 at Bobby Ford Park in Richwood, TX. He played 1,638 holes to once again set the bar 18 holes higher. Lastly, as if two attempts within two weeks of each other weren't enough, the height of this accomplishment had been pushed even higher on June 22nd. Dan Schnabel, who held the record before I had broken it in February of 2013, played 1,929 holes at the Mont du Lac – Ace Run Course in Superior, WI. All of these people pushed themselves to the limit, and it once again inspired me to attempt this feat.
In the middle of these attempts, something that I will never forget happened just blocks from my off-campus house at UCSB. On the night of May 23rd, a Santa Barbara City College student went on a rampage in the surrounding areas of UCSB's and SBCC's off-campus student housing in Isla Vista, CA, taking the lives of six of our classmates before taking his own.
The next couple of weeks were difficult for each and every one of us. The shooting had taken a toll and it was nearly impossible to focus on anything but the horrendous events that had occurred in the days past. Media swarmed our community and there was a looming despair that had washed over the entire student body. It was truly an awful environment that I wouldn't wish upon anyone. It was at that time that I decided to dedicate my summer to making any difference that I could in preventing this problem from ever occurring again, and I was going to do it the only way I knew how. I started planning my next attempt at the record.
My next attempt at the record will be held at the Tiki Course at the Blockhouse Country Club in Spotsylvania, VA. The Blockhouse is the perfect setting for an event such as this, with a few key factors that make it a more ideal course than the one I played in Santa Barabra during my first record-breaking run in 2013. Albert and Mike create a very special environment that is appealing to all disc golfers, and they have an incredible following. The course is very short, fun to play, and it contains a variety of man-made obstacles that make the course intriguing and appealing. Lastly and perhaps most importantly, it is designed for night golf. There are lights throughout the course as well as on each basket. As far as I'm concerned, there could not be a more perfect course for this record attempt.
On September 12th, beginning in the early afternoon, I will be beginning my attempt to once again break the record for the most disc golf holes played in a 24 hour period. In this attempt, I will be raising money for the families of the victims of the Isla Vista Massacre, as well as the awareness and prevention of gun violence on school campuses in America. My hope is that through this record I will be able to promote this cause, as well as grow the sport that I am most passionate about.
If you wish to contribute or find out more, check out the Go Fund Me Page.
To anyone in Spotsylvania around this time, please come and check out the event! We could use all of the help we can get, and there will be a big celebration at the Blockhouse following the culmination of my attempt.