A 'Blissful Weapon' Takes Early Las Vegas Challenge Lead
A 'Blissful Weapon' Takes Early Las Vegas Challenge Lead
21-year old Sai Ananda tied with Catrina Allen after round one
Thursday, February 22, 2018 - 22:30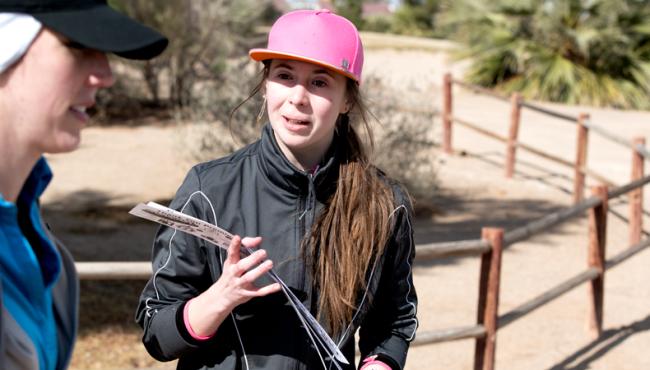 HENDERSON, Nev. – What's in a name?
For 21-year-old Sai Ananda, who started off the PDGA National Tour season with a 2-under par 56 opening round here at the Las Vegas Challenge, it's everything.
"I think my parents did a pretty good job in naming me, the first name being a martial arts weapon and the second name being an East Indian word for bliss," the Washington state native said. "I've kind of taken that into a disc golf philosophy in trying to be aggressive with my pleasant demeanor."
Ananda made good on that upbringing with a 1007-rated performance that saw her rack up five birdies on the first six holes during a frigid morning round at Wildhorse Golf Club's Disc Golf Values course. The surprise showing has the 2016 Amateur World Champion tied atop the leaderboard with Catrina Allen, while Jessica Weese (E) and Sandi Handel (+1) round out the Open Women's lead card heading into day two at the complex's Innova course.
Both Ananda and Allen paced the field in hitting circle 2 (20 meters) in regulation with a 61 percent clip. While Ananda's 80 percent putting conversion rate from inside circle 1 (10 meters) was only good for 16th in the 26-player field, she made up for it by hitting two putts from 40 feet during that early hot streak.
"I just kind of wanted to play smart, safe golf," Ananda said. "I've been hearing people all weekend – 'Smart golf is good golf" – so I wanted to make sure I wasn't going for more that was past my skillset."
Allen's round was her first of the season, and she only picked up a disc for the first time last week after taking a three-month break following her 2017 tour. Considering the rust that can come with such a hiatus, and the low temperatures – her 7:52 a.m. tee time was greeted with sunshine and 37 degrees on the mercury – she was satisfied with her game. And, more importantly, she felt refreshed mentally.
"I think I needed a three-month break," the Minnesota native said. "I knew I wouldn't forget how to throw or forget how to putt or forget how to play disc golf…Honestly just kind of forgot about disc golf for a little bit, and I think it was great."
Paige Pierce, the division's top-rated player, struggled in her season debut. She was penalized for a misplay on the first hole after taking a relief from her hazard-adjacent lie; since the sand bunker was not considered out-of-bounds, taking that extra space was not allowed. The miscue cost her two strokes, but she remained upbeat after the round and said she was more disappointed in the seven OB throws she compiled on the 7,124-foot track.
"I feel like it would be silly to get mad because it's my own fault for lack of preparation, I guess," Pierce said. "I was prepared about the courses, but I just didn't know about the different colored ropes. I do feel a little silly that my first hole of the tour I misplayed, but there's no reason to really get mad about it. I think the thing I'm most upset about is how many out-of-bounds shots I had today."
Pierce is in a three-player logjam for 15th place with Karina Nowels and Erika Stinchcomb, but the defending PDGA World Champion was leaning on the fact that there are still three rounds of golf to play. She also hoped to clean up some putting errors after an especially treacherous sequence on the 381-foot 10th saw her roll into a hazard and walk away with a triple-bogey 6.
"A couple of them were airballs, which happens to me quite often when it's cold, actually," Pierce said. "If I'm feeling that cold hand tomorrow I might lay some putts up that might be shocking to some people."
Lesli Todd, Jennifer Allen, and Lisa Fajkus make up a three-player tie for fifth place after their 2-over par 60s Thursday, while Kona Panis and Sarah Hokom are tied for eighth place at 3-over. Marla Tuttle and Tiara Jewel share 10th place with their 4-over par 62s.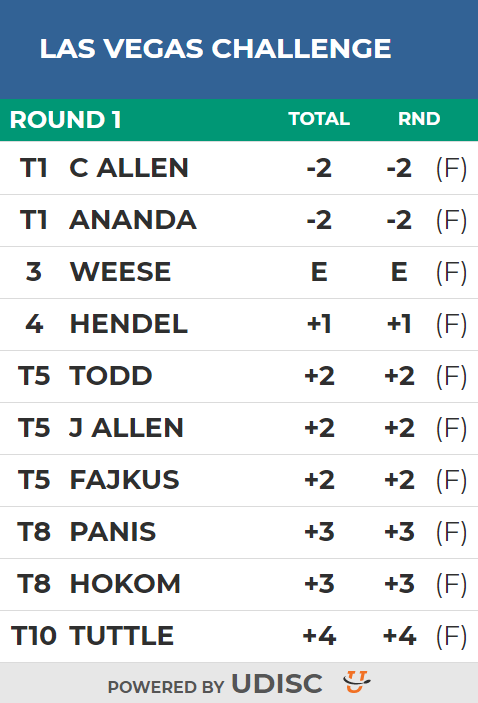 The field will add another 1,400-feet worth of throwing as it ventures to the Innova course on Friday. It's a switch that could favor Ananda, who said her strength is power off the tee. She has experience in front of the camera from her Am Worlds win and said she'd do her best to remain focused on the lead card.
"I've been filmed a couple times before, and I guess I'm sort of a space case, so I can kind of forget the cameras are there," she said with a laugh. "But the nerves definitely get to me, and playing with unfamiliar people. For the most part I just like to try and stay relaxed, try and stay calm, and not let the nerves affect me as much as possible."
Catrina Allen, meanwhile, offered up some sage advice that two-time Open World Champion Barry Schultz shared with her during her rookie season.
"I would always make the lead card and then tank and end up not being on lead card for the rest of the weekend," Allen said. "[Schultz told me to] just remember that they're just feelings, the nervous feelings, and you can still play with feelings. So just to accept them means you want to do well."
The Open Women's lead card tees off at 7:56 a.m. local time Friday, with live scoring available on UDiscLive.com.