Hokom Leads 2019 Hall of Fame Classic With One Round to Go
Hokom Leads 2019 Hall of Fame Classic With One Round to Go
Saturday, October 12, 2019 - 14:40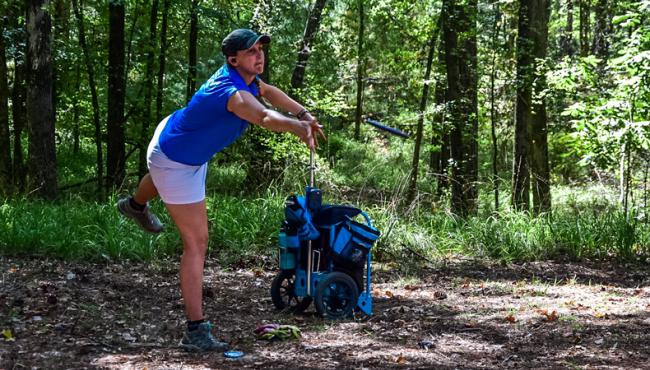 "I don't think I've ever shot under par on the Jackson," said Sarah Hokom, the new leader of the 2019 Ed Headrick Disc Golf Hall of Fame Classic (HOFC) after finishing with a 2-under par 65. She has, in fact, thrown an under-par round on the WR Jackson Memorial DGC in the past, during the final round of this very tournament just two years ago. In her defense, the redesign that took place shortly after has made playing the Jackson a significantly different experience, despite the par being the same.
Regardless of year and design, "the Jackson", as it is often referred to, has always been known as one of the most difficult and prestigious courses in the country. An under-par round is now and always has been a truly impressive feat. To put it into perspective, Catrina Allen won the 2018 HOFC by eight strokes and was the only player to shoot an under-par round in the entire women's field all weekend, a 1-under par 66 on opening day.
Birdies are few and far between. Pars are where it's at. Just ask Holly Finley, who jumped up from the fourth card all the way to fourth place simply by embracing that very notion.
"To be honest, I've been playing this event for about six or seven years and I've always tried to be really aggressive and get birdies," said Finley. "But then yesterday I looked at Paige Pierce's score and I realized that all she did was par and get a few birdies at the end and I thought, 'You know what? I could totally do that if I just stopped being greedy and stopped trying to birdie everything.'"
Finley followed through with her Pierce-inspired-par-plan and finished the round with one bogey and two birdies, making her one of just two women to finish under par for the day. And she did it with discs that you don't see very often at events of this caliber.
 "I'm probably the only player on tour that throws discs in the 150-class all the time. I always stick to my own game. My game isn't anyone else's regardless. Even if I wanted to play their game, I couldn't."
While Finley was creeping up the leaderboard, Hokom and Pierce were refusing to break away from each other. 14 holes in and they were still tied up, both being several strokes ahead of their cardmates Jessica Weese and Elaine King. But then…hole 15 happened.
Pierce's driver slammed into a tree and left her without many options, well short of any sort of look at the green on the 540-foot par four. As she tried to make her way out of the trees on the left side of the fairway, things only got worse. She finished the hole with a seven, four strokes worse than Hokom, who took advantage of the opportunity and hit a solid putt for a birdie three.
For Pierce, it wasn't her tee shot or her approaches that bothered her. It was the extremely uncharacteristic missed putt to save double bogey from inside of 10 feet.
"…I just missed about an eight-foot putt. I'm trying not to think about that one. I've been putting super, super well all year and that's…that's definitely the shortest one I've missed in the last few months."
A quick two-stroke swing in Pierce's favor on hole 17 meant she would end the round two behind Hokom headed into the final round. They'll be joined by Jessica Weese and Finley who are sitting nine and 11 off the lead, respectively.
Pierce is already predicting a better day for herself tomorrow, but she knows that catching Hokom is no walk in the park.
"I know that the score I put down today - I shot a 70 - I know that I'll shoot better than that tomorrow," said Pierce. "So, we'll just see how it compares to Sarah. She's playing this course super well and it's really fun to watch."
The 2019 PDGA National Tour will come to a close tomorrow evening with the Open Women's lead card teeing off at 9:00 a.m. EDT followed by the Open lead card at 1:00 p.m. Follow the scores and stats on UDiscLive.com and make sure you're subscribed to The Disc Golf Guy and JomezPro on YouTube for round coverage videos.
2019 Ed Headrick Disc Golf Hall of Fame Classic presented by REC TEC Grills
Tee Times & Results

Courses

Schedule