Bjerkaas' Best Puts Her On Top Of Pro Worlds Leaderboard
Bjerkaas' Best Puts Her On Top Of Pro Worlds Leaderboard
1021-rated round gives her six-shot lead
Friday, September 7, 2018 - 08:45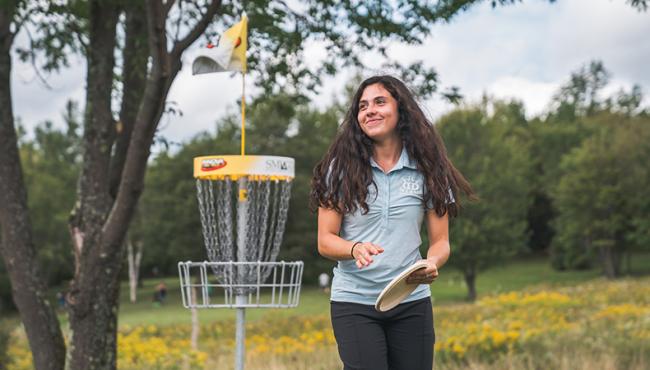 JEFFERSONVILLE, Vt. – Paige Bjerkaas has just walked off Fox Run Meadows after a 5-under par gem and is waiting for her close-up. As she stands on the stage just outside the Smugglers' Notch Disc Golf Center pro shop, onsite camera crews adjust their lenses as a boom mic hovers near her feet, waiting to capture the perfect soundbite. And they're about to get it.
Bjerkaas is a ball of energy, both overwhelmed by the adoration and excited by it. Then, from a nearby scoring table, comes a call:
"1021!"
The 21-year-old doubles over at the news that she's shot the highest rated round of her career.
"Oh my gosh!" Bjerkaas exclaims.
It was the perfect ending to a near-perfect day for Bjerkaas, who jumped to the top of the PDGA Professional Disc Golf World Championships leaderboard after her romp through Fox Run took her two-day total to a 3-under par 121. She's the only Open Women's player under par this week, as defending champion Paige Pierce, 2012 World Champion Sarah Hokom, and day one leader Rebecca Cox all sit in second place with 3-over par 127s. Zoe Andyke rounds out the top 5 at 7-over par.
Bjerkaas' round was marked by not only her signature big drives, but also a big performance on the putting green. She started with a 40-footer for birdie on hole 2 before adding a connection from just inside the circle on the par-4 4th. An easy tap-in on hole 6 paved the way for what may have been Bjerkaas' most impressive sequence of the round.
The par-5 7th clocks in at 1,085 feet and requires players to clear the edge of a peninsula off the tee if they want to make it to safety. First to tee, Bjerkaas played a clean drive to the other side of the out-of-bounds markers. Cox left her drive too high and it trickled out, while cardmate Holly Finley turned her drive over to the right and outside the stakes.
Cox's overcorrected and sprayed her next shot all the way across to the right-side OB, as she essentially zig-zagged her way to the basket. Bjerkaas, meanwhile, piped one clean, stable drive after another, reaching the green for a five-foot putt for par. Cox carded a double-bogey 7. On the card just ahead of the group, Pierce built a snowman with three OB strokes.
"It's just sticking to the game plan," Bjerkaas said. "Going into this week with all the OB and the tight lines at Brewster it's just staying in the fairway. A lot of the shots where I stayed in bounds and everyone else went out-of-bounds I was throwing putters, just trying to keep it straight."
Pierce drew a line from her struggles off the tee to her difficult on the green. She only hit on 75 percent of her attempts from inside circle 1, and in her quest to take the putter out of the equation she overanalyzed the wind.
"On those few holes where I was pushing a little harder I came up with some errors, and that's not acceptable when you're competing for a world title," Pierce said. "Just gonna try to turn my brain off tomorrow and channel my inner Ricky [Wysocki] and just kinda throw, you know what I mean?"
Cox, who had fired off her own career-best the day before, still shot 23 points over her 929 player rating. That said, she'll welcome a return to Brewster for round three.
"I'm a little disappointed with how I played today" Cox said. "I really wish I was more consistent, and those bogeys were really unnecessary. But I just had a little trouble getting off the tee and I got a little unlucky a couple times. Just inconsistent golf.
That stood in stark contrast to Bjerkaas' round, which only featured one bogey when she overcooked a drive on 18 and went OB. Entering the week with a top 5 finish in mind, Bjerkaas was more than pleased with her current standing and how it helps prove that her decision to skip this semester of college was the right call.
"It's so exciting," she said. "All the work that I've done – I've been playing for 10, 11 years – something like that – but this is the first time I've been able to fully commit my time because of the schooling. The rest of this tour I was telling myself, 'You're gonna see how well you can do when you fully commit.' So seeing a 1021 – school only started a few weeks ago, so I'm only a little past what I would've done if I did go back to school. How I shot a 1021 – my best round ever – just shows the trend and what I can do. I can be up there with Paige and Cat and all those people."
Or – for now, at least – above them.
The Open Women's lead card tees off at 9:30 a.m. ET. Follow along with scores and stats at UDiscLive.com and tune in for live coverage on SmashboxxTV.
2018 Pro World Championships