Ferreira, Humphries Catch Fire Late For Am Worlds Doubles Championship
Ferreira, Humphries Catch Fire Late For Am Worlds Doubles Championship
Tabor, Curren Collect Fourth AWD Championship Title
Monday, April 9, 2018 - 14:31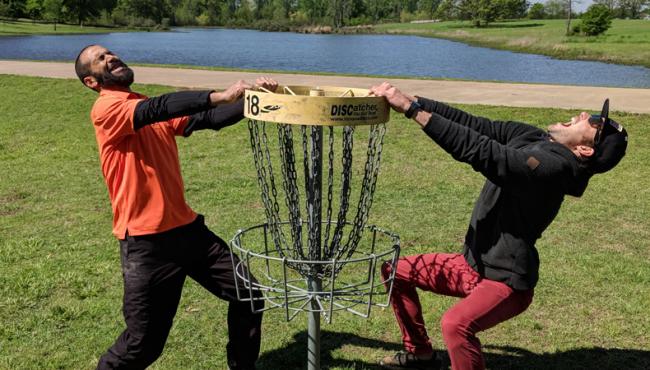 The first PDGA Major of 2018 has come to an end, and with that comes the dual-crowning of several new PDGA Amateur World Doubles Champions.
For nearly the last three decades, John Houck has been testing the will, patience, and sometimes even the friendships of disc-golfing duos by requiring them to compete in several different doubles formats on some of the most difficult courses in the country. This year proved to be much the same as 87 teams of amateurs took to the tees for three days of madness on four beautiful, but extremely challenging HouckDesign courses. Add to that the unpredictable weather that only Texas in April can bring, and even Best Throw can quickly become a round you may soon want to forget.
Coming off their win at the Texas Amateur Disc Golf Doubles Championship just over a month ago, Advanced division teammates Alex Ferreira and Luke Humphries (North Dallas Development Program) made their way to Talco, Texas, with their eyes on the prize. However, their opening round at Trey-Deuce, playing the Best Score format, didn't exactly go as planned.
"That first round, play your own disc at Trey Deuce, we had a bunch of chain-outs," Ferreira said. "Just a tough time getting started, and we had a three-stroke deficit going into the second round."  Humphries, laughing agreeably in the background, added, "I would say that first round was kinda brutal. We just…anytime we'd get a kick it wouldn't go our way. It'd go the opposite way, and it seemed like everything was working against us."
Fortunately for the pair, they excel when the pressure is on. Their afternoon round on Friday of Alternate Throw at Texas Twist allowed them to move from second place to the top of the leaderboard, five ahead of teammates Andrew Brown and Brandon Malecek (Ultra-Stars).
Saturday saw back-to-back rounds of Best Throw at Selah Ranch Creekside and Selah Ranch Lakeside, with steady wind and gusts from 20 to 25 mph. Ferreira and Humphries managed to hold their position as the overall leaders by the end of the day, but strong efforts from teammates Michael Grummert and Michael Robinson (RobiMert) and teammates Trevor Ely and Tom Gilberg (Eagle and the Kiwi) lessened the gap.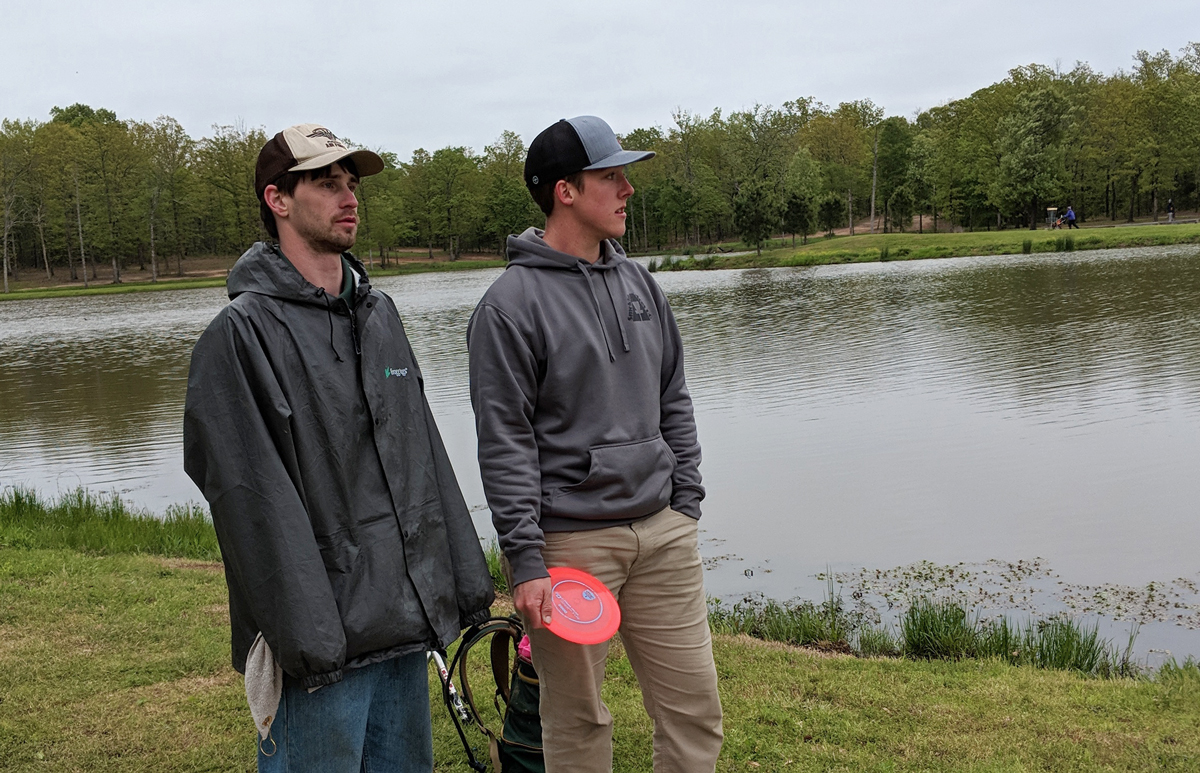 "We actually didn't shoot hot rounds for either of the rounds on Saturday," Ferreira said. "We got beat by a couple different teams, but we shot well enough to stay in the lead.
"Tom and Trevor, and then also the Oregon guys, the Michaels – those guys are really good, man," Humpries said. "They really came back strong."
The Advanced division Finals consisted of 12 holes split into Worst Throw (1-4), Best Score (5-8), and Best Throw (9-12). The rest of the divisions followed the same format, but on a nine-hole layout instead of 12. Ferreira and Humphries were paired with Ely and Gilberg for the finals, teeing off with a lead of four on the Selah Ranch Lakeside course.
Worst Throw began wearing down the players right out of the gates. Despite picking up two bogeys, Ferreira and Humphries opened up the lead significantly with just eight holes to go. On the four Best Score holes that followed, Humphries all but sealed the deal himself, carding back-to-back-to-back birdies on Lakeside's holes 5-7. "Luke just went on fire," Ferreira said. "Once that happened, after those three birdies we felt like we had secured something," Humphries added.
Secured something, indeed. With a double-digit lead and only four holes of Best Throw remaining, they marched their way to victory finishing, eight ahead of the chase card's Ultra-Stars.
The teams that took home the titles in the rest of the divisions saw much closer battles. Adam Bailey and Mark Berry (Dos Gringos) of the Amateur Masters 40+ edged out Robert Hammond and Russel Shoffner (Shouldalaidup) by three, but only after finishing two strokes better during the Final 9. Jack Tabor and Kevin Curran (On Any Sunday) of the Amateur Masters 50+ headed into their Final 9 one stroke behind then-leaders Mike Anderson and A Ray (Metal Collectors) and somehow pulled off the comeback victory to win by four and take home their fourth Amateur World Doubles Championship victory. Bart Taylor and Fred Needham took home the win in the Amateur Masters 60+ division.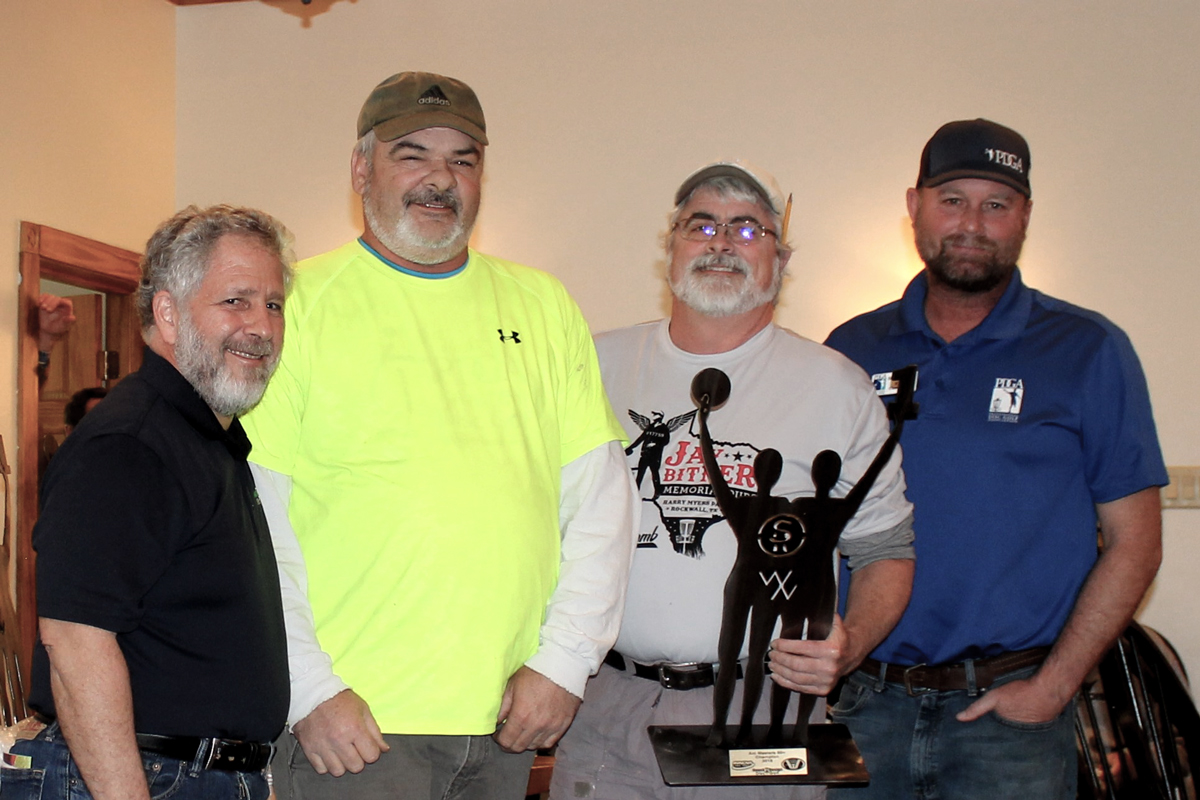 The closest race, however, was in the Intermediate division, where 38 teams were cut to 15 for Sunday's final round action. Three teams had pulled ahead of the field by Sunday morning, with Caleb Hines and Matthew Tria (Basketcase DG) ahead of two teams tied for second place just one stroke behind: Ethan Aleman and Justin Pena (Mando Commandos) and Billy Rodgers and Brad Miller (B²).
A few costly mistakes from the leaders allowed for both of the teams locked up in second place to move ahead. In the end, it was Mando Commandos' Final 9 score of 34 against B²'s 35 that gave Aleman and Pena the come-from-behind victory.
Congratulations to all of the PDGA Amatuer World Doubles Champions and thank you to HouckDesign, Innova Champion Discs, Franklin County Chamber of Commerce, and all of the staff and volunteers at both Selah Ranch and Trey Texas Ranch for putting on a great event. More photos from the event can be seen on the Amateur World Doubles Facebook page.